 On Oct. 27, 2020, Alibaba (NYSE:) stock closed at an all-time high of $317.14. On Mar. 15 of this year, BABA stock ended the trading session just above $73.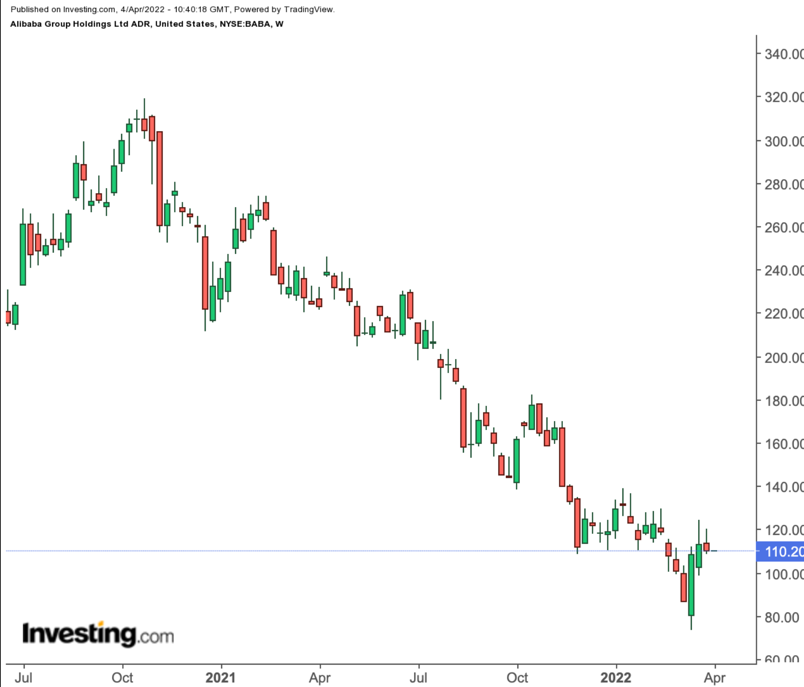 In less than 17 months, shares incredibly lost more than three-quarters of their value. In the process, Alibaba shed more than $600 billion in market capitalization—a figure greater than the entire market values of all but eight companies listed in the US.
The simple narrative surrounding the extraordinary plunge is that US investors have been scared off by regulatory movements, both at home and in China.
There's some truth to that narrative, certainly. But it's not the entire truth.
Concerns about Alibaba stock center on the Alibaba business as well. And given that the regulatory risks remain elevated, there is a case that trying to time the bottom in BABA stock, or owning the stock at all, is still too risky a trade.
The Long Plunge In Alibaba Stock
Regulatory fears absolutely are a key catalyst in the long decline in Alibaba stock. It's not a coincidence that the sell-off began just days before regulators took a big swipe at Alibaba.
In late October of 2020, Ant Group, of which Alibaba owned (and still owns) 33%, announced plans for its initial public offering. When the deal was priced, it was set to be the largest IPO in history. The listing promised to set a value on one of Alibaba's most valuable investments—which would, based on public market listings, be worth at least $100 billion—while also bringing in capital for growth.
But the next week, the Chinese government suspended the IPO. (Ant still hasn't gone public). BABA stock fell 8% on the news, and the pressure from both the central government and investors was just beginning.
At the end of 2020, regulators launched an antitrust investigation into Alibaba. That investigation resulted in a $2.75 billion fine—and hopes that the worst was over.
It wasn't. More regulatory movements in April threatened Ant Group's very business model. Regulatory pressure on other giants, including Tencent (OTC:) and Didi Global (NYSE:), continued. The new five-year plan from China's ruling Communist Party, released in August, contemplated far heavier regulation on private industry, notably tech giants like Alibaba.
On top of all of the problems at home, Alibaba now faces pressure at home. The US Securities and Exchange Commission is moving forward with plans to have Chinese companies delisted if they don't comply with audit requirements. Alibaba simply is getting squeezed from all directions.
New Risks, Same As The Old Ones
The risks posed by these developments, and others, can't simply be waved away. They pose an existential threat to Alibaba's business—and to its investors.
But from a broader standpoint, not all that much really has changed. Regulatory risks have been front and center—or at least should have been front and center—since Alibaba's own 2014 IPO. This is the largest company in a country still led by a single-party, Communist government (no matter how often that government at least feigns interest in capitalism).
Investors in the US don't even actually own shares in Alibaba itself. Rather, as detailed in the company's Form 20-F (its annual report filed with the US SEC), BABA stock represents a stake in a so-called variable interest entity, or VIE, which ostensibly in turn is entitled to ownership of Alibaba profits. The Alibaba VIE is based in the Cayman Islands, potentially limiting any claim US investors might have against Alibaba itself should the company act in ways contrary to US shareholder interests.
Given that many experts have argued that VIEs are in violation of Chinese law, these kinds of risks have been present from the jump. At any point, Chinese (or US) government officials had the ability to inflict precisely this kind of pain on Alibaba shareholders.
Not Just Regulators
Admittedly, from a fundamental perspective, BABA stock does look cheap. Shares trade at just over 13x the consensus earnings per share estimate for fiscal 2022 (ending March). That's a low multiple for a company that's still growing revenue, and still has longer-term opportunities outside China and in end markets like cloud and even electric vehicles.
But that headline multiple obscures real fundamental problems as well. After the fiscal second quarter in November, Alibaba slashed its revenue outlook for the year. That decelerating growth is coming alongside higher spending: the FY2022 EPS estimate for this year suggests an 18% decline year-over-year.
The core problem on both fronts is that competition is increasing. Pinduoduo (NASDAQ:) is winning in rural areas and smaller cities, even surpassing Alibaba in the total number of annual active users.
Those fundamental problems alone don't support the roughly two-thirds decline in BABA stock from 2020 highs to the current price. But they're a contributing factor. The sell-off isn't just about regulatory risks.
The Case For Caution
To be sure, all is not lost for Alibaba. The business remains a powerhouse even as rivals successfully play catch-up. The Chinese central government probably doesn't want one of its flagship businesses shut out of US markets; the SEC and other US agencies don't want US investors taking billions of dollars in additional losses. There's probably room for some kind of compromise; the Alibaba story doesn't have to end in a forced breakup, a delisting, or another catastrophic outcome.
But that doesn't mean BABA stock is a buy, particularly with the 50% bounce off the lows. Regulatory risks aren't going anywhere, and for the time being the fundamental concerns are not either. And there's a real problem with focusing on the fundamentals when those fundamentals literally apply to a different company. A stock price—any stock price—should in theory be equal to the total value of future cash flows, discounted for time. Investors in Alibaba have minimal assurance that they will ever receive those cash flows.
The sell-off so far has been extraordinary, but it is for the most part explainable by real factors, not simply a panicky market overreacting to unlikely outcomes. As long as Alibaba stock represents ownership in a VIE, not a country; as long as the Chinese central government remains Communist; as long as US-China tensions remain elevated; BABA is going to be a high-risk play. With fundamental concerns undercutting the potential rewards, it's difficult to take on those risks.