 Shares of Chinese technology companies have been some of the market's worst performers over the past year. Investors dumped the country's tech mega-caps after Beijing began a broad regulatory crackdown aimed at reining the sector in early 2021.
At one point, more than $1 trillion of the combined market value of China's biggest tech companies, including Alibaba (NYSE:), Tencent (HK:), and JD.com (NASDAQ:), was wiped out amid worries over the damaging impact of the year-long campaign.
Indeed, the KraneShares CSI China Internet ETF (NYSE:), which tracks a basket of China-based companies focused on internet and internet-related technology, has tumbled approximately 73% since reaching an all-time high of $104.94 in February 2021.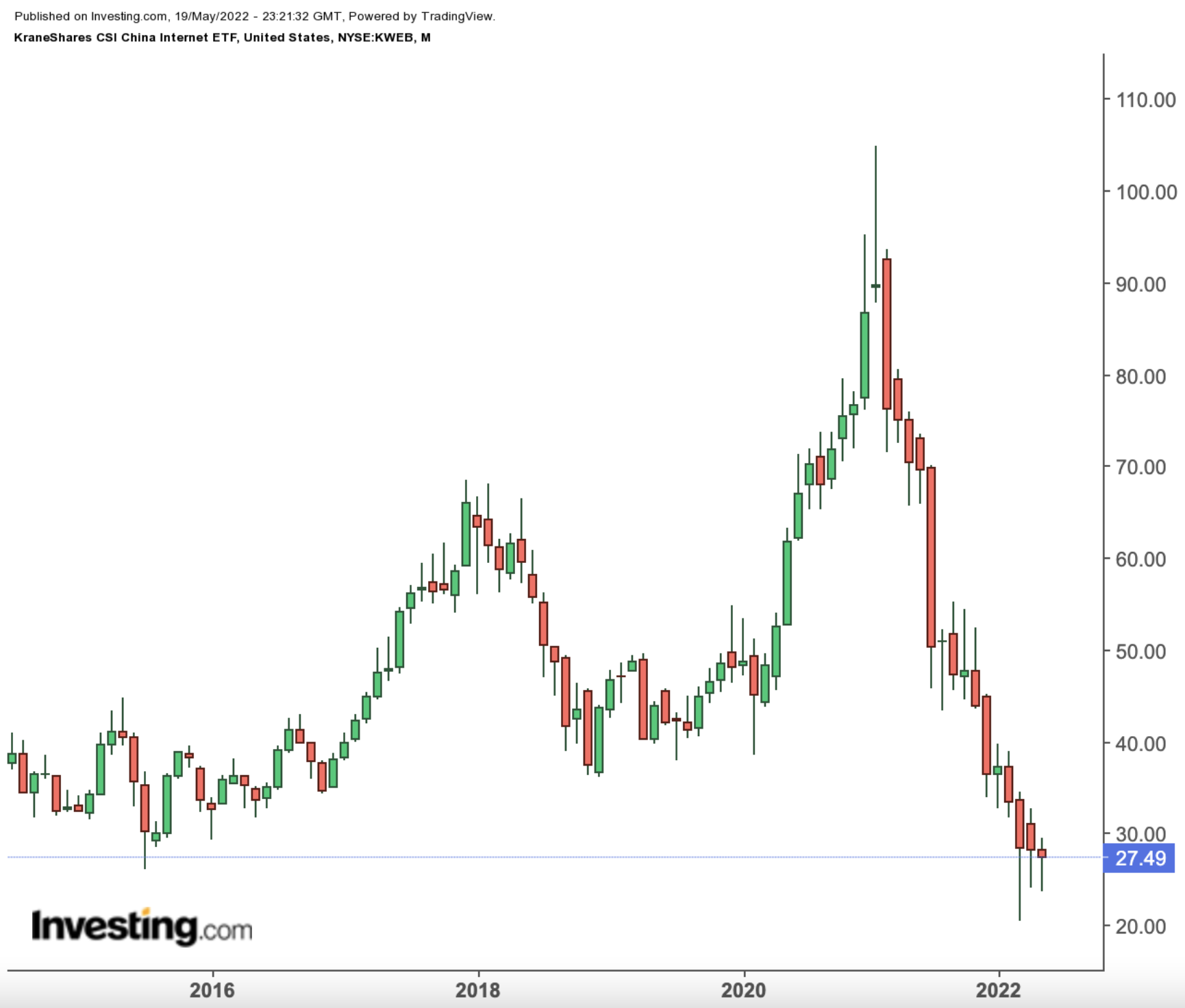 Despite the selloff, shares of China's tech behemoths could be poised for a strong recovery as the worst of President Xi Jinping's anti-tech regulatory clamp-down appears to be over for the time being.
The latest signal came earlier this week when China's top economic official, Vice Premier Liu He, said Beijing would support the development of digital economy companies and their public listings.
It was an unusually public show of support for the once-freewheeling sector as the ruling Communist Party seeks to boost the economy in the face of slowing growth due to the ongoing COVID-19 pandemic.
Baidu: Poised For Rebound
Against this backdrop, Baidu (NASDAQ:) emerges as a solid buy as investors assess receding risks and uncertainty related to the regulatory crackdown.
Shares in the Chinese language internet provider now stand roughly 65% below the record peak of $354.82, reached in February 2021, and 23.3% above the 52-week low of $101.62, recorded May 12. BIDU closed Thursday at $125.34.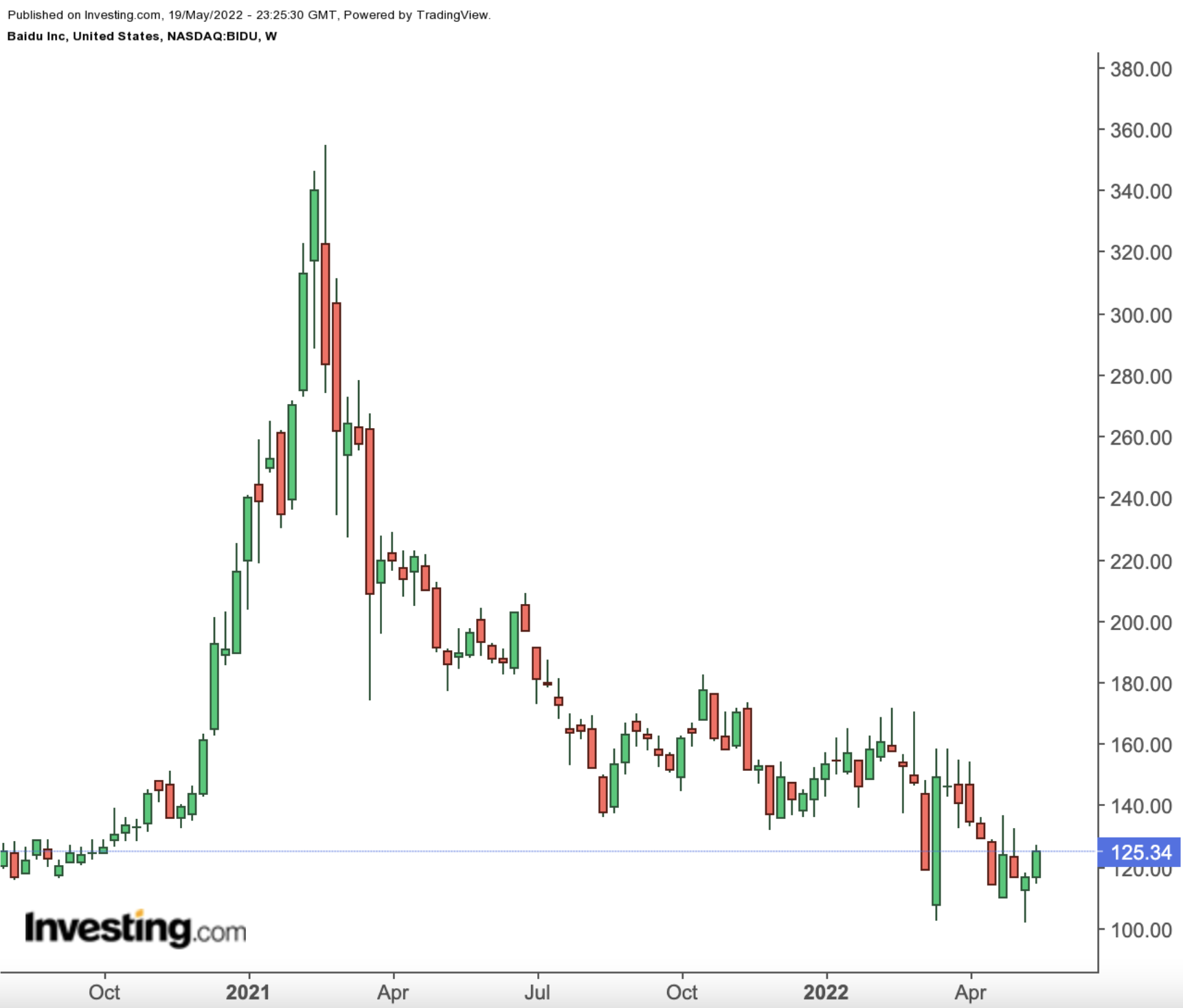 At current levels, Baidu has a valuation of $41.07 billion, making it the fifth-largest tech company in China in terms of market cap.
With a fair value of $186.51 per share, the quantitative models in InvestingPro point to a 48.8% upside in Baidu stock over the next 12 months.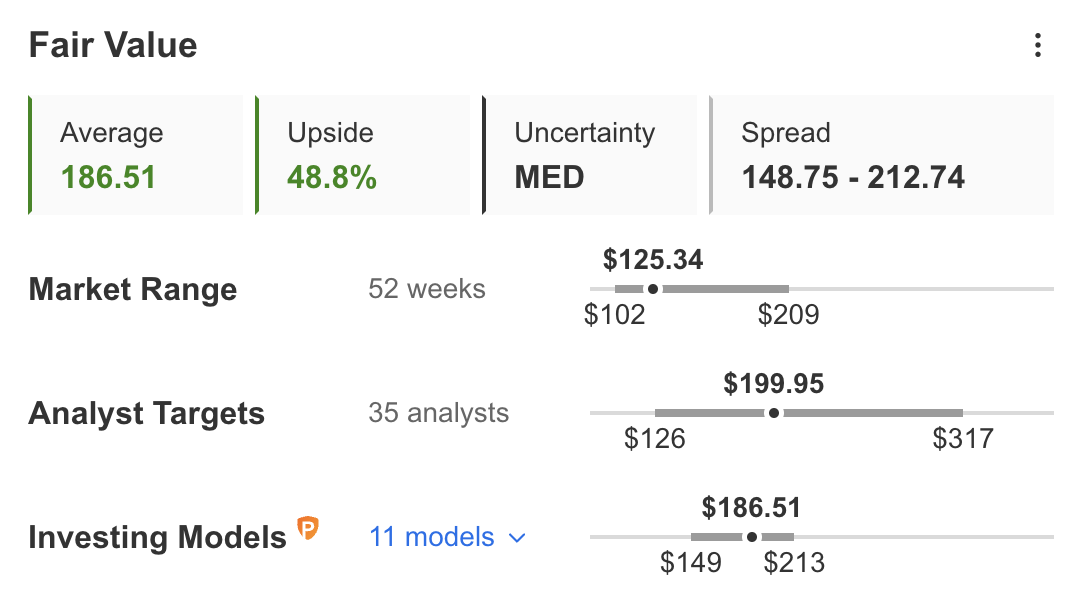 As Pro+ points out, Baidu is in good financial health, earning a score of 3 out of 5, thanks to a combination of solid cash flows and its profit and growth prospects.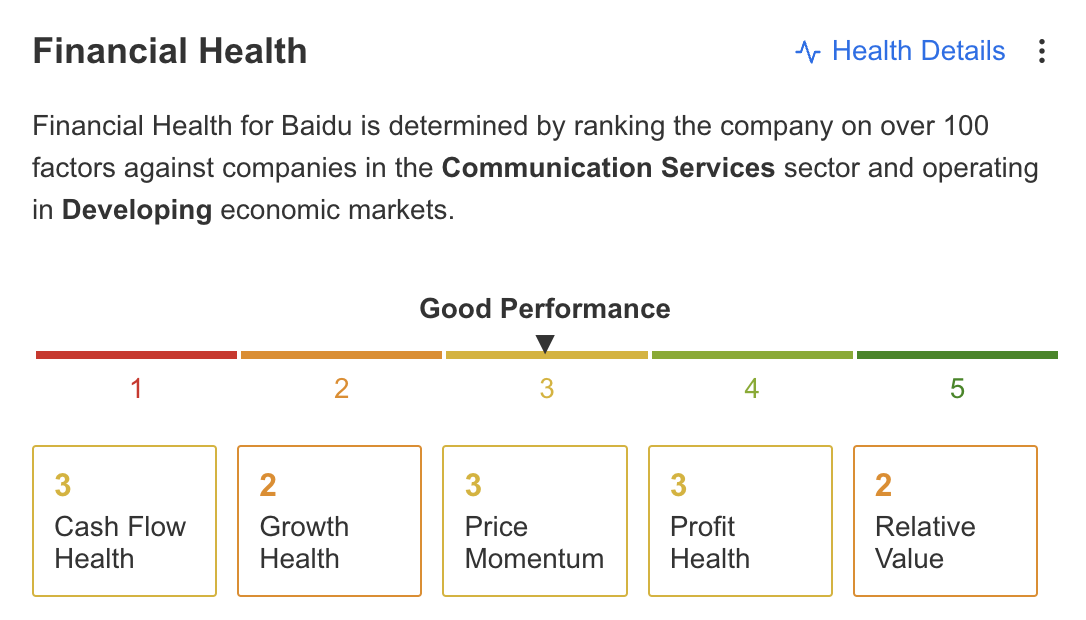 Pro+ calls out a few more key insights on the stock, with the point of it holding more cash than debt on its balance sheet standing out the most: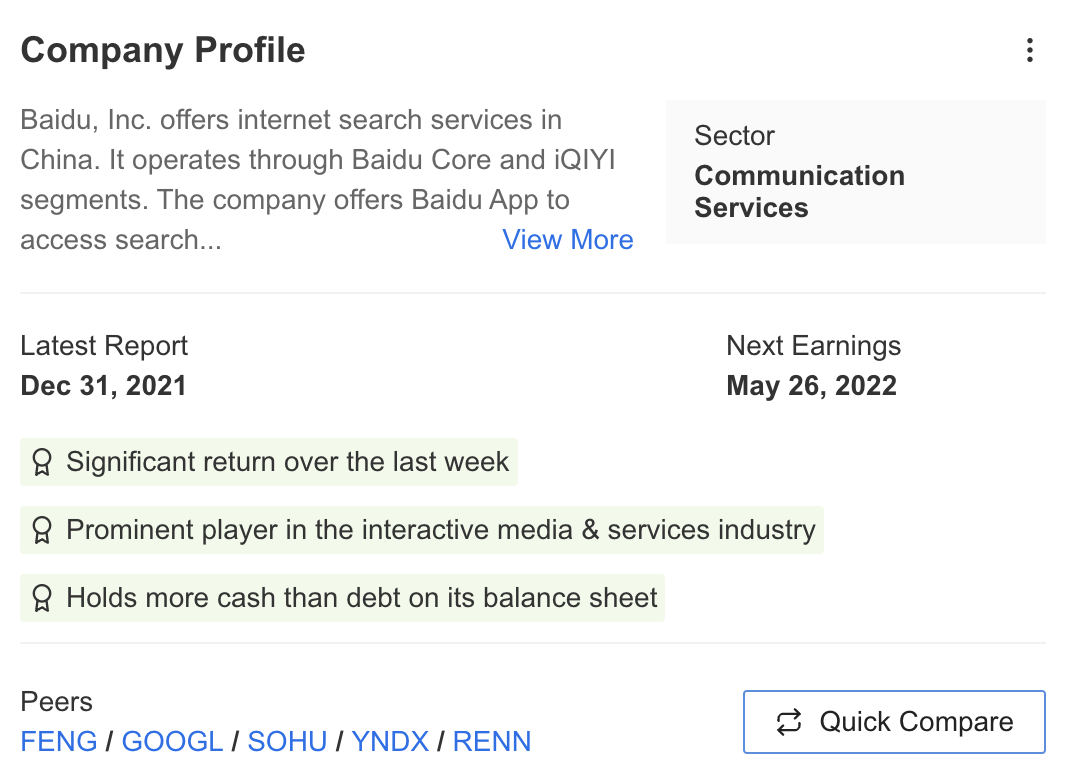 Baidu Earnings Estimates
The Beijing-based company—which has for earnings and revenue for 11 consecutive quarters dating back to Q2 2019—is slated to report its latest financial results before the U.S. market opens on Thursday, May 26.
Consensus estimates call for the tech giant to announce earnings per share of RMB5.09 ($0.76), falling 58% from EPS of RMB12.38 ($1.84) in the year-ago period. Revenue should dip 1% Y-o-Y to RMB27.92 billion ($4.16 billion).
Beyond the top-and bottom-line numbers, investors will be eager to hear commentary from Baidu CEO Robin Li regarding the outlook for the months ahead as the tech giant further aligns itself with the priorities of China President Xi Jinping.