 The mega merger: HDFC Bank (NS:) on April 4 announced a merger of HDFC (NS:) limited along with its two subsidiaries, HDFC Investments and HDFC Holdings into HDFC Bank. The amalgamation of HDFC and HDFC Bank is anticipated to build India's third-largest company by market capitalization. HDFC finally found a home for itself & it's none- other than its home company.
For the unification of HDFC and HDFC Bank, HDFC said that its shareholders will get 42 shares of HDFC Bank for every 25 shares of the non-banking lender held by them. Deepak Parekh, Chairman of HDFC ltd called it a "merger of equals". 
 
The merger of this scale will require both companies to assess the key regulatory costs. The Reserve Bank of India (RBI) requires banks to maintain a CRR of 4% and invest 18 percent of NDTL into government bonds under SLR. Further, banks and non-bank finance companies (NBFCs) are required to maintain high-quality liquid assets under liquidity coverage ratio norms. Merged entities will need to raise funds from the market or gradually build the excess liquidity on the balance sheet to meet the regulatory requirements. 
 
The markets skyrocketed since the merger announcement, shares of HDFC Bank rose 14% on the benchmark indices while shares of HDFC jumped over 16%  on NSE and . HDFC twins are very attractively placed in the highly valued market. The share price intends to go higher in the future making the company more profitable for investors.
Details of the deal
 
·   After obtaining all the approvals, 42 shares of HDFC Bank would be given for every 25 shares of HDFC Limited
·   HDFC Limited is the promoter of HDFC Bank and along with its two subsidiaries has a 21% stake in HDFC Bank currently which will be canceled as per the deal
·   Once the share swap becomes effective, HDFC Bank will be 100% owned by public shareholders. All subsidiaries of HDFC Limited will be owned by HDFC Bank and existing shareholders of HDFC Limited will own 41% of HDFC Bank.
·   All HDFC Branches will be retained post-merger and may be converted to bank branches later
·   The compliance requirements like Cash Reserve Ratio, Statutory Liquidity Ratio, and other priority sector lending requirements will change post the merger and the bank has requested RBI for phase-wise compliance with them
Why – the merger? 
HDFC Bank will emerge as a large lender, even by global standards, after the merger. The merger will result in a gigantic balance sheet of Rs 25.6 lakh crore, bringing it closer to India's largest bank, the State Bank of India (NS:), which has a balance sheet of Rs 45.3 lakh crore. 
Following are the reasons merger:
The housing sector at a cusp of a major economic upcycle and this merger will help capitalize on this momentum. HDFC has a proven multi-decade mortgage underwriting expertise across credit cycles. 
The merger will help cross-sell financial products to a large and growing customer base 
The deal will also enable the entity to leverage the power of distribution in urban, semi-urban and rural geographies
The combined balance sheet post-merger will stand at Rs.17.87 trillion making it a financial behemoth 
Robust asset portfolio mix with secured and long tenor products
Apart from the above-mentioned reasons we believe that one of the big reasons behind this merger has been the tighter regulatory norms for Non-Banking Financial Companies (NBFCs).
 
RBI in its research paper introduced last year has indicated its intent to tighten the regulatory norms for the NBFCs, particularly after their stupendous growth in the last few years. After the fiasco of IL&FS and DHFL, RBI wants to regulate this sector, particularly the bigger NBFCs who have been enjoying much lighter regulations compared to banks. It thus made sense for HDFC which is an NBFC to merge with the bank and gain a competitive advantage over peers. 

Merged Entity – A powerhouse in the Indian Financial space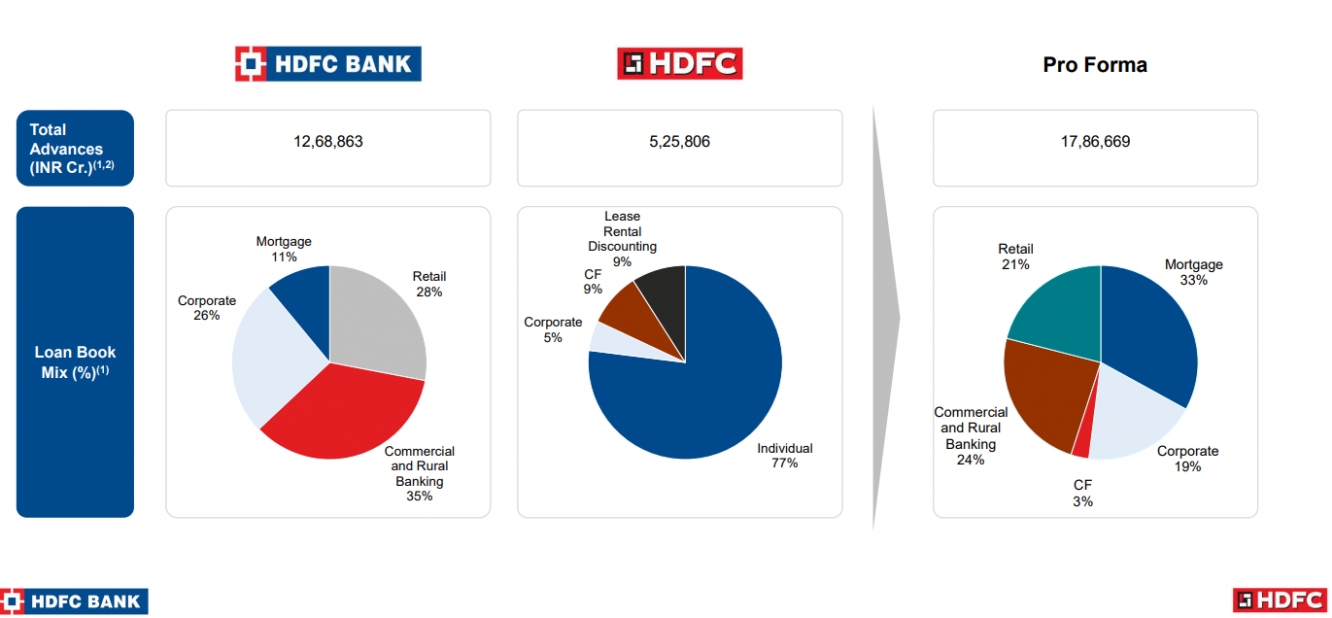 Source: Company
Merged Entity – Better placed to take on the competition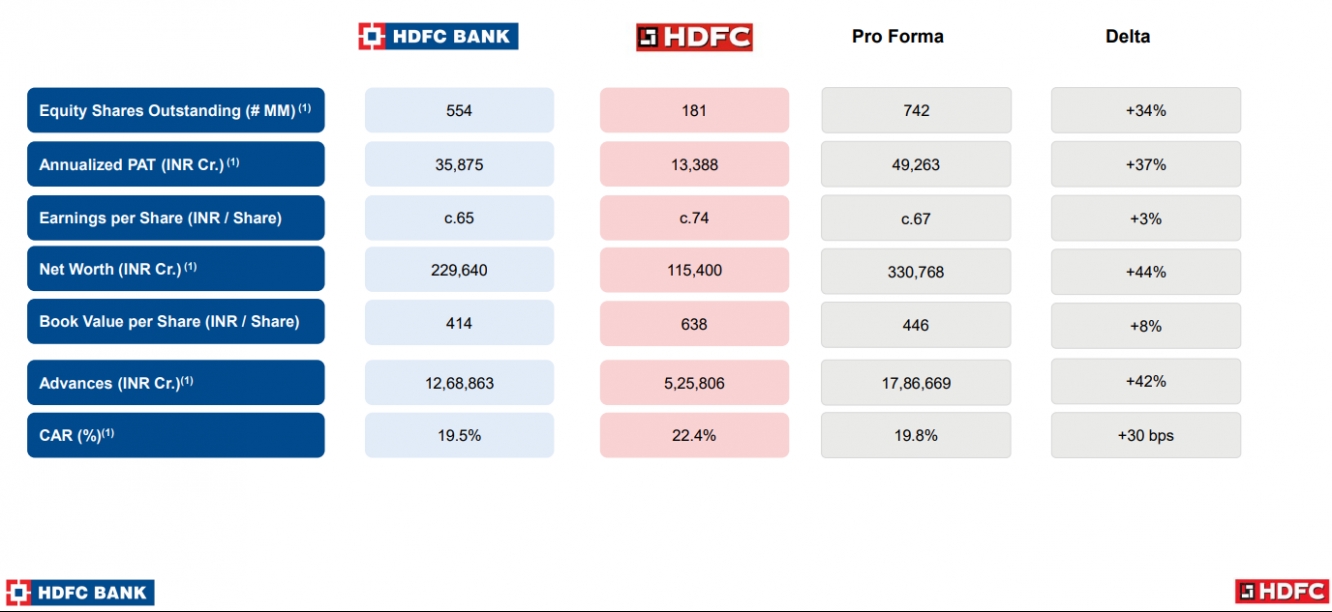 Source: Company
Indian Mortgage sector – at a cusp of a major upcycle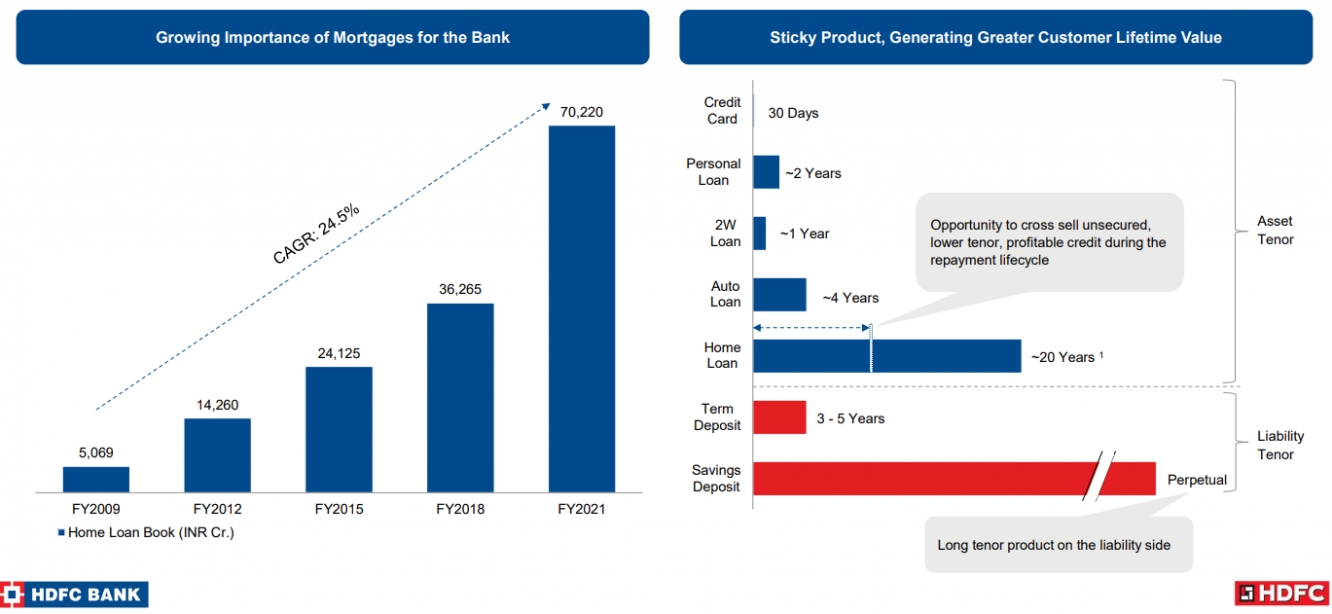 Source: Company
Who are the beneficiaries of this deal?

HDFC – Access to large and low-cost deposit base and customers of HDFC Bank. This merger also made sense amidst changing regulatory scenario for the NBFCs
HDFC Bank – HDFC Bank has now become a holding company for every major business of HDFC Group. The merger will make its mortgage lending competitive & also strengthen the entity against its competitors. With a large combined balance sheet, underwriting at a large scale will be possible. Mortgages are just 11% of the bank's loan book compared to 30-40% of the competitors. The merger will enable HDFC bank to build its housing loan business. The mortgage business is at the helm of a strong upcycle and HDFC Bank is now positioned favorably to benefit from the strong risk-adjusted returns that this space offers. The merger will also help HDFC Bank to penetrate its products deeper into the market. Given its ample capital and provisioning buffers, HDFC Bank should be able to soak up incremental risks from HDFC's portfolio, which includes loans to real estate developers. 
Shareholders –This merger will create a powerhouse in the Indian Financial space creating a win-win proposition for all including the existing shareholders. Existing shareholders of HDFC will get shares in HDFC Bank and vice-versa. The merged entity will benefit from a larger scale, a comprehensive product portfolio and the ability to cross-sell, a strong balance sheet, and wide synergies across operations, cost and underwriting efficiencies. The Sharp run-up in stock prices of both the companies post the merger announcement is a testament to this fact
Is this sector set for consolidation?
This HDFC-HDFC Bank merger is set to create a giant in the Indian financial sector. It will create a conglomerate with a full-stack portfolio across mortgages, retail, and large and small corporates and will be in a much stronger position to take on the competition. This deal announcement came in barely a few days after Axis Bank (NS:) announced its takeover of the consumer business of Citibank.
Demand for credit in India is at a nascent stage and requires large-scale operations to capitalise on growth opportunities. It has thus become imperative for players to look for inorganic opportunities to make faster inroads in the Indian lending space. We may thus see similar mergers between banks and NBFCs with complimentary credit profiles