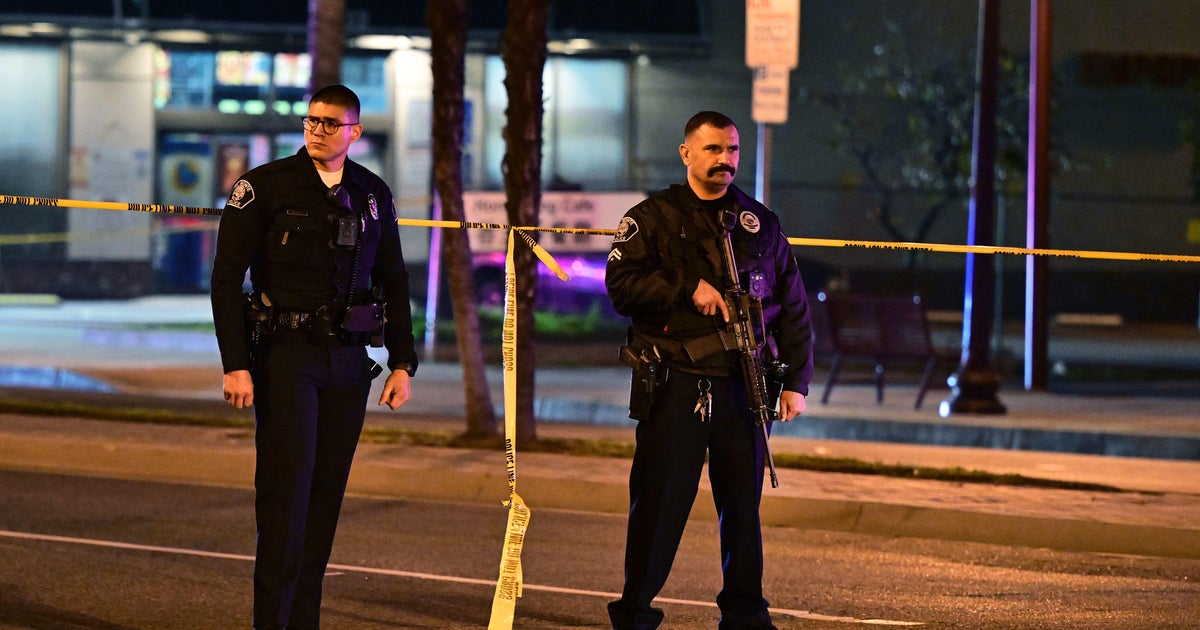 A gunman killed 10 people and wounded 10 others at a Los Angeles-area ballroom dance club following a Lunar New Year celebration, setting off a manhunt for the suspect in the latest mass shooting tragedy in an American community.
Capt. Andrew Meyer of the Los Angeles Sheriff's Department said Sunday that the wounded were taken to hospitals and their conditions range from stable to critical. He said the 10 people died at the scene in the city of Monterey Park.
Meyer said people were "pouring out of the location screaming" when officers arrived on the scene at around 10:30 p.m. He said officers then went into the dance ballroom as firefighters treated the wounded.
Meyer said it was too early in the investigation to determine a motive or whether the suspect targeted any victims.
Authorities previously said the shooting happened on the 100 block of West Garvey Avenue in Monterey Park.  One business along that block is Star Ballroom Dance Studio, where an event called "Star Night" was held from 8 p.m. to 11:30 p.m., according to a calendar on its website.
Local resident Wong Wei told the Los Angeles Times his friend had been at the club, and she had been in the bathroom when the shooting erupted. When she emerged from the bathroom, she saw a gunman and three bodies — two women and one person who he said was the boss of the club.
The friend then fled to his home at around 11 p.m., Wei said, adding that his friends told him that the shooter appeared to fire indiscriminately with a long gun. "They don't know why, so they run," he told the newspaper.
The Lunar New Year celebration had attracted thousands. Monterey Park is a city of about 60,000 people with a large Asian population about 10 miles from downtown Los Angeles.
One neighbor told CBS Los Angeles the gunshots sounded like fireworks, but due to the celebrations in the area, he did not think much of it at the time. 
Videos posted on social media showed people being loaded onto stretchers and placed into ambulances. Other photos showed bloodied and bandaged victims being treated by Monterey Park firefighters in a parking lot.
Seung Won Choi, the owner of a nearby seafood restaurant, told the Los Angeles Times that three people rushed into his restaurant. The people, he said, said there was a gunman with a semiautomatic gun who had reloaded after opening fire.
"Our hearts go out to those who lost loved ones tonight in our neighboring city, Monterey Park, where a mass shooting just occurred," Los Angeles City Controller Kenneth Mejia said in a tweet.
It marked the fifth mass shooting in the U.S. this month and the deadliest since 21 people were killed in a school in Uvalde, Texas, according to The Associated Press/USA Today database on mass killings in the U.S. The latest violence comes two months after five people were killed at a Colorado Springs nightclub.
The United States saw 647 mass shootings last year, according to the Gun Violence Archive website, defined as an incident with four or more people shot or killed, not including the shooter.
The U.S. has more weapons than people: one in three adults owns at least one weapon and nearly one in two adults lives in a home where there is a weapon.
This is a developing story and will be updated.
(This article is generated through the syndicated feed sources, Financetin neither support nor own any part of this article)
Thank you for reading this post, don't forget to subscribe!