 In the previous session, the market opened lower and a sell-off was seen in the overall market. In the second half of the trading, the managed to recover from intraday lows and filled the gaps.  But still closed with a loss of 168.10 points. Overall, a very volatile session was seen yesterday due to the weekly expiry. Technically, the index made a bearish candle on the chart. Hence, we recommend approaching the markets in a sector and stock-specific way.
Indian Stock Market will open flat. Technically, Nifty has entered into the negative zone whereas is still in the positive zone. BankNifty will also enter into the negative zone if it closes below 37480 levels. BankNifty is trading near its reversal levels. If BankNifty manages to close below these levels then we will see a sharp downfall in the market. RBI will disclose its Monetary Policy today and hence traders are suggested either to trade with proper hedging or wait for the Monetary Policy outcome before taking directional trades.
The following stock looks technically strong above below-given levels:
Whirlpool of India (NS:) Ltd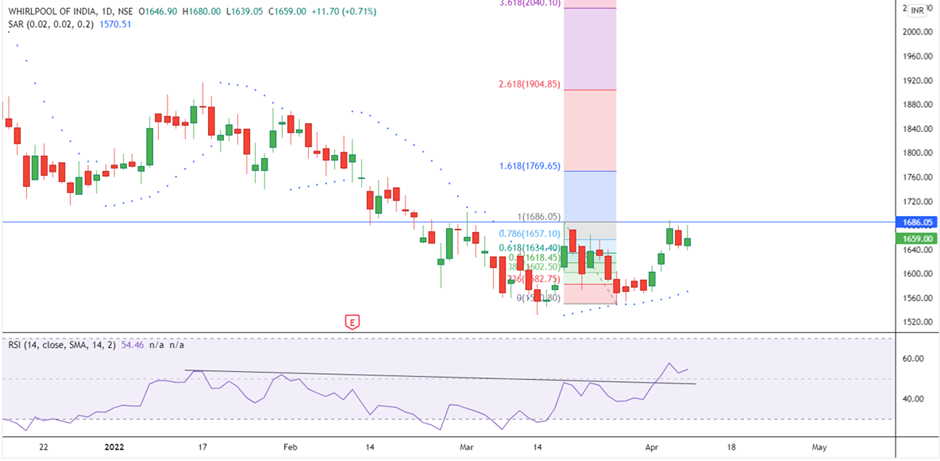 NSE : WHIRLPOOL   BSE :500238  Sector: Consumer Durables
We have posted a daily chart of WHIRLPOOL. On the chart, we can see that prices have formed a 'Double Bottom pattern'. Stock prices were consolidating from the last two days near 1680-1690 levels. Now further breaking above this level will confirm the breakout. Also, the range of RSI also seen during the consolidation period which further confirms the bullish breakout. We have plotted Parabolic SAR on the chart. The Parabolic dots are moving below the prices which indicates that the stock is now in an uptrend. This indicator is most useful in terms of Entry and Exit levels in any stocks for trading purposes.
The short-term trend for WHIRLPOOL looks to be positive for now. Positions can be created above 1690 levels, which can take prices towards the 1769 level. On the other side, the level of Parabolic SAR will act as key support for the stock.