 Somewhat incredibly, MMM stock has been halved since the beginning of 2018 and recently hit a nine-year low
Fundamentally, shares look cheap, with a low multiple to earnings and a 5% dividend yield
While fundamentals look justified, legal liabilities mounting, leaving MMM hardly being a steal
At the beginning of 2018, 3M (NYSE:) was on a roll. Over the previous quarter-century, including dividends, 3M stock had returned more than 12% a year. Investors certainly believed the company had the potential to do so again: shares traded at well over 20x forward earnings.
Since that point, the stock has dropped almost exactly 50%. And it is tempting to see the decline as a buying opportunity. 3M still has a reputation as a great company. Industrials of all stripes have struggled this year, but in many cases, the long-term outlook remains intact. A 5% dividend yield attracts income investors as well.
But, in the context of both growth and the external environment, 3M stock simply doesn't look that attractive.
Yes, shares trade at less than 12x this year's earnings instead of the 20x-plus seen a few years ago. That multiple compression, however, can't be chalked up to broad market weakness. Rather, this simply no longer looks like the business investors thought they were buying five years ago. The 3M stock price won't change until that perception does.
Earnings Turn South
During 3M's bull run leading up to early 2018 highs, there was an underlying reason for investor optimism: earnings growth. Net income in 2017 was more than four times what it had been 25 years earlier.
And during the stock's decline over the past few years, there's an underlying reason: a lack of earnings growth. In 2018, 3M generated adjusted net income of $6.3 billion. The midpoint of guidance for 2022 — which was cut after this week's — implies adjusted net income of $5.85 billion, down about 7% over the four-year stretch.
To be fair, there have been some external factors at play. Notably, the stronger is an issue for 3M, which gets roughly half of its sales from outside the U.S. 3M is hardly alone in facing that challenge; as I wrote earlier this week, Johnson & Johnson (NYSE:) is in a similar position.
That said, currency alone doesn't explain the stagnant performance. Nor does the novel coronavirus pandemic. 3M's results started to turn south in early 2019. In April of that year, disappointing first quarter results led the stock to its biggest single-day decline in more than 30 years, and MMM stock has never recovered from those losses.
Why 3M Stock Doesn't Look Cheap
While 3M management is touting near-term challenges, the fact remains that over the four years the external environment has been reasonably beneficial.
The pandemic drove demand for the company's personal protective equipment. Setting aside the first few months of 2020, the global economy has been reasonably strong. This is a cyclical business. It's not terribly surprising that results are taking a hit this year, but 3M should have performed much better heading into 2022.
There's certainly hope that the company can turn itself around. Management is promising that it will. But there's a concerning parallel here in a fellow American industrial giant: General Electric (NYSE:). GE's results started to turn south last decade, and investors held out hope that the company was simply hitting a bump in the road. In fact, the company was losing its leadership, and GE stock last year would hit its lowest level in more than two decades.
On an absolute basis, 3M stock at this point does look potentially cheap enough to take on that risk. At the midpoint of guidance, MMM trades at 11.6x earnings and about 13x adjusted free cash flow.
But those are multiples that befit a low-growth company. Right now, 3M is a low-growth company. Indeed, it's worth noting that even Wall Street isn't particularly enthused: the average target price for MMM sits at $131, suggesting only about 11% upside.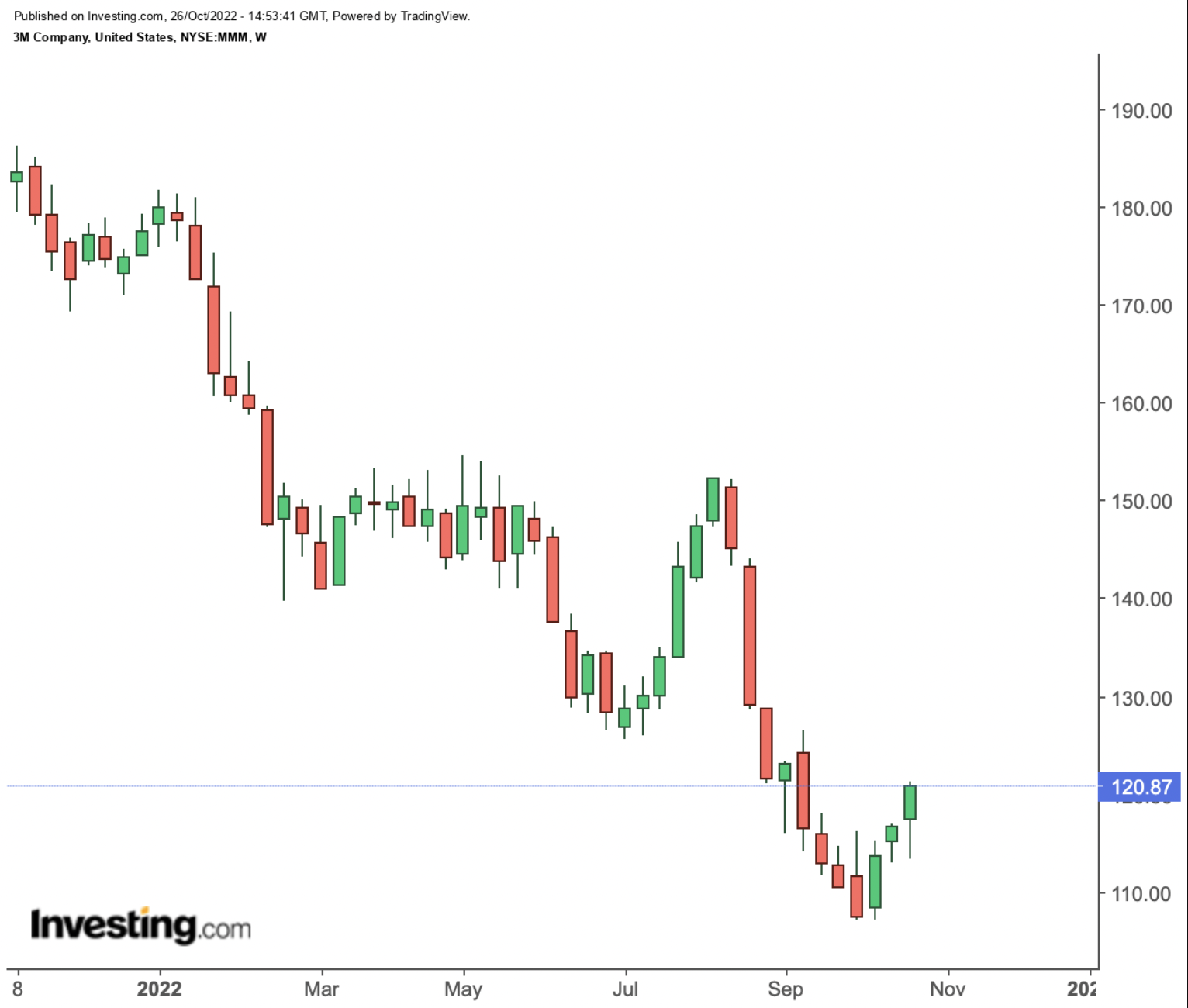 Source: Investing.com
Legal Problems
As is, 3M stock looks perhaps intriguing — the dividend does help — but not quite compelling based on current fundamentals. But those current fundamentals don't account for significant legal risks.
Notably, 3M is facing significant lawsuits from combat veterans who allege the company sold faulty earplugs. One expert on the plaintiffs' side estimated total liability exceeding $100 billion.
Obviously, that estimate has some bias, but a Morgan Stanley analyst pegged the figure at roughly $14 billion — more than 20% of the company's current market capitalization.
It's tempting, perhaps, to believe these lawsuits will blow over. But given the sympathy juries will give to U.S. veterans, 3M is going to have to settle. With 230,000 plaintiffs already found, the total cost is going to be material. Legal costs alone, no doubt, will run into hundreds of millions of dollars.
Add that risk to already questionable fundamentals and there simply isn't enough here. A 50% decline makes sense in the context of multi-year results. A 5% dividend won't offset any further weakness. The macro picture is worsening, and doesn't appear to be going anywhere. The case for buying the dip in MMM is exceptionally difficult to make.
Disclaimer: As of this writing, Vince Martin has no positions in any securities mentioned.
(This article is generated through the syndicated feed sources, Financetin doesn't own any part of this article)