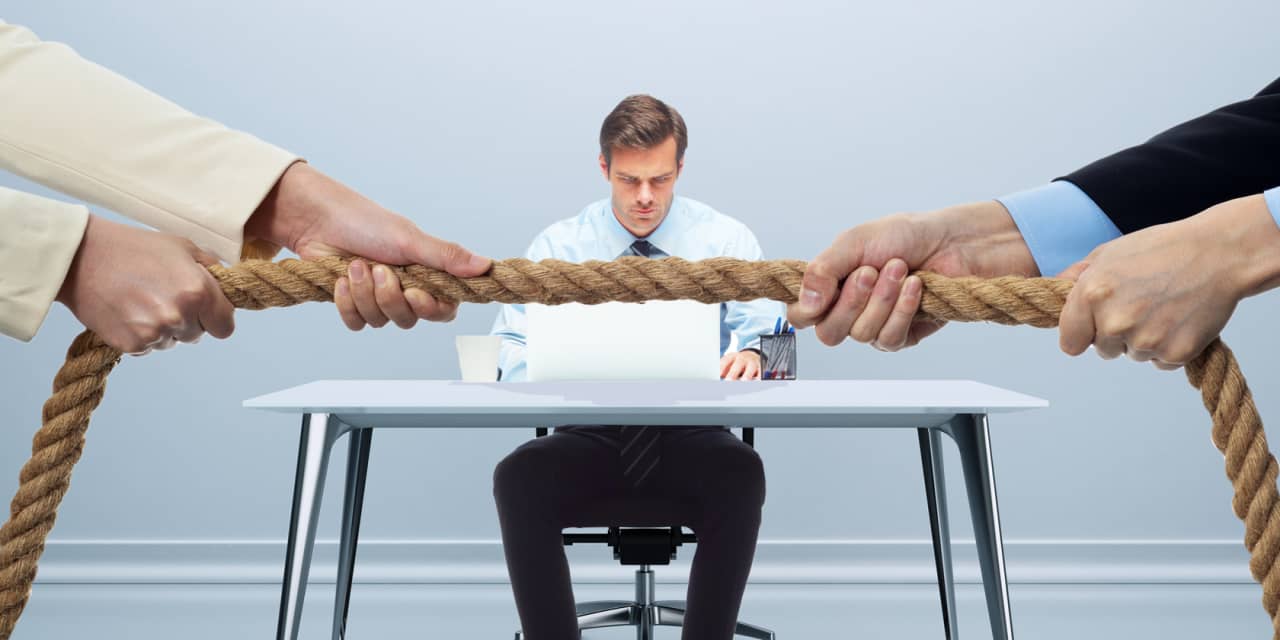 Are you going to be working from home on this Friday before Labor Day weekend? If you are usually based in an office, the answer is probably yes.
Three years after the pandemic began, employees have won the war over their work-life balance — for now — as many companies appear to have given up on forcing office workers back to the office full-time, workplace experts say. Now the years-old tug-of-war is increasingly over a hybrid arrangement — how many days per week office workers should be turning up for work in person.
A Pandora's box has been opened, and there's very little chance of managers closing it, said Nick Bloom, a Stanford University economist who studies the business implications of working from home. "We are now in a steady state where 'hybrid' is normal for office workers," he told MarketWatch. "We have had 3½ years of this."
From the archives (February 2023): Bernie Sanders supports a 4-day workweek. These companies tried it — here's what happened.
Some 1.5 million workers are facing new office-attendance rules this year, according to estimates from JLL, a commercial real-estate and investment-management company. An additional 1 million workers will face new rules by year-end. "This has created the conditions once again for a significant post–Labor Day uptick in office attendance," the report said.
But a reckoning may be coming. Many companies have drawn a line in the sand after Labor Day, said Juan Pablo Gonzalez, a senior client partner at Korn Ferry, a global consulting firm, where he advises employers on their hiring and retention strategies. Employers will soon push harder for workers to return to the office in person. Most of the employers Gonzalez advises are pushing for three-day returns. 
It's already happening. Robinhood, Meta
META,
+0.17%
and Zoom all want people at their offices more often after summer's close. White House officials are pressing federal agencies to get their staffs back to the office more regularly starting in September. Amazon CEO Andy Jassy reportedly said that "it's probably not going to work out" for workers who do not show up three days per week.
'Clear migration back to the office'
After Labor Day, managers should expect pushback from employees on return-to-office mandates, which will vary based on the length of people's commutes, their seniority and the industry they work in, as well as family circumstances. "People are going to be less happy about going back, and they are going to dig in harder because, frankly, it's more painful," Gonzalez said.
Office-occupancy rates hover close to 50%, suggesting a balanced standoff between workers and employers. And beyond Labor Day? "You'll see an increase," said Mark Ein, chairman at Kastle Systems, which tracks workers' security card swipes into office buildings. "There already has been a lot of progress." Companies are now focusing on getting people back, at least part of the time.
Weekly national office-occupancy rates reached 47% the week before Labor Day weekend, up from 43% this time last year, according to Kastle. Weekly averages take into account that Tuesday and Wednesday tend to be higher-occupancy office days. In April 2020, the first full month after the declaration of the coronavirus pandemic, national office-occupancy rates ranged around 14% and 16%, Kastle added.
The return-to-office strategy is a delicate process for employers and employees alike. The former don't want to push too hard, too soon. "There is a very clear migration back to the office — it's just methodical and gradual," said John Gates, chief executive for the Americas markets at JLL. The magnitude of the post–Labor Day return "depends on the follow-through in the executive suite, or not," he said.
Silicon Valley wants people back
Zoom
ZM,
+0.97%
— whose name became inextricably linked with remote work in the early days of the pandemic — is requiring workers located near an office to be onsite twice a week and started rolling out the policy in August, a spokesperson said. "We'll continue to leverage the entire Zoom platform to keep our employees and dispersed teams connected and working efficiently," she said.
In September, Robinhood
HOOD,
+2.02%
is moving to three days in the office, even though it once called itself a "remote-first company." The hybrid approach applies to most workers within a commutable distance to an office, the trading platform said. Facebook and Instagram parent Meta's three-days expectation starts in September, but workers who are currently remote can remain remote, the company said.
Amazon
AMZN,
+0.08%
management asked office staff to show up three days a week, starting last May, as part of a gradual return-to-office strategy. A worker backlash ensued, including a walkout. "If you can't disagree and commit, I also understand that, but it's probably not going to work out for you," CEO Andy Jassy was said to have told staff in a recent meeting, an audio recording of which was reportedly obtained by Insider.
Businesses have been enacting adjustments to the shift toward hybrid and remote work. Newly leased offices averaged 3,275 square feet in the second quarter, nearly 20% smaller than the average size between 2015 and 2019, according to Phil Mobley, national director of office analytics at CoStar Group
CSGP,
+0.71%,
a commercial and residential real-estate data and analytics provider.
Work from home can benefit employers, though. Companies — those that are not locked into long-term leases — can save money on office-space rent, and managers can cast a wider net for talent when searching for job candidates. "Shrinking the footprint is not a new trend," observed JLL's Gates. "Maybe it accelerated because of the pandemic."
The long-term trend appears to be toward smaller offices, coupled with flexible schedules. "What's really important is that organizations and leaders communicate why they want people to come back to work," Korn Ferry's Gonzalez said.
"Even the most conservative of organizations are offering some flexibility," he added, "and frankly just don't want a mutiny on their hands."
Also see: Labor Day is just a 'milestone' in the marathon to get workers back to the office
Source link
(This article is generated through the syndicated feed sources, Financetin doesn't own any part of this article)