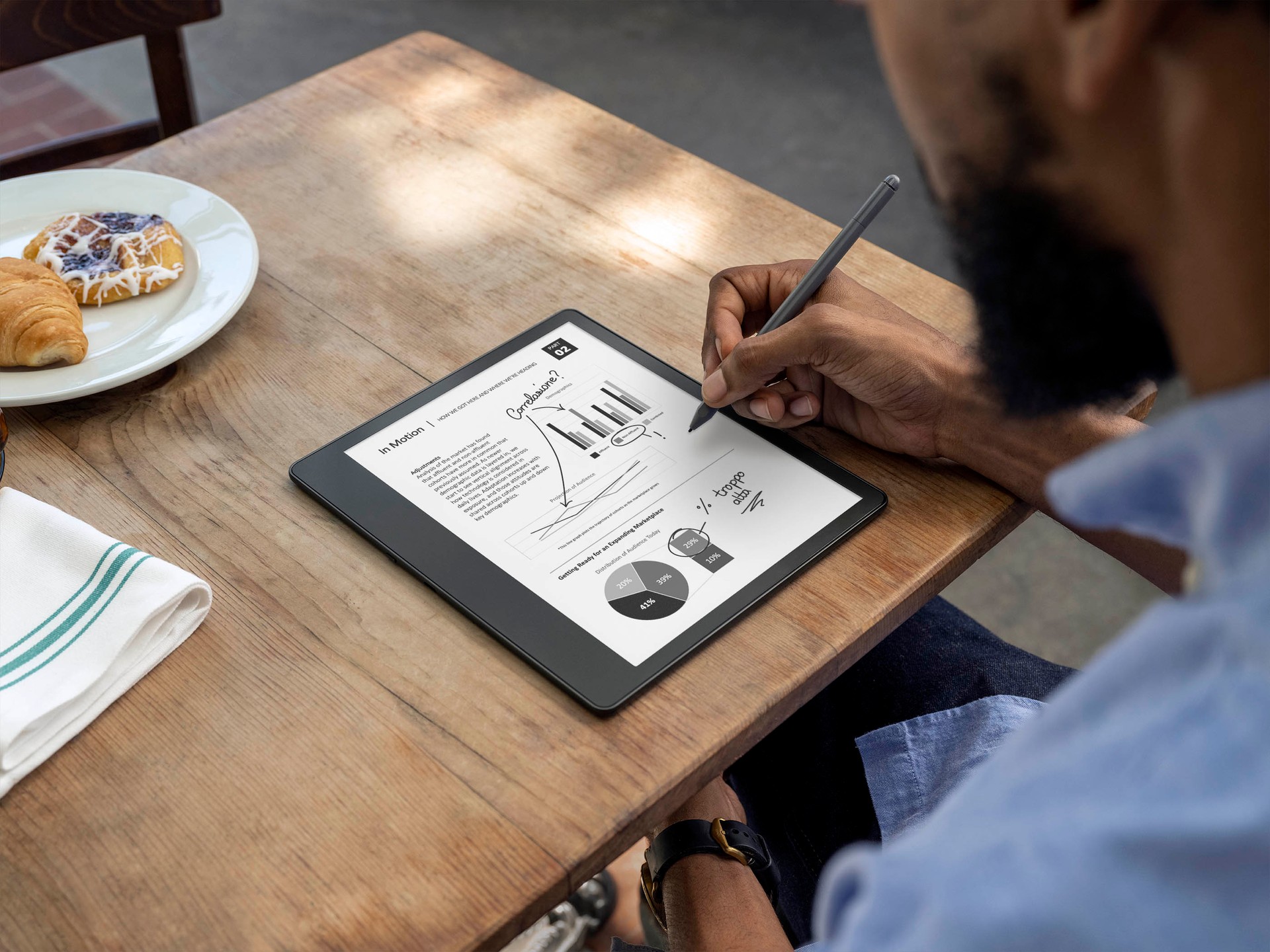 After the model introduced in mid-September, the new Kindle Scribe also arrives, and for those who have not followed the rumors of the past months, it is an extremely complete and awaited product, since it is able to combine the pleasure of reading with that of writing.
Let's start immediately with the most interesting news, since for the first time the device adopts a Paperwhite screen from 10.2 inches to 300 ppi, in line with the characteristics of the most recent Kindle. In terms of dimensions, Kindle Scribe is very contained and is only 5.8 mm thick.
The display is equipped with anti-glare technology and front light for night reading, this allows you to have an optimal reading experience and a typing experience that is very close to that of pencil on paper. Kindle Scribe is designed for reading and taking notes on books, adding notes to documents, writing journals, and more.
About this, the pen (which does not require refilling) is available in two options: Basic and Premium. Both offer excellent precision and naturalness in writing, they also have strokes of different widths, a highlighter, an eraser and an undo tool, all easily accessible from the on-screen writing menu.
There Premium pen it differs in that it also includes a special eraser on top and a customizable shortcut button, with which you can select the eraser or highlighter function, or create a new sticky note. A number of templates are also available, including to-do lists for keeping track of tasks and lined paper for annotations during meetings. All notebooks are automatically saved, backed up for free in the cloud and, starting from the beginning of 2023, will also be accessible via the Kindle app.
Thanks to the Send-to-Kindle function it is possible to import personal documents into Kindle Scribe from a computer or smartphone and write directly on PDF files, it is also possible to upload and handwrite sticky notes inside Microsoft Word documents, web articles and other formats of documents, choosing the font size and layout. From the beginning of 2023 there will also be another novelty, in fact it will be possible to send documents to Kindle Scribe directly from Microsoft Word.
Massive Choice: With an unrivaled library of content, Kindle Stores around the world offer over 13 million titles, including millions of non-fiction books.

Kindle Unlimited: With a Kindle Unlimited subscription, you get unlimited access to millions of titles, including novels, detective stories, comics, and current affairs, non-fiction and society books recently added to the program. For a limited time, eligible customers who purchase a Kindle Scribe can receive a free 4-month trial of use if they sign up for Kindle Unlimited 1 during device set-up.

Free reading for Prime members: Prime customers can access a rotating catalog of select eBooks and more. Freedom to read and listen on any device with the Kindle app.

Access to a variety of authors: Millions of self-published authors around the world use Kindle Direct Publishing (KDP) to share stories and build successful careers. Self-publishing through KDP gives authors more choices on how to reach millions of readers around the world with their books.
Kindle Scribe is available for the pre-order from today starting from 369 euros and shipments will begin in the coming months. You can choose it in tungsten gray color with storage space from 16GB, 32GB or 64GBalso as reported above it is equipped with a Basic or Premium pen, The new leather, premium leather and fabric covers will be available in a wide variety of colors in the near future.
Source link
Thank you for reading this post, don't forget to subscribe!