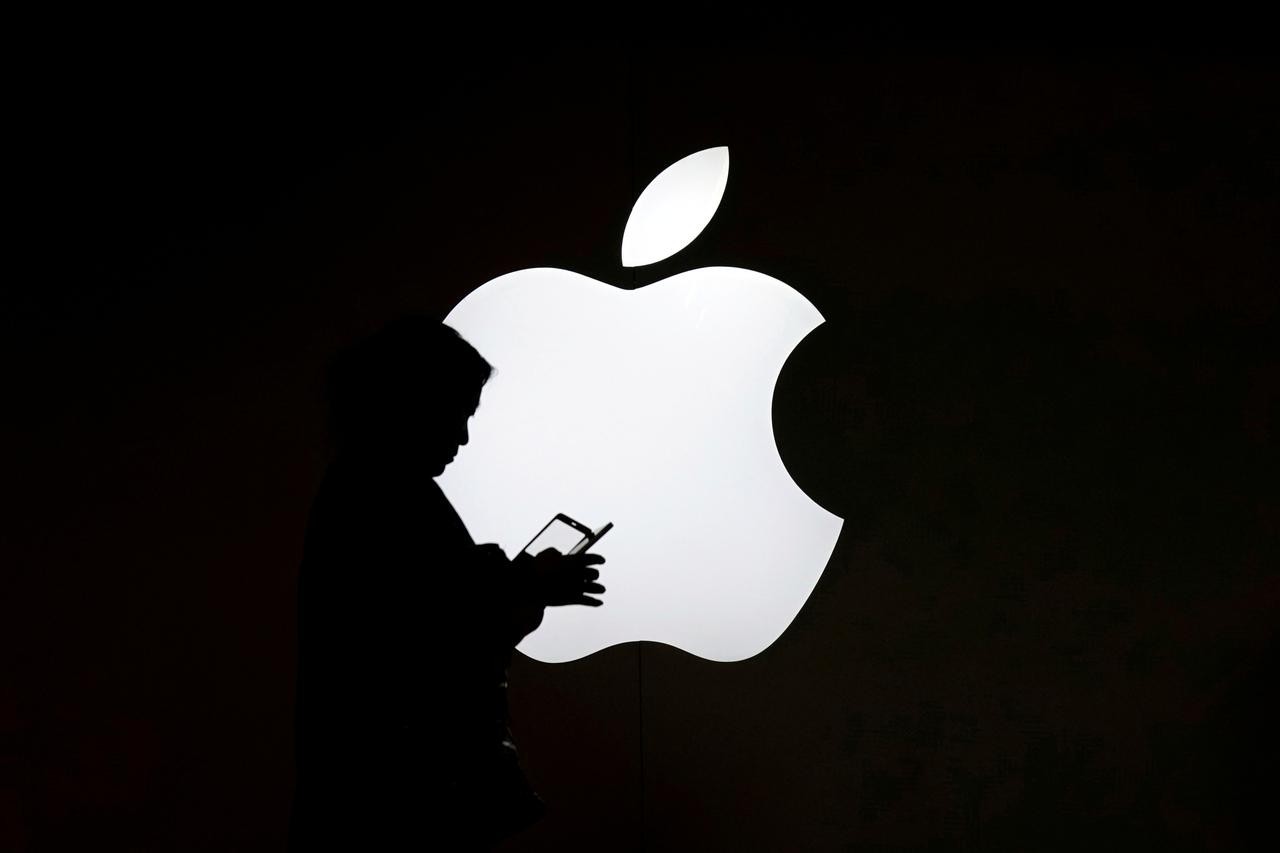 About a day after the tip of the American colleagues that Apple would have brought on i prices of his overseas services, here is that in the night the increases they materialize, and they do Also in Italy. La Mela does not differentiate between old and new customers, prices go up equally for everyone. The services concerned are Apple MusicApple TV + and the all-encompassing Apple Onewhile stays out – for the moment, it is appropriate to say – the most used of all, iCloud +.
HOW MUCH APPLE MUSIC, TV + AND ONE COST IN ITALY TODAY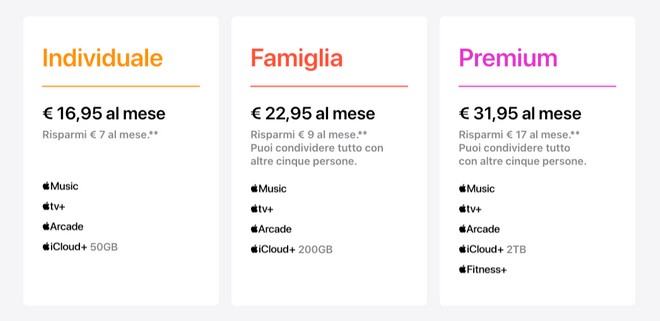 THE new prices they were communicated to the customers with an email that we also received during the night. Here is in practice how much Apple's three services in Italy cost from today:
Apple Music


student floor: 5.99 euros (from 4.99 euros)

individual plan: 10.99 euros (€ 9.99)

family plan: 16.99 euros (€ 14.99)

Apple TV +

monthly renewal: 6.99 euros (€ 4.99)

annual renewal: 69.99 euros (€ 49.99)

Apple One (includes Apple Music, Apple TV +, Apple Arcade and iCloud +)

individual plan (50 GB of iCloud + space): 16.95 euros (€ 14.95)

family plan (200 GB on iCloud +): 22.95 euros (€ 19.95)

Premium plan (in addition to the above services also includes Fitness + and 2 TB on iCloud): 31.95 euros (29.95 euros).
To find something positive in an unpleasant news such as the one about the increase, there is that the disadvantage in the exchange rate of the euro against the dollar has not spiked European prices any more than it did in the USA where the subscriptions went. up in equal measure, therefore between one and three dollars.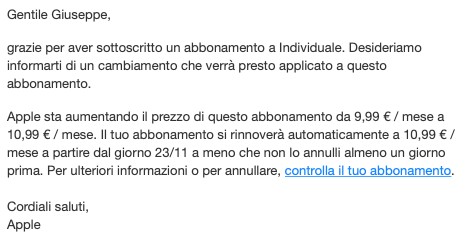 The increases for existing customers are applied starting from the renewal following the email communication, in which Apple does not explain the reasons for the jump in prices. The company would have explained yesterday that:
The change for Apple Music is due to increased licensing costs and, in turn, artists and songwriters will earn more for streaming their music. We also continue to add innovative features that make Apple Music the best listening experience in the world. We launched Apple TV + at a very low price because we started with just a few shows and movies. Three years later, Apple TV + hosts a broad selection of award-winning and acclaimed series, feature films, documentaries and entertainment for children and families by the world's most creative storytellers.