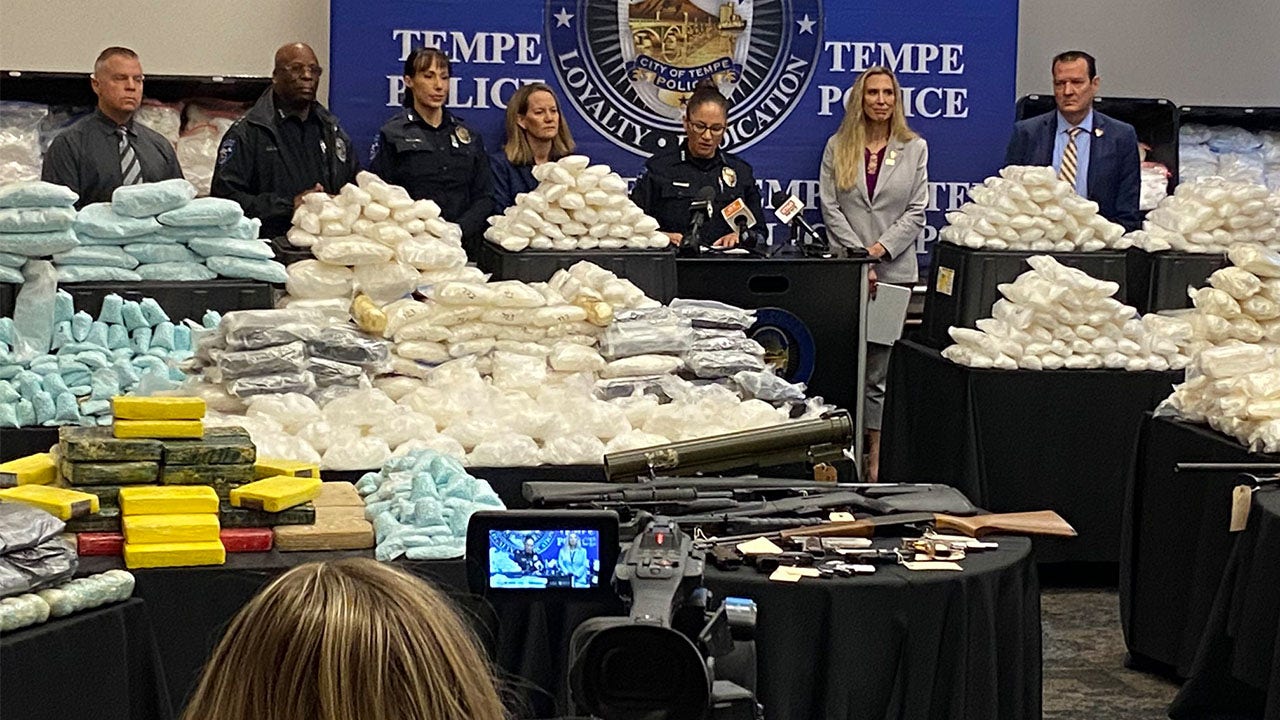 A joint investigation between Tempe, Arizona, police and the Drug Enforcement Administration targeting the Mexican Sinaloa drug cartel has culminated in 150 individuals charged and the seizure of millions of deadly fentanyl pills. 
Speaking at a Thursday afternoon press conference, law enforcement said investigators have seized more than 4.5 million fentanyl pills, 66 kilograms of fentanyl powder, 138 kilograms of cocaine, 3,100 pounds of methamphetamine, 35 kilograms of hoeing, 49 firearms, and more than $2 million.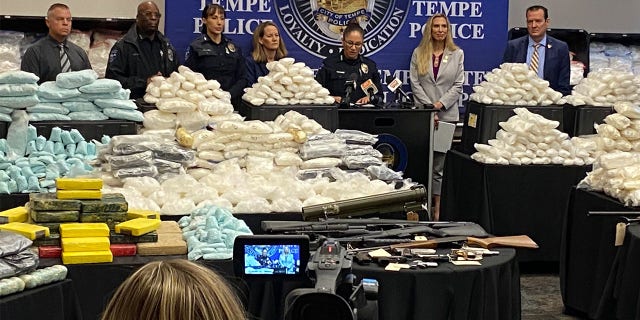 Investigators said the street value of the drugs is more than $13 million, while the fentanyl seized potentially represented 30 million lethal doses. 
"There are few families in our state and across our country that haven't been touched in some way by the scourge of the opioid epidemic and fentanyl crisis," Attorney General Kris Mayes said. 
NEW 'FRANKENSTEIN' OPIOIDS MORE DANGEROUS THAN FENTANYL ALARMING STATE LEADERS ACROSS US AS DRUG CRISIS RAGES
Interim Police Chief Josie Montenegro said the narcotics would have been "poisoning members of our community, including our youth and our vulnerable population," had they not been seized.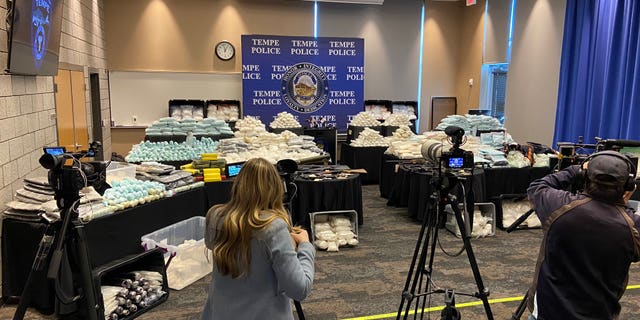 In 2022, DEA seized more than double the amount of fentanyl-laced, fake prescription pills that it seized in 2021. Arizona is a major distribution site of the deadly opioid, with the state accounting for more than half of all fentanyl pills seized by DEA agents nationwide in 2022, FOX 10 reports. 
The DEA says the Sinaloa Drug Cartel is responsible for nearly all deadly narcotics flooding into Arizona and the nation. 
CLICK HERE TO GET THE FOX NEWS APP 
"DEA Arizona is laser-focused on the Sinaloa Drug Cartel. We will not stop," DEA Special Agent in Charge Cheri Oz said in a statement. "This investigation is a testament to our strong partnerships, which enable us to gain the necessary advantage over these evil criminal networks." 
The Sinaloa cartel is reportedly more powerful now than the infamous Medillin cartel was at the height of its power in the 1980s and 1990s. Its cross-border operations stretch deep into the United States, reaching states far from the border including Minnesota, Washington State, and Rhode Island, according to the Drug Enforcement Administration. 
Source link
(This article is generated through the syndicated feed sources, Financetin neither support nor own any part of this article)