Will the perfect smartphone ever exist? A rhetorical question that can only be answered in one way: no. Everyone has different needs and the market has so many alternatives that everyone can be satisfied. All or almost all, since it did not exist until today a top-of-the-range Android smartphone with small dimensions and almost no sacrifices.
Asus has done what no other state has been able to do and not only proved it "can be done" but also made some bold choices that make Zenfone 9 the smartphone that can please everyone, as long as you have 700 to spend.
INDEX
DESIGN AND MANUFACTURING QUALITY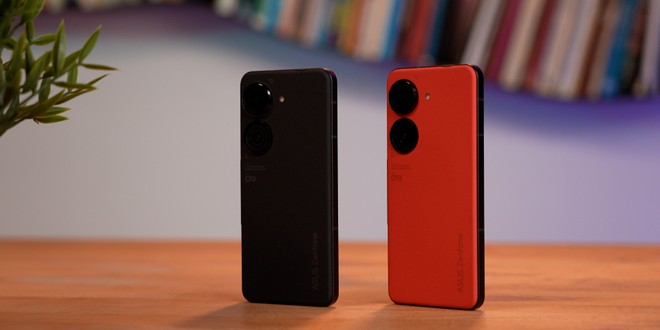 So no glass – and no wireless charging – but a soft touch material, difficult to scratch, very pleasant to see and obviously free from any kind of "finger effect". A particular choice that makes this Zenfone 9 unique within the 2022 smartphone landscape.
Having used this device for several weeks in black color, I have not noticed any particular signs of wear while in the other colors it is possible that the corners can get dirty more easily, being the rear material "porous" and therefore prone to getting dirty. In the package, however, there is a case for all variants.
As for the build quality, the smartphone is perfectly assembled and has a truly fantastic size and weight. Not too small and at the same time weighing less than 170 gramswhich, considering the 4300mAh battery, practically a record.
DISPLAY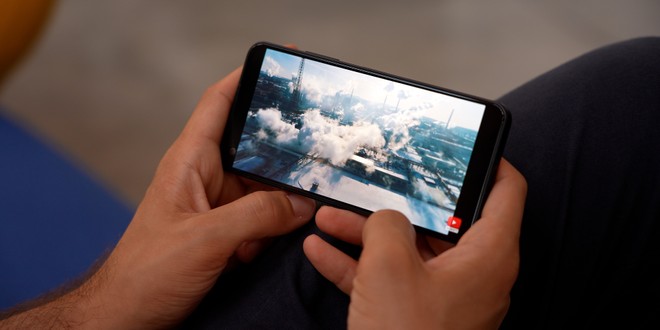 No giving up, I don't have much more to say. We are talking about a 5.9 inch OLED Display at 120Hz refresh rate with the possibility to select 60/90 / 120Hz from the settings (not LTPO). A screen that has excellent brightness and 800 nits offers perfect readability even in direct sunlight in the height of summer. It also reaches a peak of 1100 nits allowing you to express your maximum potential when viewing multimedia content both in HDR and outdoors.
The screen has almost symmetrical bezels although the bottom has a slightly more pronounced chin. Compared to the images you may have seen, the difference between the outer edges of the screen is hardly perceptible in live.
At the software level we have all the possible options for color management but also the AOD, which allows you to view all notifications. Smart features such as double taps to turn off, turn on, check notifications, launch applications or more are also excellent.
DATA SHEET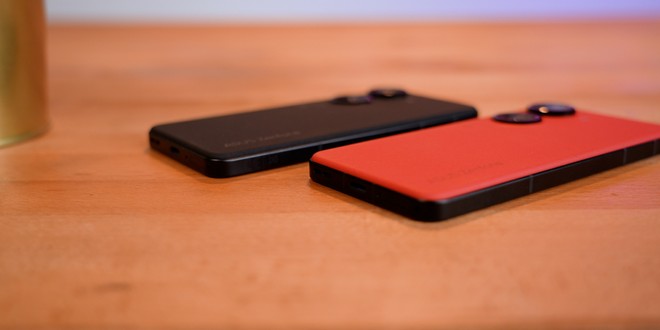 SoC: Snapdragon8 + Gen 1

Memory: 8/12 / 16GB of LPDDR5 RAM, 128 / 256GB of storage space

Cameras:

Front wide: 12MP, Sony IMX663 with autofocus

Rear: 50MP SONY IMX766 with 6-axis stabilizer OIS + 12MP, SONY IMX363

Night Sight, Face Deblur, Magic Eraser, Real Tone

Audio: stereo, 2 OZO microphones

Connectivity: USB-C 2.0 (no video out), 5G (SA / NSA), Wi-Fi 6E, Dual Chain Bluetooth 5.2, NFC, GPS

Operating system: Android 12

Battery: 4.300 mAh with 30W charging

Dimensions and weight: 146.5 x 68.1 x 9.1 mm; 169 grams

Certification: IP68

SOFTWARE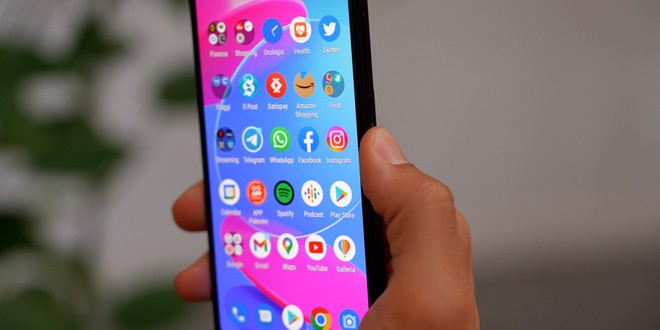 Finally, Asus declares 2 major updates and 3 years of security patches for software updates. A definable basic package, which in any case not yet taken for granted for all manufacturers.
EXPERIENCE OF USE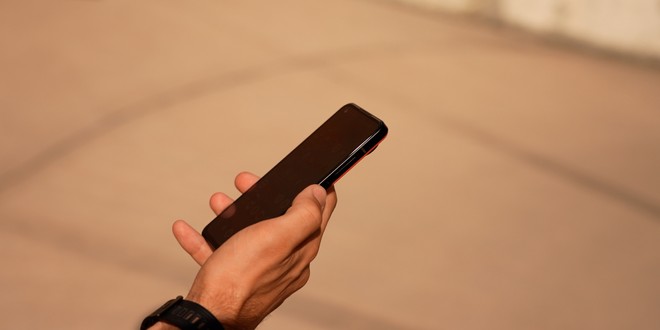 We arrive at the crucial point: the user experience. In no uncertain terms, I hadn't been so comfortable with a smartphone for years. As many will know, I am a person who, having the opportunity for the work I do, can choose, buy and use the most particular smartphones that have that little bit more than others. Fold eRog to give two recent examples, but I'm also an admirer of small smartphones and S10e still one of those devices that I remember with great pleasure and that was a good heir to the Sony Xperia Z1 Compact that I used for a very long time.
Asus Zenfone 9 embodies everything I'm looking for in a latest generation product: perfect size to fit in your pocket, display large enough to enjoy games and multimedia content, excellent construction, very low weight and truly incredible battery.
FIRST TIME AUTONOMY
The battery was the biggest surprise. There is no Android smartphone of this size that can offer Zenfone 9 autonomy. I got to do even 7 hours of screen in a single very busy day and in general 5 hours are absolutely normal. These are record values ​​if we consider the 4300mAh, the 169 grams of weight and the dimensions.
The Snapdragon 8+ Gen 1 with 4nm production process evidently a significant improvement over the previous versionand in terms of energy efficiency I was amazed. You really have the feeling of having a smartphone that does not download and with which we will never be without autonomy. I also stress that all the tests carried out were carried out with a fixed screen at 120Hz since there is no battery problem, it makes no sense to give up the maximum possible fluidity – which is truly excellent.
In the settings there are then several optimization options that I have practically never used, always choosing the dynamic profile that the default one. Small note, the 30W charging is not very fast compared to what has been seen on the market recently and there is no wireless charging (the reasons were explained by Asus in relation to the battery capacity: to put the wireless charging they would have to sacrifice a few mAh of capacity. ).
Another important aspect is the telephone, audio and vibration quality. Despite the compactness, Zenfone 9 also has audio jack, stereo speakers(uses the ear capsule) which have an excellent and decidedly high volume and an excellent and contextual haptic vibration in all menus, scrolls and gestures. Compared to the Rog Phone 6, the less powerful but still very strong vibration motor is managed perfectly by the software.
The telephone part is also excellent, which relies on both physical Dual SIM support and on many settings and options regarding connectivity management. Of course, all the latest possible wireless standards are supported.
CAMERAS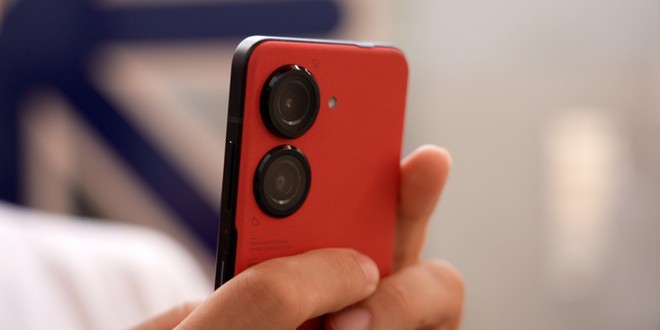 Asus has also worked very well in this sector by integrating not just a 50MP sensor, the SonyIMX766, but also a 6-axis OIS optical stabilizer. It is a truly excellent solution and capable of offering excellent quality video with truly effective stabilization even in 4K at 60fps.
Asus has also worked on the photographic interface which is now not only better organized, but also offers a number of very interesting Pro features. Obviously there is no lack of Night mode, macro, zoom and much more.
If we look at the quality of the shots, in general Zenfone 9 defends itself well in all lighting conditions. I wanted to compare it directly with Galaxy S22 which is a very similar smartphone in size even if it has different characteristics. Although the sensor used by Asus is very good, the Samsung software algorithm manages to have that better image processing that emphasizes colors and details. So Zenfone 9 is a great cameraphone, even considering the other wide camera with autofocus, but not perfect yet.
In general, the tip shoots fast and precise but out of 100 photos a dozen may not be as we expect them, especially if you go to exaggerate with the HDR, the backlight and situations that are quite at the limit for the physical sensor and where the software goes to make the difference. There is no shortage of room for further improvement and we will see if there will be news with next updates. To date certainly promoted in its price range and the optical stabilization allows you to have good results even at night with long exposures.
As for the Selfies, the autofocus of the front camera is appreciable but the general quality remains a bit subdued. The level of detail is not very high and in some light conditions there is a contouring of faces and subjects that is not perfect.
ASUS ZENFONE EVENT 9 PREVIEW
I talked about courageous choices and Asus did something that few other manufacturers have done: it invited a small group of people to Milan at its Asus Store to show, behind closed doors and in super preview, Zenfone 9 to its fans. This is an initiative that took place even before the official presentation and therefore a real first look at the product.
CONCLUSIONS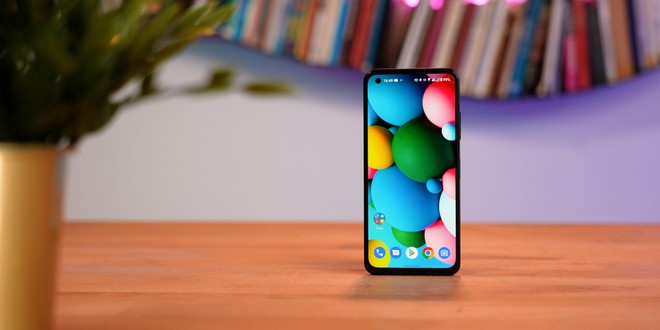 As mentioned at the beginning, although the perfect smartphone does not exist, Asus Zenfone 9 comes very close to the wishes of most people. It is a top of the range, has excellent battery life, has fantastic dimensions, a great display, convincing audio and connectivity and even the audio jack. The photographic part does not leave the competition behind but this is intended as a high-end and top of the market. The price positioning, although higher than last year, I find it correct in all memory variants: 16 / 256GB at 899 a price in line with features, product uniqueness and historical moment. 729 in promo for the basic version 8 / 128GB are the right launch for a product that, as we know, is unlikely to suffer significant price drops.
With Zenfone 9 Asus has also marketed the small, powerful Android smartphone with very few sacrifices: are you among those who will buy it because the product you were waiting for has finally arrived or do you prefer other solutions?
ZENFONE 9 PRICES IN ITALY

NO WIRELESS CHARGING

FAST CHARGING AT MAX 30W

USB 2.0 WITHOUT VIDEO OUT
VIDEO