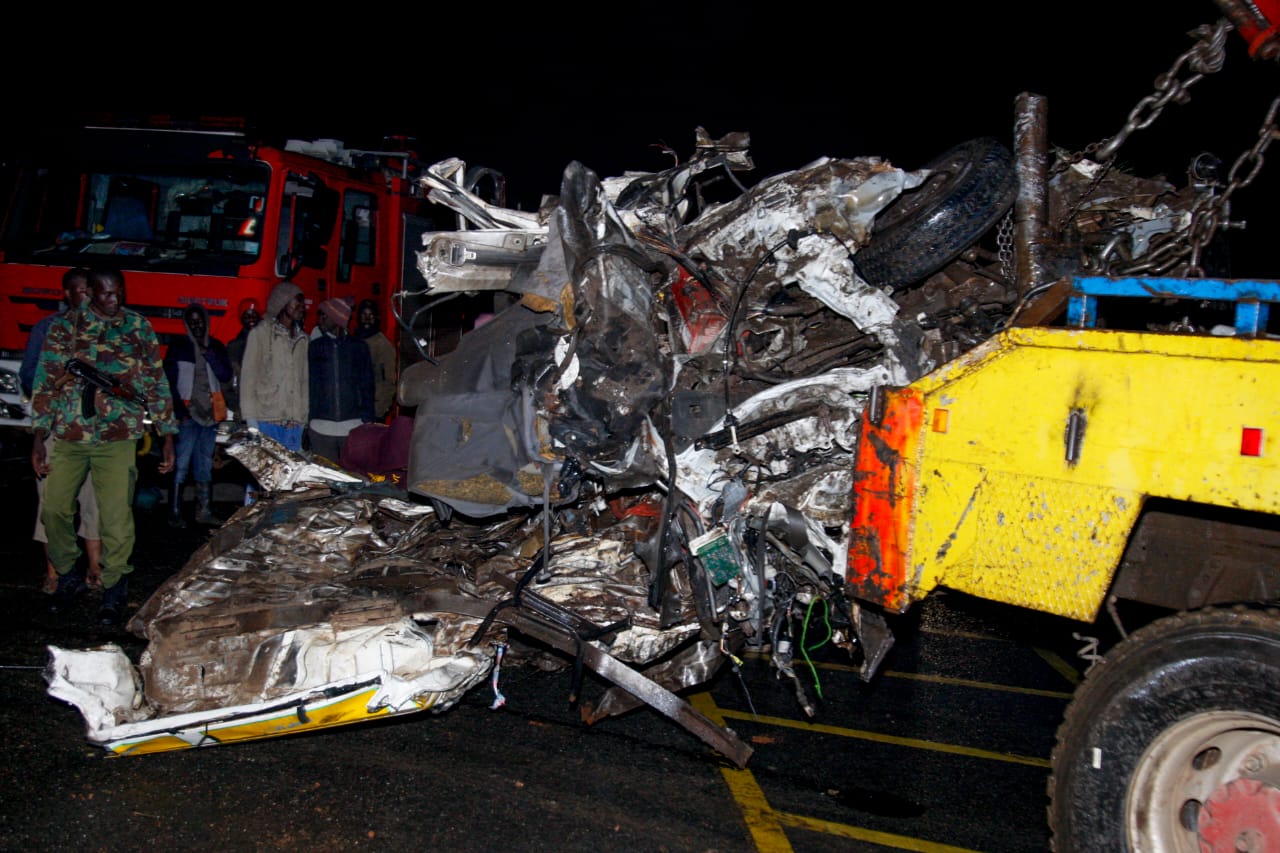 Economy

At least 48 dead as truck rams vehicles, hawkers in Londiani
Saturday July 01 2023

At least 48 people have been confirmed dead following a grisly road accident at Londiani Junction along the Nakuru-Kericho highway at around 7pm on Friday, June 30.
The accident involved a truck that was travelling from Nakuru towards Kericho that lost control and rammed into several matatus, private vehicles and motorcycles before landing in a ditch.
The truck also crashed into hawkers selling roasted maize, vegetables, cabbages and oranges by the roadside on the Muhoroni turn-off.
Confirming the incident, Rift Valley regional commissioner Abdi Hassan said the death toll had risen to 48 at around 11.30pm as other victims succumbed to injuries while being rushed to hospital.
Speaking at the scene of the accident, Dr Hassan added that two bodies are trapped at the scene where about 30 people were injured.
At around 9pm, Londiani police boss Agnes Kunga had confirmed that at least 20 people had perished and tens had been rushed to various health facilities in Nakuru and Kericho for treatment.
"We have lost more than 20 people in the horrific accident. Dozens of others have been rushed to various hospitals including Londiani, Molo sub-county and Nakuru Level Five hospitals," said Ms Kunga.
"It is a very bad accident. Several people are feared dead while others are trapped in the wreckage in the pile-up."
A doctor at the Londiani sub-county hospital has said by press time that more than 50 victims were being attended to at the facility.
An unknown number of victims are also said to have been rushed by good Samaritans to various hospitals spread between the two counties of Nakuru and Kericho.
Rescue efforts were being coordinated by the police with darkness and a drizzle hampering the efforts.
All major hospitals in the region responded to the accident by dispatching their ambulances and having medics on standby to deal with the emergency.
The county government of Kericho dispatched all its ambulances to the scene with the Kenya Red Cross Society responding to the emergency.
Source link
(This article is generated through the syndicated feed sources, Financetin doesn't own any part of this article)