Key events
Protesters clash at Manly library drag event
Counter-protesters drowned out opposition to a drag queen reading event at Manly Library earlier today.
The Drag Queen Story Time featuring Charisma Belle had been opposed by protesters who felt it was inappropriate for children.
But despite the planned protest and a report of a bomb threat at the library to "kill all pedophiles", which resulted in the venue being closed for an hour, the event went as planned.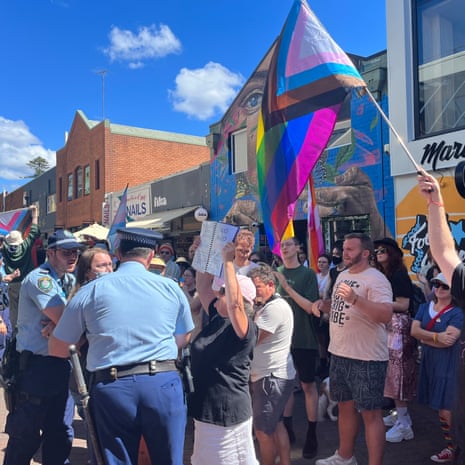 Thanks for your attention this Saturday, handing over to Nino Bucci who will see you through the rest of the afternoon!
Australian search and rescue crew experienced 'relentless devastation and tragedy' in Turkey
The minister for emergency management, senator Murray Watt, said the team "experienced relentless devastation and tragedy in the disaster zone" but the work they did was "incredibly important":
Through practical assistance and significant technical capability, their deployment provided comfort and support to affected communities and local authorities in Turkey. Our team has experienced relentless devastation and tragedy in the disaster zone. Their work is incredibly important.
The minister for International Development and the Pacific, Pat Conroy also commended their "tireless work":
I welcome Australia's Disaster Assistance Response Team home – their dedication, expertise and professionalism were on full display. Under the most difficult of circumstances they have worked tirelessly with local Turkish authorities on search and rescue efforts, delivering supplies and supporting an international effort to save lives.
Federal government hails tireless effort of Australian search and rescue crew in Turkey
As we mentioned on the blog earlier, Australia's Disaster Assistance Response Team (Dart) has returned home from Turkey, and a joint ministerial statement has been released commending the team's "commitment and professionalism that our international partners have come to expect from Australia".
The minister for foreign affairs, Penny Wong, emergency management minister, Murray Watt, and minister for international development, Pat Conroy, issued a joint statement which extended Australia's condolences "to all those who continue to be affected in Türkiye and Syria".
The team of 72 personnel comprised representatives from Fire and Rescue NSW, Queensland Fire and Emergency Services, ACT Fire and Rescue, New South Wales Departments of Health and Public Works, NSW Ambulance, NSW Police, representatives from the National Emergency Management Agency and the Department of Foreign Affairs and Trade.
The statement says:
Leading search and rescue efforts in difficult and dangerous conditions, the team used high-tech equipment to search through the rubble of unstable and collapsed apartment blocks.

The Australian Defence Force also made a valuable contribution by transporting personnel and equipment to and from Türkiye.
Wong said:
From New Zealand to Türkiye, Australians have again stepped up to help our international partners in times of need. I am proud of the tireless efforts of Dart team members who have supported responses to these natural disasters. As a result of their work in Türkiye, many families can now lay their loved ones to rest.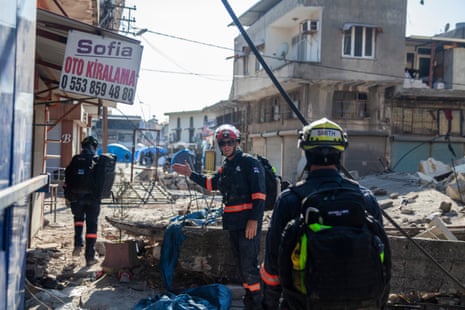 Mullet-growers prepare for the mane event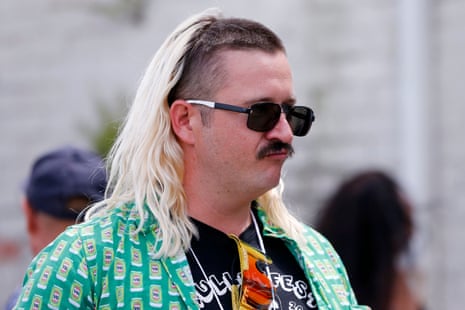 There is another pretty significant event happening in New South Wales today – the Mulletfest. AAP brings you all the mane details:
Contestants train their locks for years, grooming them to perfection to create the ultimate "business up front, party in the back" look.
They compete in a range of categories, including "rangas", vintage (for the over-50s), grubby, extreme, everyday and even rookie, for those with a mullet less than two years old.
Today, the event returns for a heat at the Chelmsford Hotel in Kurri Kurri, where the celebration of the iconic 'do was dreamed up in 2018.
Laura Johnson had been looking for a way to create some clean family fun and a tourism injection for a town struggling after the closure of an aluminium smelter that had employed generations of locals.
Growing from its fringe roots, the competition has expanded into a series of fixtures taking place Australia-wide, from Rockhampton to Perth and Alice Springs.
The winner of each category and the overall winner is then announced at the Mulletfest grand final, to be held in the Hunter Valley on 2 December.
Six thousand-strong Kurri Kurri might be described by Mulletfest organisers as "the town that was saved by the mullet", but the phenomenon is far from a locals-only affair.
As the mane movement gained momentum, proud mullet-wearers have made the pilgrimage to the pub from all over the world – including from Norway, North America and the UK.
Organisers said:
If you feel like an outsider everywhere else, at Mulletfest you will feel like part of the family.

We understand that it's the man or woman beneath the mane that matters … (and) that maybe the heart is as big as the hair.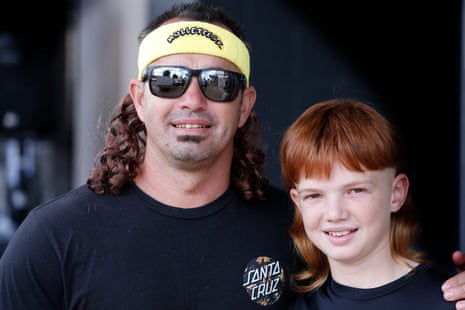 Police investigate suspicious fire in Melbourne's west
Police are investigating a building fire that broke out in Melbourne's west that damaged two businesses after the cause was deemed suspicious.
Emergency crews responded to an incident at a commercial property in Sunshine at about 4am on Saturday following reports of smoke coming from the building.
Fire crews were able to extinguish the blaze, however there was significant damage to at least two shops inside that share a common roof space.
It's believed there was no one inside the building at the time, a Victoria police spokeswoman said.
Anyone with information is being urged to contact Crime Stoppers.
– AAP
Excitement builds as marchers prepare for Mardi Gras parade
With less than four hours until the Mardi Gras parade kicks off in Sydney, the hype is building.
Sally McManus says she'll be marching tonight with the Union Pride float and shared this throwback to 20 years ago. A slightly different look for the secretary of the Australian Council of Trade Unions back then.
The Greens senator Mehreen Faruqi will be marching on Oxford Street too, with a message from the NSW Greens also wishing a happy Mardi Gras.
Read more from Jordyn Beazley about how Sydney's LGBTQ+ community is marking Pride:
Clean-up finds 50,000 bits of rubbish in Tasmanian wilderness
Buoys, floats, nets and massive fishing ropes are among the 50,000 pieces of garbage collected from beaches in the Tasmanian wilderness world heritage area, AAP reports.
Two dozen environmentalists spent a fortnight combing beaches in the state's rugged south-west for plastic flakes, rope fragments and other rubbish strewn along the shores.
The clean-up coordinator, Matt Dell, said the yearly event covered new ground including toward Point Hibbs, where they found approximately 70 metres of black industrial fish feeding pipes.
He said ahead of the expedition's return to the Huon Valley today:
This involved the difficult task of getting these polluting pipes off the land and back on to the boats.

These northern beaches contain significant amounts of larger debris – like buoys, floats, nets and very large industrial fishing ropes.

We collected seven cubic metres of rubbish at Endeavour Bay, which was by volume very similar to the rubbish we collected during the first five clean-ups of the south-western beaches in the early 2000s.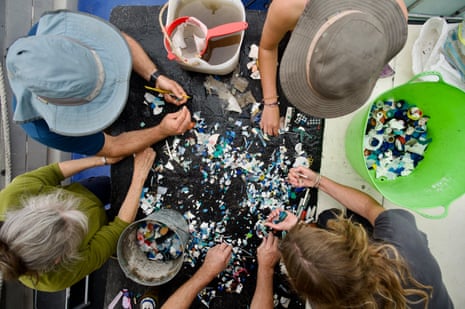 The group resorted to crawling across some of the worst littered beaches this week, finding 11,667 pieces in less than four hours in one day.
Our south-west coast is home to some of the most beautiful and inaccessible beaches on the planet. But every single day, thousands of pieces of plastic wash up onto the sand, placing the ecological integrity of this extraordinary coastline at extreme risk.
He called on the Tasmanian government to more tightly regulate the use of industrial fishing materials.
We are collecting significant amounts of rubbish from the long line and trawl fishery and as of now, from the industrial fish farming industry.

One clear practical step forward is to follow the lead of South Australia and Western Australia and ban bait straps.
Dell said the not-for-profit group, Team Clean, had removed about 760,000 pieces of rubbish from the World Heritage Area since 1999.
Hobart currently hottest capital in Australia
In what might be the most surprising news you will read on the blog today – Hobart is the hottest capital in Australia today!
It's almost 33C in the Tasmanian capital, and the only one in the 30s, according to the Bureau of Meteorology, compared with:
26.2 in Sydney

25.9 in Melbourne

27.1 in Brisbane

25.5 in Perth

20.3 in Adelaide

23.6 in Canberra

25.4 in Darwin
Penny Wong reflects on how her Chinese-Malaysian background contributes to her diplomacy
Circling back to Penny Wong's profile in the Australian Financial Review Magazine, the foreign minister also reflected on how her Chinese-Malaysian background contributes to her diplomacy:
Growing up with access to two cultures, I hope that gives me some capacity to listen and recognise to be curious about other cultures and how my counterpart sees the world and what are they responding to.

There is a degree of curiosity across cultural engagement that you have to have and not assume that what you think is important, or what you privilege in terms of information, is the same. You don't have the same imperatives.

I feel pretty comfortable in South-East Asia for obvious reasons. I gave a speech in Kuala Lumpur about myself, which is not usually my topic of choice, but I was actually trying to make a point about us, that we augment our influence by speaking with the full spectrum of who we are.

When we go to Asia or wherever and we say, 'one in two of us is either born overseas or has a parent born overseas, or there is diaspora from your country living in our country and this is what they brought and what we share', that changes how we are perceived in ways which are profoundly important.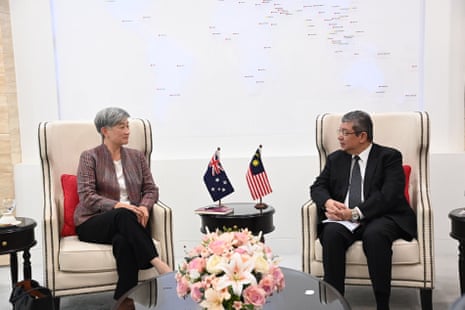 Wong said she nearly retired after Labor's federal election loss in 2019, but believes she is a "better foreign minister now for having that three years". It's during the three years before the 2022 win that she says she started to frame the regional challenge for Australia as a question that should be asked of our neighbours:
What sort of region do you want to be in? What are the attributes of that region? Because they've said, not just South-East Asia but the countries of the Pacific, to some extent, that we don't want to choose [between the US and China].
Woman dead following alleged domestic violence incident in Sydney
Police have arrested a man over the death of a woman following an alleged domestic violence incident in Sydney's west overnight, AAP reports.
The body of the woman, believed to be in her 30s, was found at a home in Brighton Street, Greystanes, near Parramatta, shortly before 1am on Saturday.
Emergency services were called to the property following reports of a domestic violence-related incident.
A 28-year-old man was arrested at the property and taken to Granville police station to assist police with their inquiries.
A crime scene has been established and investigations are continuing.
NSW corruption watchdog warned government fast-track rezoning for housing carried risks
The New South Wales corruption watchdog advised the state's department of planning that its decision to fast-track large areas of land for rezoning for new housing carried with it a number of risks, Guardian Australia can reveal.
The Independent Commission Against Corruption warned that "a favourable rezoning" under the plan to rezone large swathes of land on Sydney's fringes "could deliver a significant windfall to an applicant" and that this could prompt applicants to attempt "various lobbying techniques", including "direct approaches to the minister", and "using or cultivating personal contacts" within the department.
You can read more on that story by Anne Davies here:
Economic and strategic relationship with Beijing no longer separate, Wong says
The Australian Financial Review Magazine has a profile on the minister for foreign affairs, Penny Wong, out this morning. Speaking to the magazine, Wong reflected on the process of breaking the diplomatic freeze with Beijing last year:
When we engage with China, we are engaging with a very large, a very sophisticated, a very disciplined political system.

That is reflected in how you engage. China makes its position very clear. There is a lot to read and a lot to discuss with a lot of people before you walk into a meeting like that.

I wasn't very well. I kept having that bloody cough that wouldn't go – not Covid but still irritating.
Two months after the meeting, China started allowing some Australian coal back into the country, a Chinese diplomat has visited a lobster processor in Western Australia and the trade minister, Don Farrell, has received an invitation to Beijing. Despite the diplomatic success, Wong is hesitant to describe what's happening in the relationship as a "reset".
I think I've been a realist about China, a realist about foreign policy for some time.

I do think we can grow the bilateral relationship and uphold our national interest but it requires both countries to navigate our differences wisely.

When I say we seek to stabilise the relationship, I use that phrase quite deliberately. I don't use the word normalise, I don't use the word reset because the reality is neither country is going back to where we were 15 years ago.

Fifteen years ago we could separate the economic aspect and the strategic aspect of our relationship. That is no longer the case.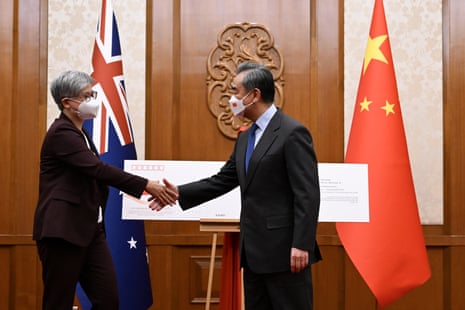 Two teens charged with murder over Brisbane stabbing
Two teenagers have been charged with murder after a man was stabbed to death in an early morning brawl that erupted in Brisbane's south-east, AAP reports.
Queensland police today said two boys – aged 15 and 16 – had been arrested and charged following the deadly confrontation between two groups at Underwood just after 1am on Friday.
Detective Superintendent Brendan Smith said the 20-year-old man's death was the result of a chance meeting between the groups and he was convinced the violent incident had no connection to any gang activities.
The two teenagers were arrested on Friday afternoon, when one was located at a Helensvale shopping centre.
Police also recovered a black Audi sedan from the centre's car park after earlier making a public appeal for sightings of the vehicle.
Smith said:
The young ages of the pair in custody is certainly confronting and the community rightfully denounces this type of lethal violence and police stand with them in condemning this alleged horrific act.
Police previously said the victim appeared to have been stabbed with a bladed weapon during the melee, but hadn't initially realised he'd been seriously injured.
The 20-year-old subsequently collapsed and was found unresponsive at the scene, where he was later declared dead.
Both teenagers were denied bail and were due to appear in Brisbane children's court.