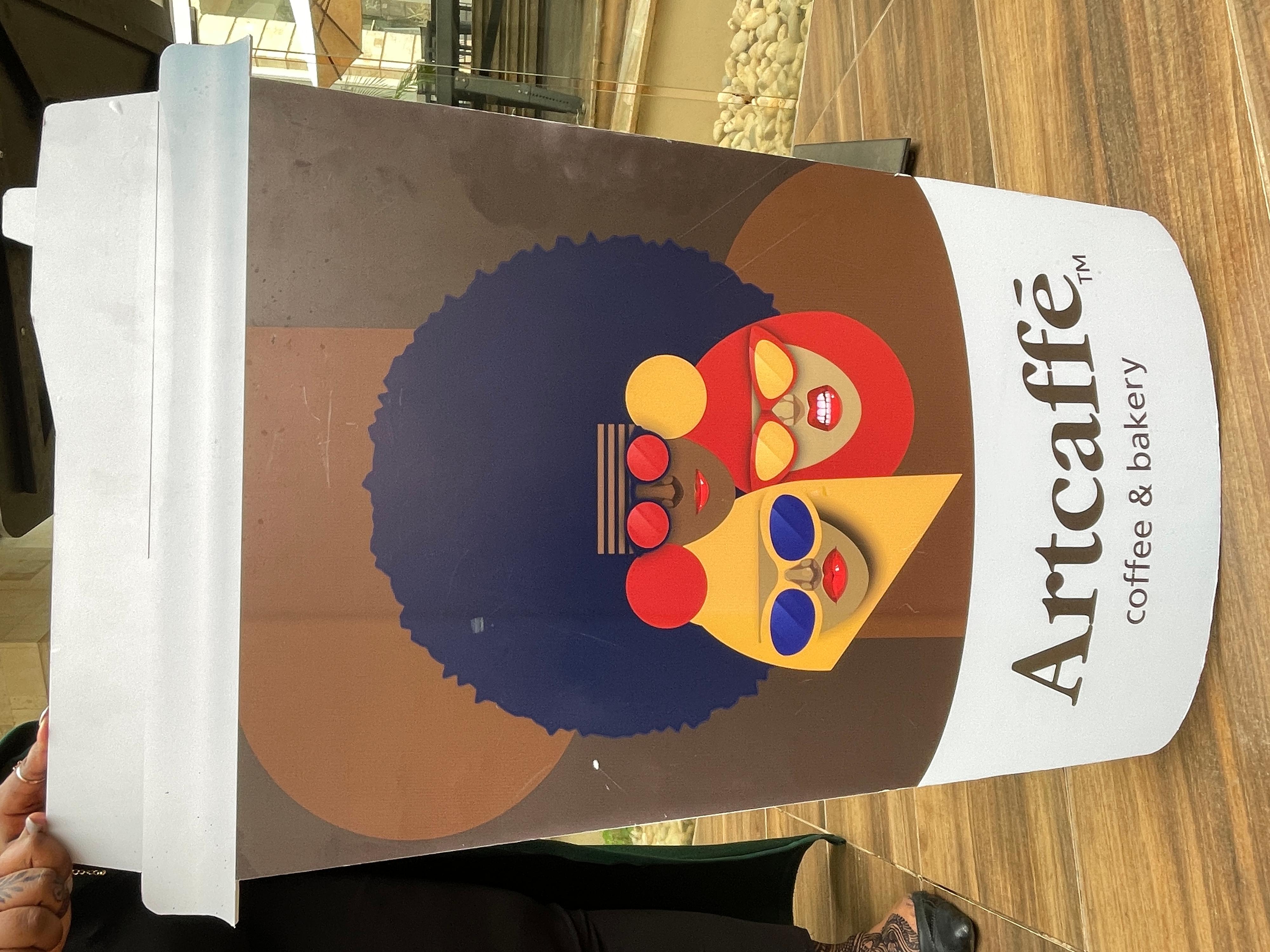 Arts

Award-winning artists at Art Caffe
Friday August 18 2023

Art Caffe has gone into the lively Kenyan art world in a major way in the last few years.
That was most apparent this past week when they awarded four young Kenyan artists with cash and a range of opportunities that will open up doors, including exhibitions and visibility of priceless value.
The awards derived from a media campaign that got reactivated by Joy Maina, following its hiatus during the pandemic.
"We launched the 'Art in the City' campaign on March 8th, commemorating International Women's Day," the 28-year-old marketer told BD Life last Wednesday night when awards were given.
"The idea was for artists to submit works that represented women they revered in their lives," said Ms Maina as she credited her team for helping her handle all the moving parts of the campaign.
The whole affair was run online, first through the Art Caffe website at the 'Art in the City' portal; then on Instagram where many young people go as their primary means of communication and news gathering.
For someone less attuned to the digital transformation that the current generation of youth prefers, it may seem exceptional that so many could find their way into the Art Caffe competition, but Ms Maina said that more than 270 artworks were submitted online and 157 artists in all were finally admitted for consideration and adjudication.
"The team made several shortlists until we finally managed to select three," added Suzanne Kahi, another member of the AC team.
The winners they chose were Kesha Gorajia, a digital artist and fashion designer, Cecilia Gatenia, a filmmaker, and Victor Nderitu, a full-time artist.
Also, they organized a People's Choice award which earned Dennis Andrew Odhiambo more than 320 votes and the PC prize.
On Awards night, a work by each of the three winners was stamped onto a giant billboard coffee cup, giving prominence to their art.
There were also take-away coffee cups stamped with the winning artwork of 2022 which was by Aadil Shah.
Fortunately, BD Life had a chance to speak to several of the winners, starting with Kesha Gorajia, a cosmopolitan Kenyan who was born in California, spent her early years in Burundi, and arrived in Kenya at age five where she first learned to speak English and Swahili.
Having studied fashion design in the States, she is now full-time digital artist who loves the freedom and versatility of the digital medium.
"I can change my colours, technique, or textures with the [digital] choices I make online." Kesha wins Sh150,000 for her first prize win.
Her art and that of the 256 other artists are available to see at the 'FLIPPAGE' portal that one can find at the Art Caffe website.
As Cecilia Gatenia was away, making her current film, BD Life spoke to Victor Nderitu who studied graphic design and illustrations at Kenyatta University. Like Kesha, he saw the AC Call Out on Instagram and sent in three of his artworks, painted in acrylics.
His 'Sokoni' won second runner-up and Sh50,000. But unlike Kesha, his parents were by no means supportive of his turning to fine art.
They were typical Kenyans who hoped their child would become a doctor, lawyer, or certified accountant.
But Victor has been earning his school fees since secondary school when his pencil portraits of his classmates were in demand at his Gatundu day school.
Art Caffe's staff was wise to include the People's Choice award since it clearly generated interest in the whole #Herstory campaign as the original 'Art in the City' program got renamed in light of its focus on women.
Probably, the most direct and explicit expression of an artist's affinity for women was created by Dennis Andrew Odhiambo who won the People's Choice, winning Sh25,000.
In all, Ms Maina tallied all the numbers and said 1045 votes were cast in the PC campaign which had run from March 8 to April 5.
Dennis, like many Kenyan artists, didn't attend an art college per se. He studied art at Vihiga Friends High School, but there was no art in Dandora where he went to primary at Uchumi Academy. At JKUAT, he studied Business Innovation and Technology Management.
But he'd never stopped drawing since his youth. So, when he discovered the Art Caffe campaign, he drew a trio of women who had shaped his life: his mom with her giant Afro, his sister Diana, and 'the mother of [his] child'.
Kesha will be the first of the award winners to exhibit in Art Caffe Riverside. The other winners will follow later this year.
→ [email protected]
Source link
(This article is generated through the syndicated feed sources, Financetin doesn't own any part of this article)