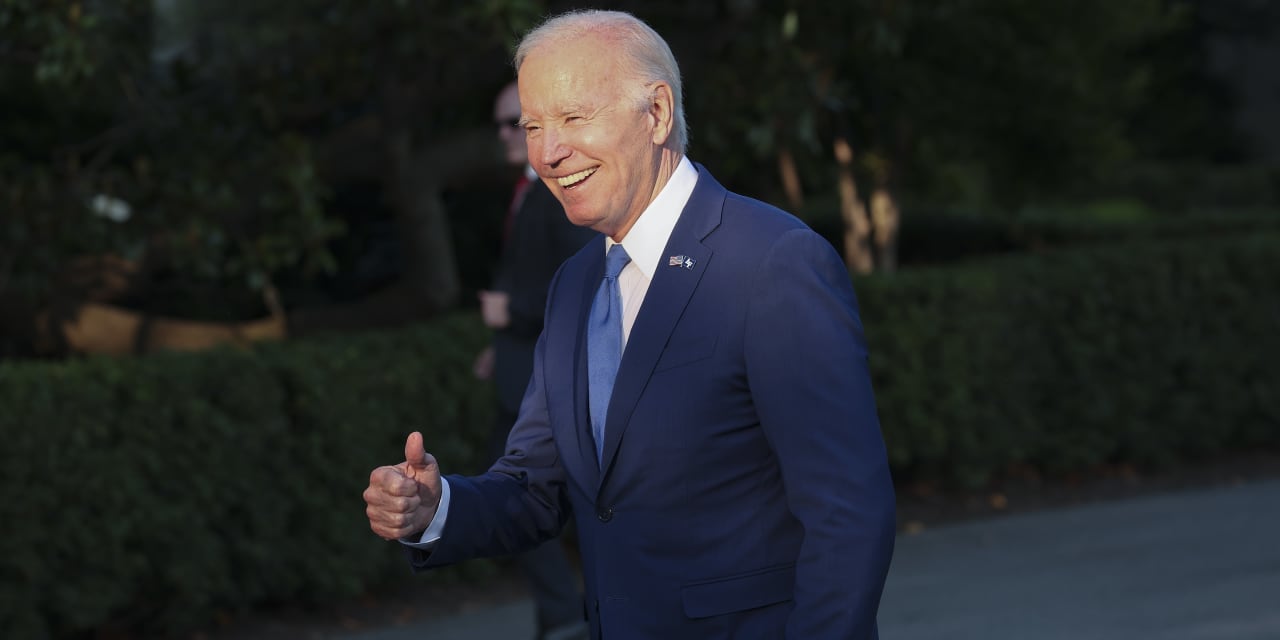 The index of leading economic indicators peaked in February 2022, recession warnings started appearing on Wall Street in the middle of last year, and the yield curve became inverted, for good, by July 2022.
And yet here we are, at the end of the second quarter in 2023, some 5 percentage of Fed rate hikes in the bag and a recession just isn't here. The Atlanta Fed's nowcast for the second quarter is that GDP will grow a solid 1.8%.
Neil Dutta, head of economics at Renaissance Macro Research, fired off a note saying "the statute of limitations has now kicked in. There are several reasons to be upbeat on the U.S. economy. The recession clock has been reset."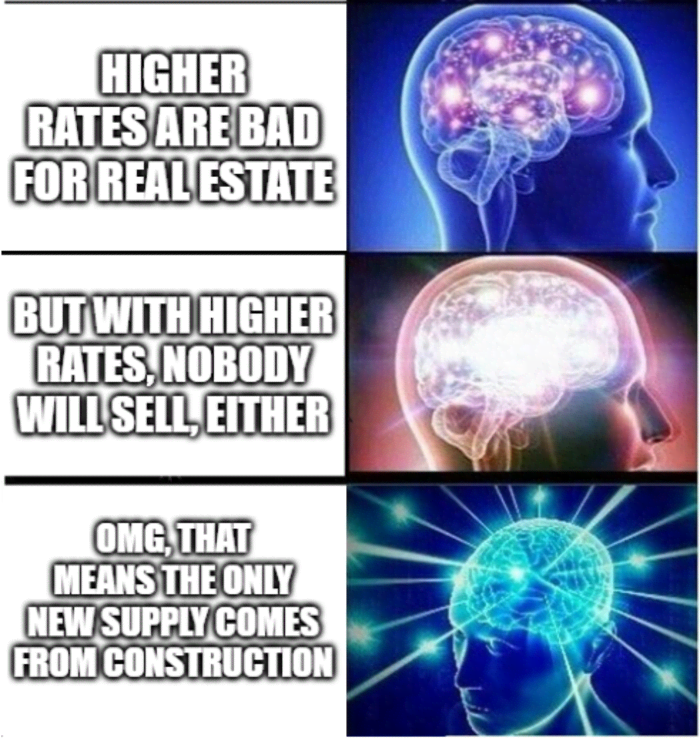 For one, look at that ultimate rate-sensitive sector, housing. Data released Tuesday showed new home sales surging in May, gaining for the third straight month. This meme from strategist Lyn Alden boils it down nicely. People aren't putting their homes on the market with mortgage rates at 7%, which means the only available supply is coming from new homes. But that's the part of the housing market which gives the biggest pop to the broader economy.
Dutta noted the housing improvement and pointed out other positives. One is that consumer prices are falling faster than the labor market income. Another is that the current weakness in inventories investment is not sustainable given the growth in household consumption — at some point, firms will have to re-stock their inventories.
Looser financial conditions as well as the Fed "taking its foot of the market's neck" are other positives, he says. Auto sales also have picked up, as supply chains have improved.
Dutta also attacked some of the bear arguments. Bank lending has been slowing, but he points out this business cycle has been driven by income, not credit. While initial jobless claims have been elevated of late, continuing claims haven't followed in the way they usually would, perhaps a signal that those who get laid off can quickly find another job.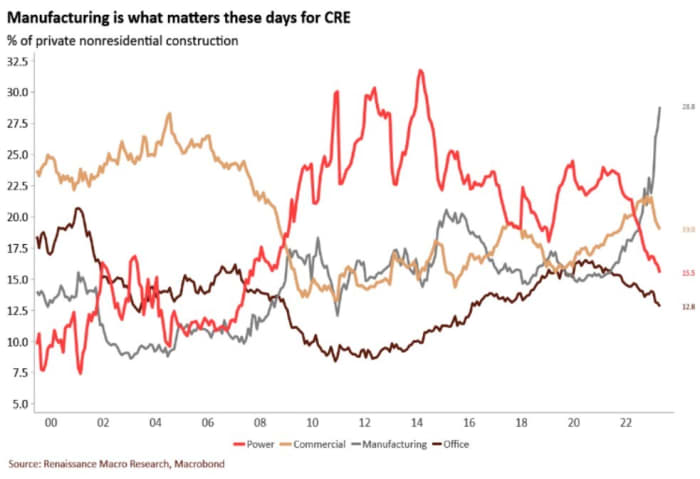 What about commercial real estate? Well, Dutta notes, office construction is just a small part of commercial real estate, and structures investment is only 3% of the economy anyway. Besides, federal stimulus likes the CHIPs Act is "crowding in" private investment.
"You cannot talk about late cycle dynamics with housing turning up and inventories likely to follow. There will be no recession in the next six months, and it is increasingly likely that we're not seeing one in the next year either," he says.
Dutta, in a follow-up email with MarketWatch, addressed why traditional recession signals didn't work this time around. The leading indicators data is composed of manufacturing-intensive numbers. "That normally makes sense but given the dynamics of the pandemic it might make a lot less sense now. People are conflating a normalization of activity in manufacturing with an economy wide recession," says Dutta.
And what about the inverted yield curve? "Is it the yield curve inversion that signals recession or the bull steepening of the curve that does," he replies. "That is, when the Fed starts aggressively cutting we know we're in recession. An inverted curve doesn't necessarily mean financial conditions are tight."
President Biden is due to give his speech on "Bidenomics" at 1 p.m. Eastern in Chicago. Ahead of that, he told a fundraiser that the economy is "strong now" and that he doesn't expect a recession.
The markets
U.S. stock futures
ES00,
-0.25%
were weaker, with the Nasdaq 100 contract
NQ00,
-0.49%
down on microchip sector concerns. The dollar
DXY,
+0.44%
inched higher.
For more market updates plus actionable trade ideas for stocks, options and crypto, subscribe to MarketDiem by Investor's Business Daily.
The buzz
Nvidia
NVDA,
+3.06%
and Advanced Micro Devices
AMD,
+2.68%
shares fell on a Wall Street Journal report the White House might ban a sale of AI chips to China. Also in chips, Micron Technology
MU,
+2.05%
reports fiscal third-quarter results after the close.
Federal Reserve Chair Jerome Powell will appear along with other top central bankers in a panel discussion at the European Central Bank forum on central banking at 9:30 a.m. Eastern from Sintra, Portugal.
General Mills
GIS,
-1.17%
shares fell as the cereal maker's sales missed estimates, even though earnings were better than anticipated.
The U.S. Supreme Court could issue a ruling on student-debt relief as early as Wednesday.
The Federal Reserve will release the results of its stress tests on the biggest banks after the close. Read a preview of stress test impact.
UBS
UBS,
+1.64%
may cut half of the staff from the acquired Credit Suisse, according to a report.
Best of the web
The drugs that power Silicon Valley.
Traders are scooping up bets on volatility.
Here's the best time to take a nap.
Top tickers
Here are the most active stock-market tickers as of 6 a.m. Eastern.
Ticker
Security name
TSLA,
+3.80%
Tesla
NVDA,
+3.06%
Nvidia
GME,
+2.43%
GameStop
NIO,
+11.19%
Nio
AAPL,
+1.51%
Apple
MANU,
+7.38%
Manchester United
AMC,
+1.74%
AMC Entertainment
AMD,
+2.68%
Advanced Micro Devices
MULN,
-21.06%
Mullen Automotive
AMZN,
+1.45%
Amazon.com
The chart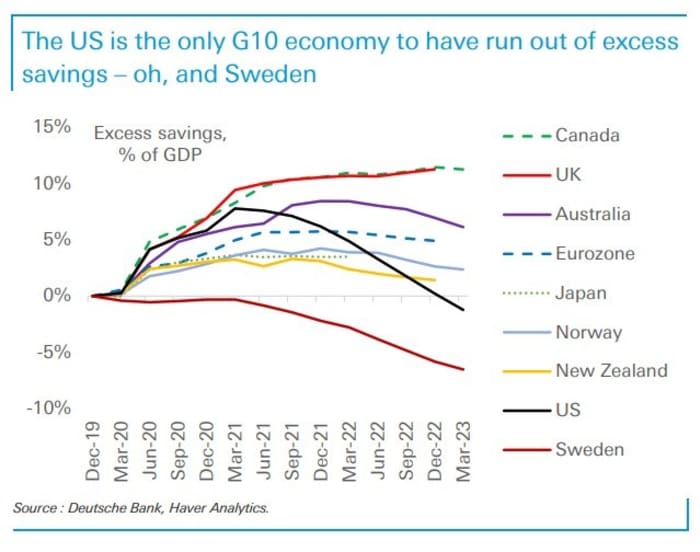 So when are those pandemic savings due to run out? Apparently, per Federal Reserve research, that happened in the first quarter. Deutsche Bank ran a similar analysis and agreed that the U.S. has run out of exceed savings, as well as Sweden, which of course never locked down in the first place so didn't send money to households. The better news for the world economy is how many countries still have those buffers.
Random reads
A janitor turned off a freezer making annoying alarms — ruining some 20 years of scientific research. Now there's a lawsuit.
Talk about really oven-fired pizza — archaeologists have found a painting from Pompeii depicting a precursor to the Italian dish.
Need to Know starts early and is updated until the opening bell, but sign up here to get it delivered once to your email box. The emailed version will be sent out at about 7:30 a.m. Eastern.
Listen to the Best New Ideas in Money podcast with MarketWatch reporter Charles Passy and economist Stephanie Kelton.
Source link
(This article is generated through the syndicated feed sources, Financetin doesn't own any part of this article)