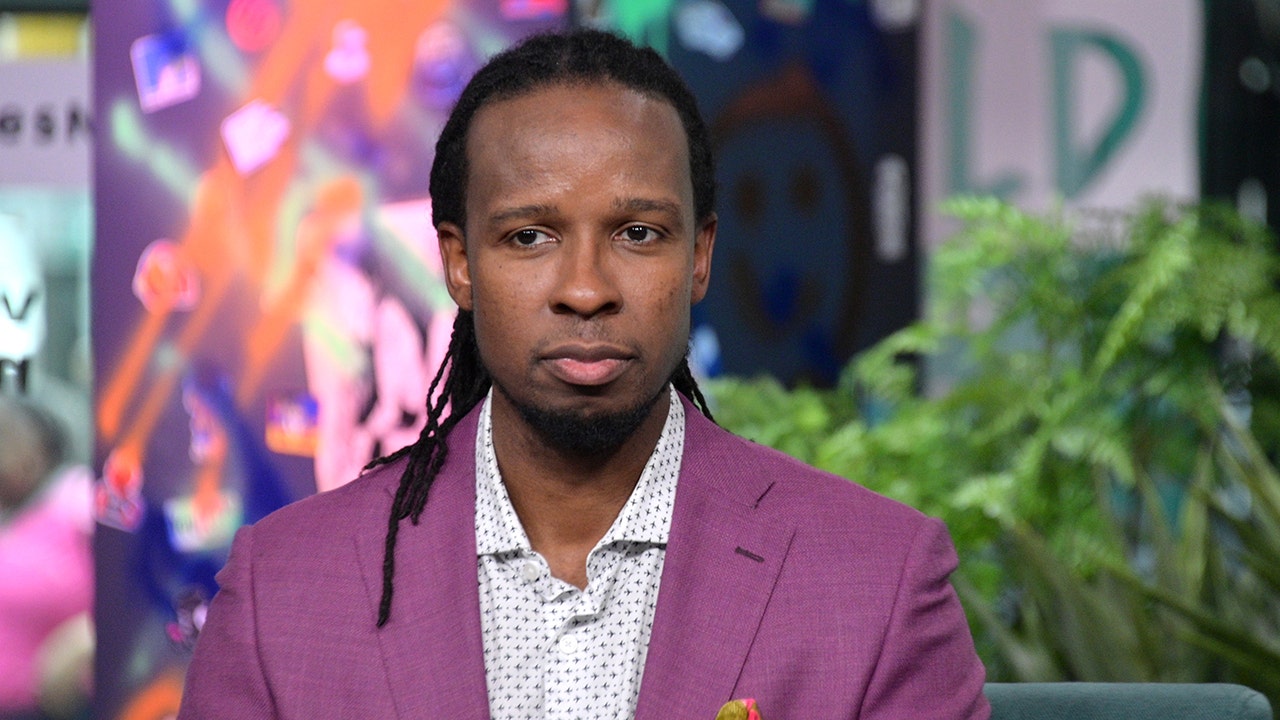 Boston University is guilty of "employment violence and trauma" by allowing massive layoffs of the Center for Antiracist Research, according to Professor Phillipe Copeland. 
Boston University confirmed to FOX News Digital on Thursday that the center, spearheaded by critical race theory defender Ibram X. Kendi, laid off at least 15 staff members in what it called an "evolving" process.
"The Center is evolving to a fellowship model. Dr. Kendi remains the Director. We can confirm that there were layoffs at the Center. The University and Center are committed to working with and supporting affected employees as they look for their next opportunities," Boston University PR Associate Vice President Rachel Lapal Cavallario said in a statement.
Copeland attacked this decision for undermining antiracism which he considers a "life and death matter."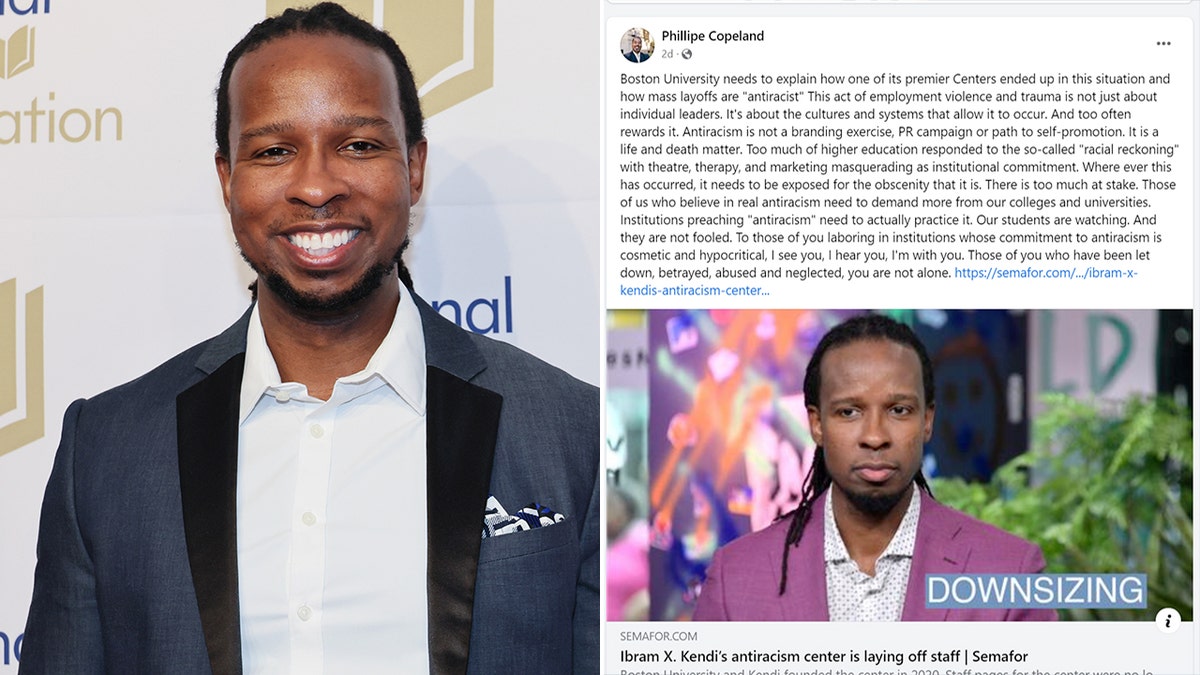 BOSTON UNIVERSITY HIRES HARVARD MISINFORMATION SCHOLAR AND HUNTER BIDEN LAPTOP SKEPTIC 
"Boston University needs to explain how one of its premier Centers ended up in this situation and how mass layoffs are 'antiracist.' This act of employment violence and trauma is not just about individual leaders. It's about the cultures and systems that allow it to occur. And too often rewards it. Antiracism is not a branding exercise, PR campaign or path to self-promotion. It is a life and death matter," Copeland wrote on Sunday.
He continued, "Too much of higher education responded to the so-called 'racial reckoning" with theatre, therapy, and marketing masquerading as institutional commitment. Where ever [sic] this has occurred, it needs to be exposed for the obscenity that it is. There is too much at stake. Those of us who believe in real antiracism need to demand more from our colleges and universities. Institutions preaching 'antiracism' need to actually practice it." 
"Our students are watching. And they are not fooled. To those of you laboring in institutions whose commitment to antiracism is cosmetic and hypocritical, I see you, I hear you, I'm with you. Those of you who have been let down, betrayed, abused and neglected, you are not alone."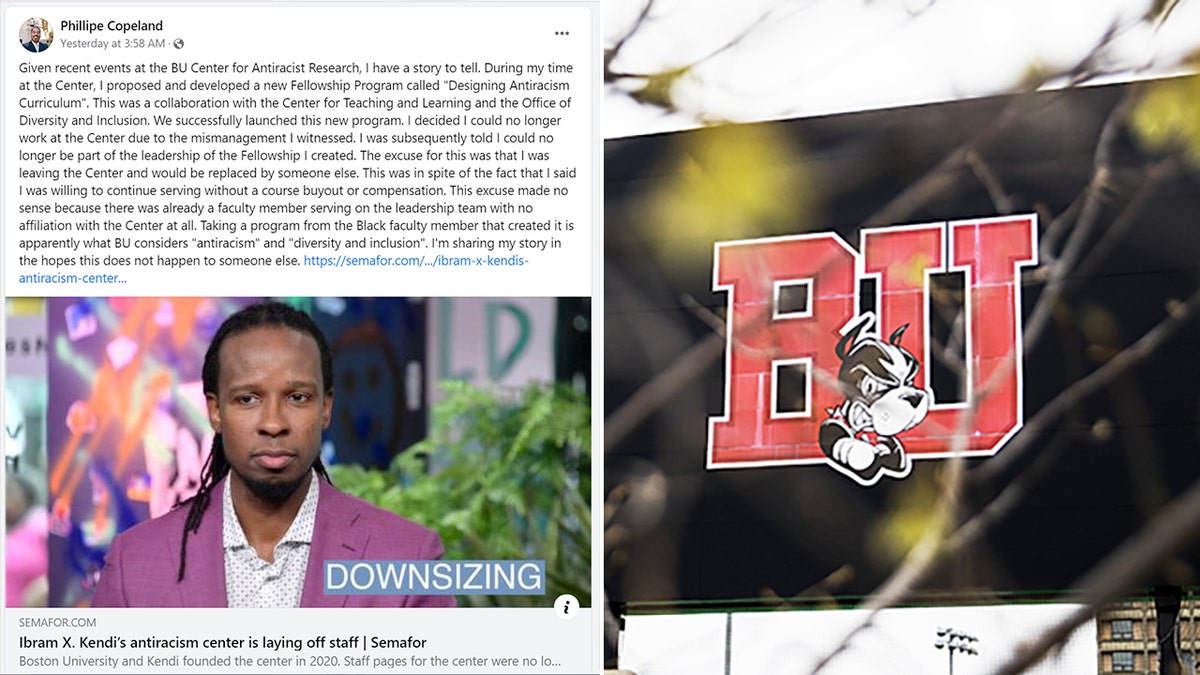 By Monday, he elaborated on his criticism by describing his experience launching a Fellowship Program during his work in the center.
"I decided I could no longer work at the Center due to the mismanagement I witnessed. I was subsequently told I could no longer be part of the leadership of the Fellowship I created. The excuse for this was that I was leaving the Center and would be replaced by someone else. This was in spite of the fact that I said I was willing to continue serving without a course buyout or compensation. This excuse made no sense because there was already a faculty member serving on the leadership team with no affiliation with the Center at all," Copeland wrote. 
BOSTON UNIVERSITY PROFESSOR SAYS PROPERTY IS RACIST, EXCUSES BLACK LIVES MATTER RIOTS AFTER GEORGE FLOYD DEATH 
He added, "Taking a program from the Black faculty member that created it is apparently what BU considers 'antiracism' and 'diversity and inclusion.' I'm sharing my story in the hopes this does not happen to someone else."
Copeland's "Designing Antiracism Curricula Fellowship Program" is still accessible on the Boston University website. 
Copeland did not respond to a request for comment.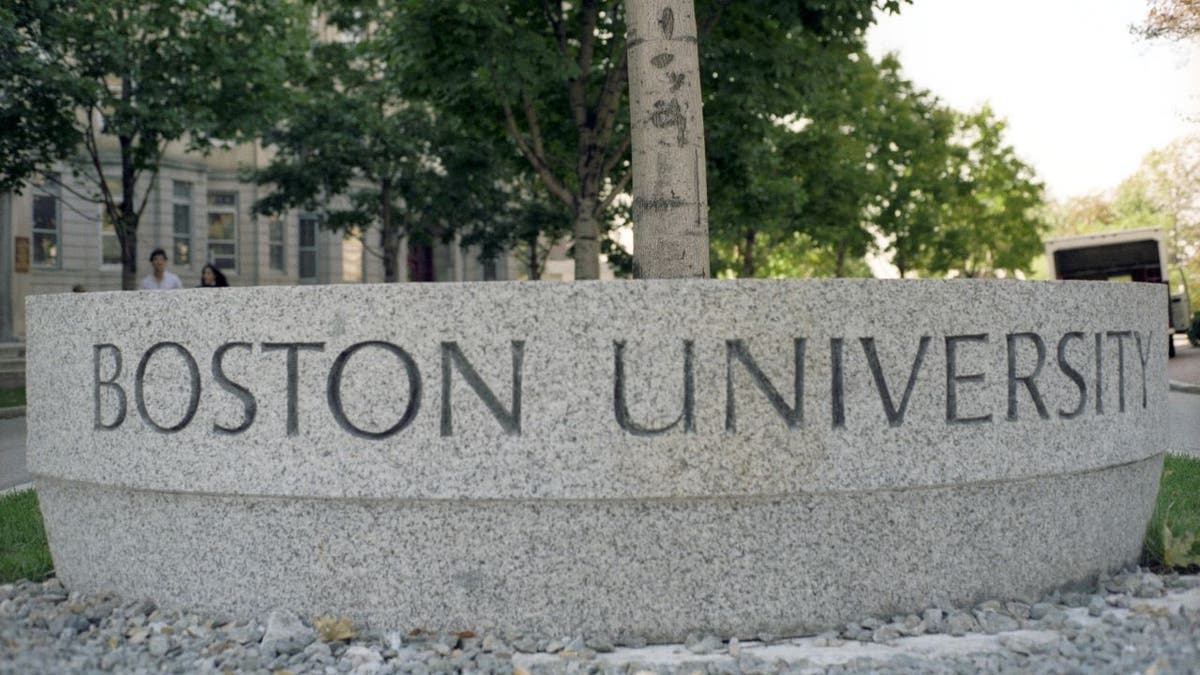 Other staff members criticized the structure of the center, going so far as to call it "exploitative."
"There are a number of ways it got to this point, it started very early on when the university decided to create a center that rested in the hands of one human being, an individual given millions of dollars and so much authority," Spencer Piston, faculty lead of the center's policy office, told the Boston Globe.
Former assistant director of narrative at the center, Saida Grundy, also described working extra hours saying, "It became very clear after I started that this was exploitative and other faculty experienced the same and worse."
Boston University did not respond to a request for comment.
CLICK HERE TO GET THE FOX NEWS APP
For more Culture, Media, Education, Opinion, and channel coverage, visit foxnews.com/media.
Source link
(This article is generated through the syndicated feed sources, Financetin neither support nor own any part of this article)