 One of the largest tobacco companies in the world increased its ownership position in a small Canadian cannabis company last week as part of a deal struck one year ago.
British American Tobacco (NYSE:) invested an additional C$6.3 million ($4.9 million) in New Brunswick-based Organigram Holdings (NASDAQ:) (TSX:), upping its stake to 19.5% from 18.8%.
The move is part of the deal the two companies initiated in March 2021 that provides for periodic "top-up" investments following share issuances. Last December, Organigram issued 11 million shares to finance the acquisition of Laurentian Organic, a Quebec-based craft cannabis company. BAT purchased just over 2.6 million of those shares at an average price of $2.3868, according to a statement released by the companies.
The news gave shares of the Organigram, which specializes in recreational and medical cannabis offerings, a small boost. The stock jumped from a low two weeks ago of about $1.40 a share to about $1.50 a share on the news. But by the end of last week, Organigram closed at $1.38, down just over 2% on the day on Friday, and a drop of 1.4% since the announcement.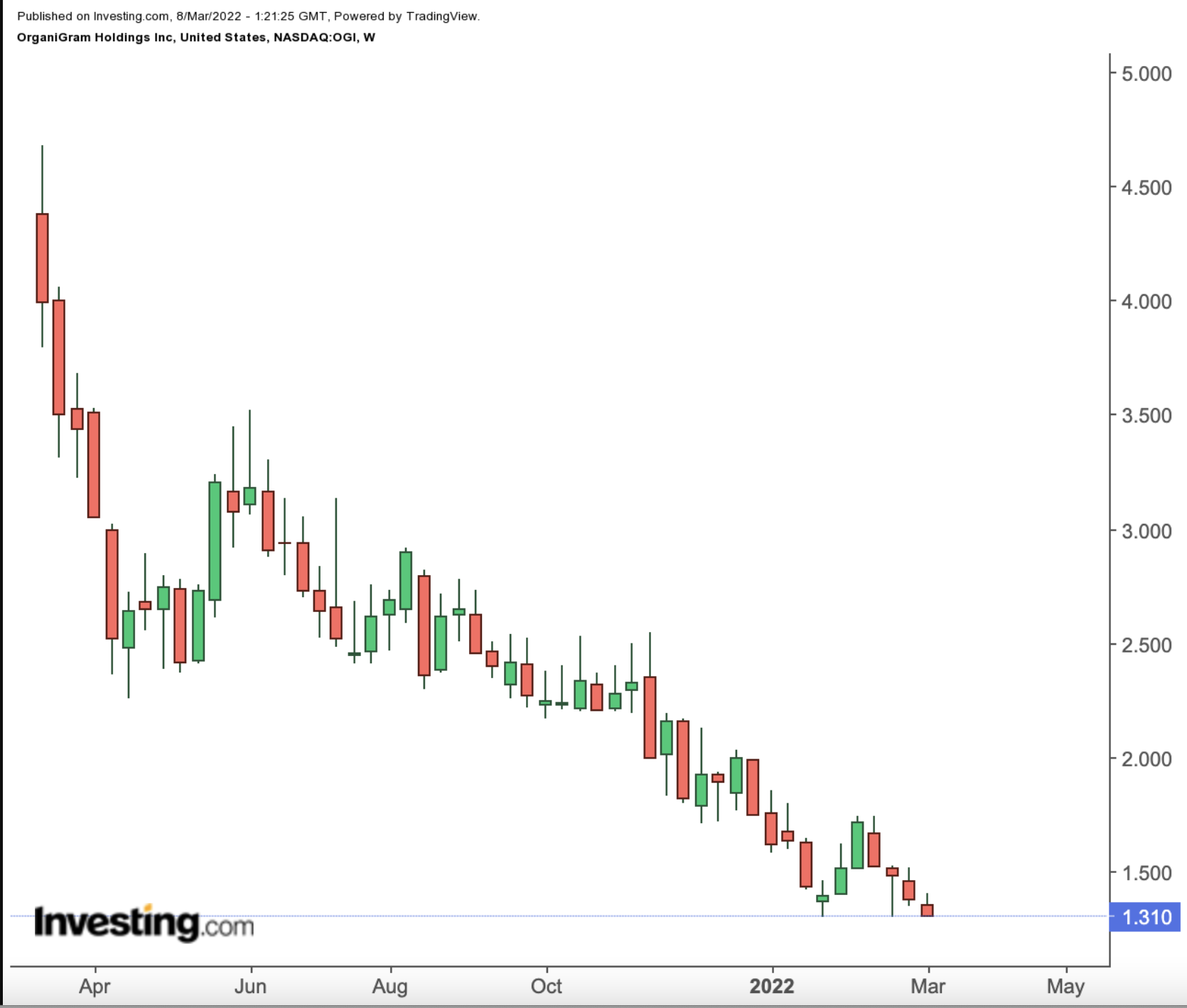 Yesterday, shares of Organigram closed at $1.31, down another 5% on the day. In the last 12 months, shares of the company have lost 48.5%.
The Cost Of War And Rumors
It's been a tough few weeks for Curaleaf Holdings (OTC:). The US-based cannabis company made an unprecedented move—perhaps a reflection of the unprecedented times.
In a statement to investors the marijuana giant said:
"Curaleaf would like to provide some clarity by addressing speculation regarding how the Russia-Ukraine crisis may impact the company."
It went on to explain:
"The speculation on social media that the Company and its major shareholders and executives will somehow be subject to any US government economic sanctions now or in the future is incorrect."
The statement outlined specifics that included that the company's executive chairman and largest shareholder, Boris Jordan, "is an American citizen, born and raised on Long Island, New York. He is not, and has never been, a citizen of any other country."
And that the company's second-largest shareholder, Andrei Blokh, "is a US citizen, who also holds a Russian passport."
Blokh is reported to hold a 21% stake in the company.
The aim of the statement was to clearly state that the company's executives and shareholders are not affected by the US government's sanctions imposed on Russia.
Shares of Curaleaf have lost 26.8% since Feb. 24, the day Russian forces invaded Ukraine, dropping from $7.49 to $5.48 at yesterday's close.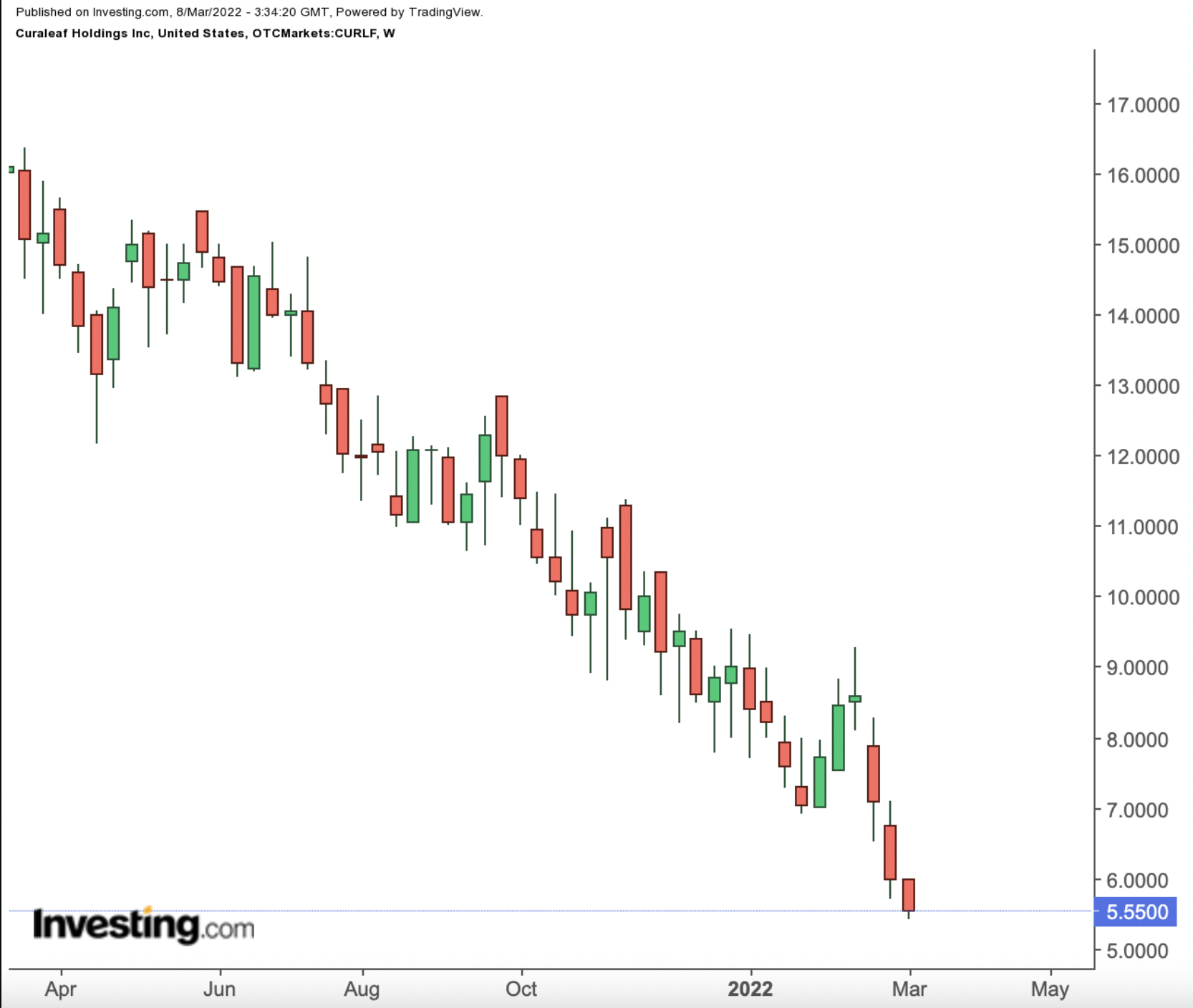 On Mar. 3, the Massachusetts-based Curaleaf its fourth quarter and year-end results that included two record line items. The company's fiscal year 2021 set new revenue and adjusted EBITDA records of $1.2 billion and $298 million, respectively.
These figures represented gains of 93% for revenue and 107% for EBITDA.