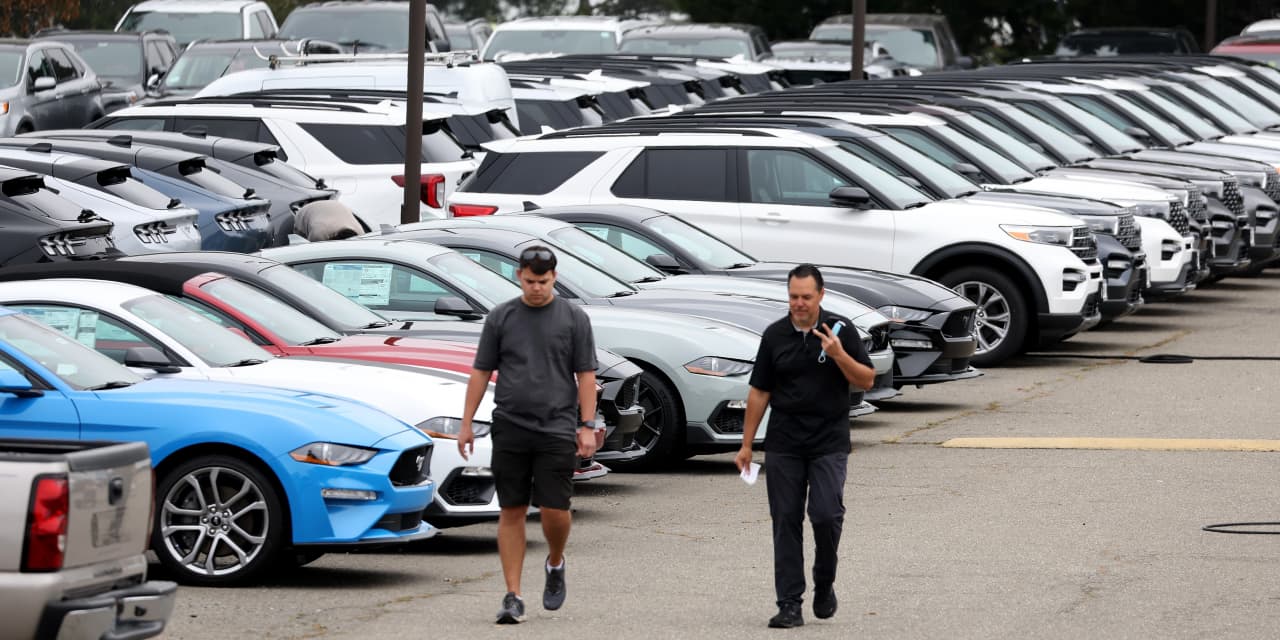 As some U.S. automakers update markets on their August sales, higher inventories at dealerships are one reason new-car sales are expected to notch big gains year on year.
Around this time in 2022, new-car inventories were at their lowest level in years, the result of pandemic-driven supply-chain snags and heightened demand.
Several estimates peg August's seasonally adjusted annualized rate for new-vehicle sales at around 15.3 million units, some 2 million cars more than in August 2022 but down from around 16 million new vehicles sold in July.
Among major U.S. makers, Ford Motor Co.
F,
+0.83%
is expected to release August sales numbers in the coming days.
Tesla Inc.
TSLA,
+0.46%
and General Motors Co.
GM,
+0.63%
report quarterly sales numbers and are next expected to update Wall Street in early October. Smaller U.S. and foreign makers and EV startups are split between monthly and quarterly sales releases.
Automakers have shifted to leaner inventories, a change that was precipitated by the pandemic but is likely to stick, at least for the time being.
Some car dealerships were operating with about 20% of their usual inventory around the second and third quarters of last year. That meant "essentially zero, because every car was spoken for," said Edmunds.com analyst Ivan Drury.
Inventories are better now but are still at about half of prepandemic levels, Drury said, adding that this might be a "new normal."
Cox Automotive analyst Jeremy Robb also said that generally speaking, many manufacturers have seen increased inventory levels over the last month.
"We have started to see some increases in supply for a few makes that have been a bit more constrained over the last couple of years, like Toyota and Subaru," he said.
"There's probably some increased manufacturing that has gone on to try and get in front of the United Auto Workers negotiations in the case of a slowdown, and this has likely had a positive impact on new-vehicle inventory over the last couple of months," Robb said.
"We are definitely sitting at a time when inventories have risen, but part of that reason could be in preparation for some manufacturing slowdowns to come in future weeks," he said.
Negotiations between unionized auto workers and the Big Three automakers — Ford, GM and Stellantis NV (formerly Fiat Chrysler)
STLA,
-0.91%
— continue, with workers last week overwhelmingly voting to authorize a strike if negotiations fail. The contracts expire Sept. 14, and negotiations have been tense.
See also: It's 'crunch time' for unionized auto workers, but this is not UPS
"In the weeks ahead, we see risk of a UAW labor strike curtailing U.S. vehicle production, potentially at all three Detroit automakers," Deutsche Bank analyst Emmanuel Rosner said in a note this week.
"This could further reduce inventories and help boost pricing. A more protracted strike could eventually have a negative impact on vehicle availability and SAAR," Rosner said.
Average car prices ticked up in August to about $45,400, but they are down about 2% year on year, Rosner said. Incentives are still rare, and higher interest rates are another barrier.
Car buyers have encountered "MSRP plus," or sticker prices that carry a premium over the manufacturer's suggested retail price. People are seeing a few hundred dollars' worth of discounts from MSRP in some cases, usually on cars that are not among the most sought-after sets of wheels.
People who balked at paying more than MSRP last year may find some minor incentives now, but if they are financing their purchase, as the majority of car buyers in the U.S. do, higher interest rates mean that they will pay more for the vehicle overall than if they had taken the plunge in 2022.
"They held on for one year, and they technically did well in their minds, but now they're paying more than last year because of interest rates," Edmunds.com's Drury said.
Discounts are not widespread, and any leasing or financing deals, such as cash back, are still rare.
"It's just getting very difficult for consumers to navigate this new world of auto buying," Drury said. More than ever, buyers have to be flexible and realize that they might not be able to buy the exact car, trim or color they want, he said.
"Pricing these days is all that matters," he said. "So many consumers are on the sidelines waiting for conditions to improve. It's kind of like the housing market: You buy it only if you see a deal or if your hand is forced."
Don't miss: This EV company has a bigger market cap than Ford or GM. But you may not have heard of it.
Source link
(This article is generated through the syndicated feed sources, Financetin doesn't own any part of this article)