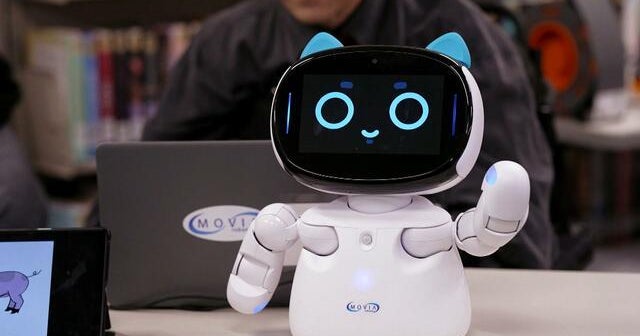 At a library in Southern California, robots aren't cold and scary: They're providing the interaction some of the library's youngest patrons are craving. 
For four-year-old Luke Sepulveda, finding a friendly robot at the Santa Ana Public Library was the start of a futuristic friendship. Now, the robot even greets him by name. 
His mother, Ella Sepulveda, said that her son is on the autism spectrum. She wants him to be able to communicate with the world around him, she said, and the library's robot helps him do that. 
"In different spaces, you don't know how he's going to react," Sepulveda said. "So I was just hoping for the best because he loves technology … Just knowing that a robot can engage his attention, that makes me happy." 
The robots in the library have been specially programmed to teach children with autism. Larry Singer, a senior tutor at the library, said that the robots work as a tool because of their consistent behavior. 
"Human beings have emotions. Human beings get tired. Human beings get frustrated. A robot (has the) same response every single time," Singer said. "They're not critical." 
About one in 36 children in the United States is on the autism spectrum, according to the Centers for Disease Control and Prevention, but the Santa Ana Public Library is one of the first libraries to provide the pricey program for free. The initiative has been spearheaded by head librarian Cheryl Eberly, who said that she launched the program during the pandemic and hopes to fill gaps of services for children of color, who are often not diagnosed with autism until they're older. 
"Every time I see a kid on the spectrum or a neurodivergent kid  lock in and interact with the robot and get that moment where they are bonded and they understand, it's amazing," Eberly said. "It's like validation that this works." 
Thanks for reading CBS NEWS.
Create your free account or log in
for more features.
Source link
(This article is generated through the syndicated feed sources, Financetin neither support nor own any part of this article)