 On Tuesday, fast-food giant McDonald's (NYSE:) joined other globally recognized brands, including Starbucks (NASDAQ:), Coca-Cola (NYSE:) and PepsiCo, Inc. (NASDAQ:) in suspending their operations in Russia, at least for the time being. The move is in direct response to mounting pressure on marquee companies from consumers and investors worldwide after Moscow's aggressive move against Ukraine.
The iconic hamburger-and-fries purveyor said it will temporarily close all of its 847 restaurants inside Russia though it plans to continue to pay its 62,000 employees in that country.
McDonald's shares are down 17.4% YTD, just 2.6% from an official bear market. For comparison, the is off 'only' 10.2% while the fell 12.5%, both down from their Dec. 27 records.
It's unclear, at this juncture, whether this temporary halt to its Russian business operations will keep pressuring the stock. However, from a technical perspective, the share price which closed on Tuesday at $222.79 has reached a crucial level.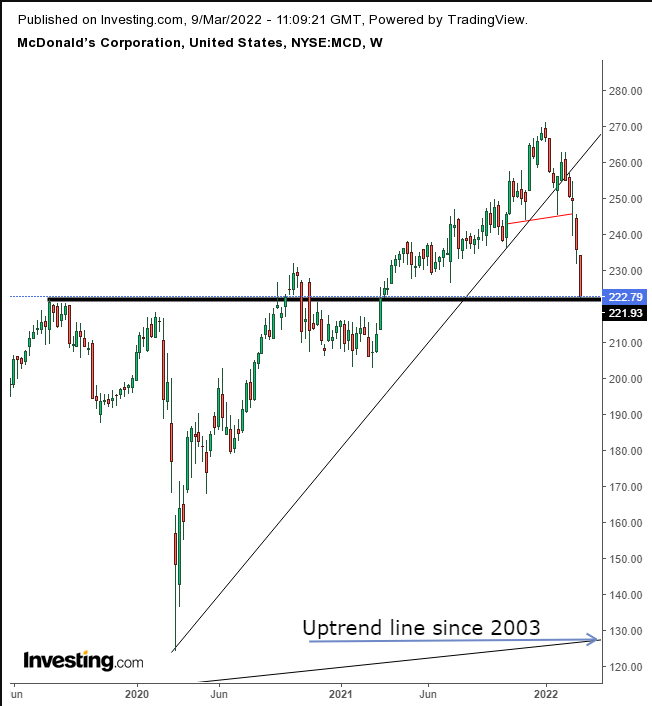 The restaurant operator and franchiser's stock achieved most of its H&S top's implied target. The price found support by the 2019 highs, where the price once saw resistance in March 2020.
If this support holds, the stock could rebound on dip-buying, or for that matter on any progress in ceasefire or peace negotiations between Russia and Ukraine.
On the other hand, if the price falls below the $220 level, it could drop back to its macro uptrend line since its 2003 low. That's where the March 2020 support is located.
Trading Strategies
Conservative traders should wait for new highs before risking a long position, in order to recalibrate the short-term downtrend with the long-term uptrend. Alternatively, if the price falls below $215 and attempts to recover but fails, they could then short the stock.
Moderate traders would enter a long position upon signs of accumulation above $220 or distribution below $220.
Aggressive traders could enter a long position now, counting on a bounce. If the price falls below $220, they could then go short. This technical situation is delicate, and proper money management will make the difference between manageable and devastating losses. Here is a basic example:
Trade Sample – Aggressive Long Position
Entry: $225
Stop-Loss: $220
Risk: $5

Target

: $240
Reward: $15
Risk-Reward Ratio: 1:3
Author's Note: The above is just a sample. By definition, that means there are other ways to approach the trade based on one's style, subject to timing, budget, and temperament. Our analysis is one interpretation based on the principles of technical analysis—not magic. No one knows what the future holds, and the objective of technical analysis is to side with statistics, a proposition whose chances increase over time with a consistent, systematic approach. Until you learn how to form a personal plan, follow ours. However, do so to learn rather than to profit. If you focus on profiting, something not likely if you're a beginner, you'll lose heart and give up before you've had a chance to actually learn.