Four people were killed and eight others injured, including two police officers, in a mass shooting on Monday at a bank in downtown Louisville.
The lone gunman, who was either a current or previous employee at the bank, is also dead, authorities said at a morning press conference.
Paul Humphrey, the deputy chief of the Louisville metro police department (LMPD), told reporters that his officers were on the scene within three minutes of the first 911 call from the targeted bank and immediately confronted the shooter, although it was not known if he was shot by police or took his own life.
"They absolutely saved people's lives," Humphrey said of the officers. "It was the heroic response of the officers that made sure that no more people were more seriously injured."
Two of the eight being treated at the University of Louisville (UofL) hospital, including one of the wounded officers, are in critical condition, he added. The other officer suffered non-life-threatening injuries.
Authorities initially reported five fatalities, but downgraded the number to remove the gunman as a victim.
Monday's killing came during what was at least the US's 146th mass shooting this year. The Gun Violence Archive resource website defines a mass shooting as one in which four or more victims are killed or wounded.
The investigation into the shooting at the Old National Bank, close to the city's Slugger Field baseball stadium, would be lengthy, Humphrey said. Witnesses reported employees took shelter inside a bank vault and that officers had to force their way into the locked building.
At least five gunshot sounds were audible in a tweet posted by an eyewitness.
Footage from a news helicopter showed a large law enforcement presence around the bank, and shattered glass from the building's frontage spread across a sidewalk.
The Democratic governor of Kentucky, Andy Beshear, was visibly upset at the press conference.
"This is awful," Beshear said, adding that the building was his campaign office when he ran for Kentucky attorney general in 2015. "I have a very close friend that didn't make it today, and I have another close friend … who's at the hospital that I hope is going to make it through, so when we talk about praying, I hope people will."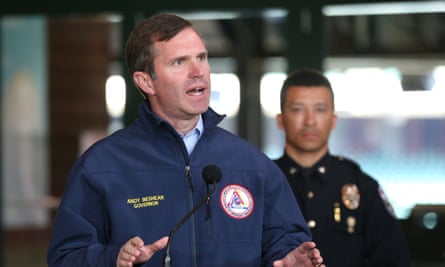 Beshear continued: "There are a lot of people that are hurting today. If we have a place to focus our energy, I hope it is to surround them with the love and the compassion that we have been so good at showing one another.
"I want people to know that while today is a horrific act, I do believe that this is a safe community with officers doing their very best each and every day."
The White House said Joe Biden was being kept abreast of developments.
The Republican senate minority leader, Mitch McConnell, who represents Kentucky, tweeted condolences from him and his wife, Elaine.
"Elaine and I are devastated by the news coming out of Louisville this morning," McConnell wrote. "Thank you to LMPD and our first responders for your bravery at the scene. We send our prayers to the victims, their families, and the city of Louisville as we await more information."
The shooting took place at about 8.30am local time, CNN reported, and the bank was not scheduled to open until 9am. The network quoted sources saying the shooter was a young employee, either "previous or soon to be", who had been an intern before joining full-time.
"We believe this is a lone gunman involved in this that did have a connection to the bank. We're trying to establish what that connection was to the business, but it appears he was a previous employee," Humphrey said.
Agents from the FBI and Bureau of Alcohol, Tobacco, Firearms and Explosives (ATF) were assisting with the inquiry, he added. Officials have not yet confirmed what type of firearm was used, but it was reported to be an assault weapon.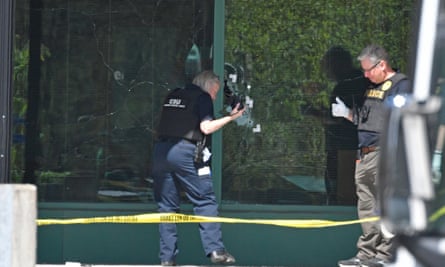 Calls for more substantial gun control in the US, including from the president, have increased amid a slew of recent mass shootings. Biden has consistently urged federal lawmakers to pass an assault weapons, but Congress has been unable to do so.
The Louisville mayor, Craig Greenberg, lamented what the Gun Violence Archive recorded as the 15th mass shooting in the US this month, and the deadliest since six people, including three nine-year-old students, were murdered at a church school in Nashville on 27 March.
"I ask that everyone around our city, around the country, around the world, pray with us for those who are currently at UofL, fighting for their lives as a result of another act of gun violence," he told the press conference.
"Our community will continue to come together. We will find ways to love and support one another and the families and friends who have been directly impacted by these acts. And we will come together as a community to work to prevent these horrific acts of gun violence from continuing here and around the state."
The Louisville metro police department, meanwhile, is still reeling from a scathing justice department report last month which was produced in the aftermath of the 2020 killing of Breonna Taylor by officers.
The report condemned the police department for "discriminating against Black people" and violating residents' civil rights.