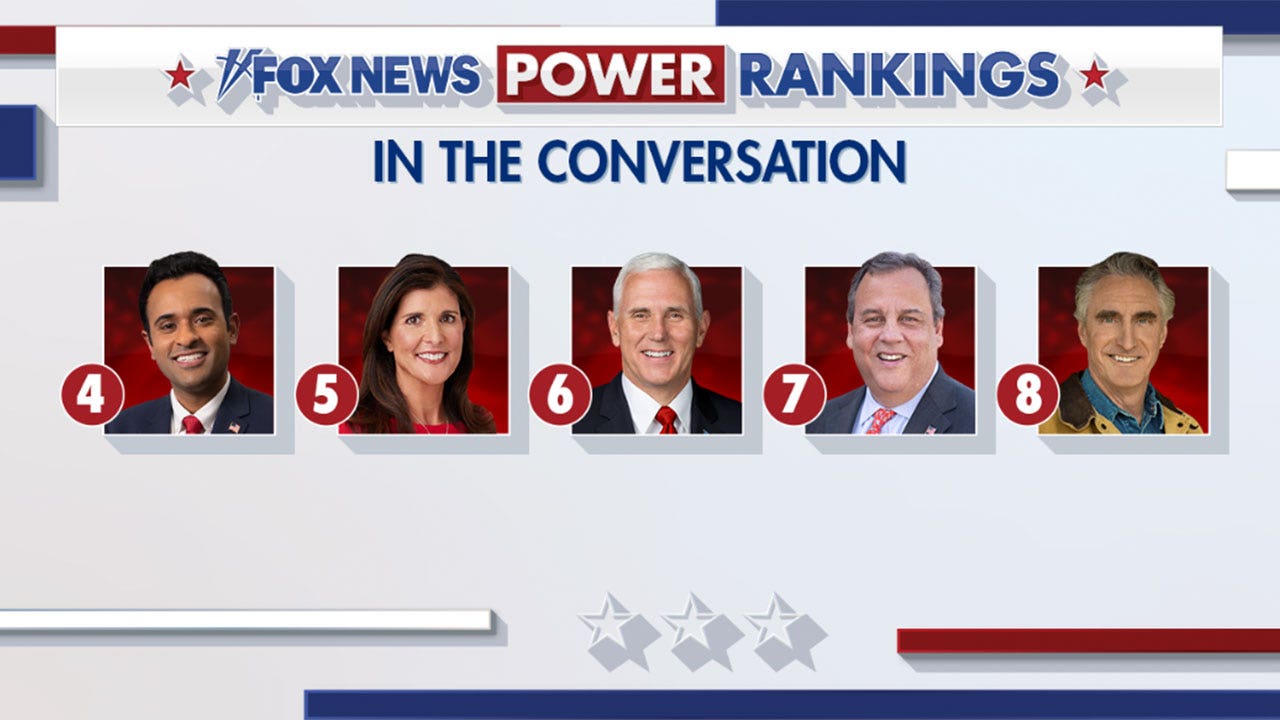 This is the second of a three-part series breaking down the Fox News Power Rankings ahead of the first 2024 GOP presidential debate. Read part one here.
This first edition of the Fox News Power Rankings for the GOP primary looks closely at each candidate's early state polling, visits, and field operations, then their national polling and fundraising position.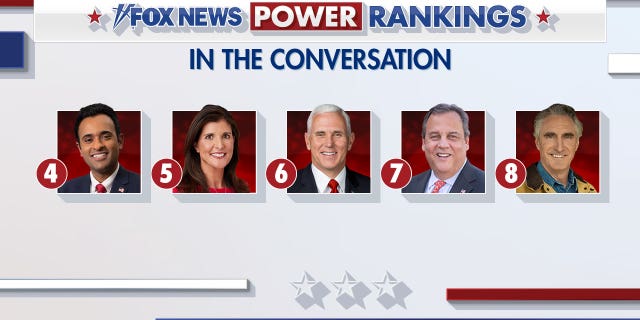 Vivek Ramaswamy
Vivek Ramaswamy's media strategy and alignment with Trump make him the conversation-leading candidate, but he hasn't broken through in the early states.
The venture capitalist and former pharmaceutical executive occupies third place in a number of national polls, and has disproportionately high favorability among strong MAGA supporters: 43% have a favorable view of him.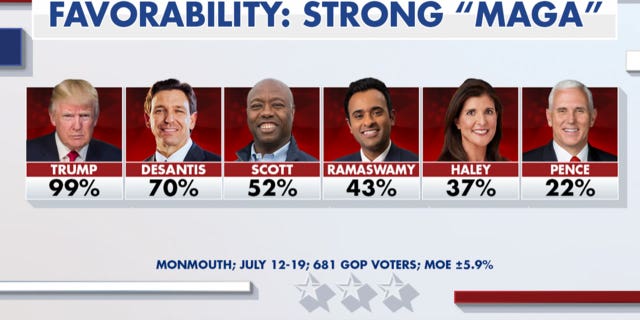 He is yet to break out of the single digits in Iowa, New Hampshire, or South Carolina, and he will need to make improvements in any of those states if he wants a ticket to Super Tuesday.
Ramaswamy's wealth can also keep him in the race, and grassroots donors are also enthusiastic about him. About 70% of his second quarter funds come from himself, but for the rest of his fundraising, he had the second highest portion of small dollar donations, with 58% at less than $200. 
FOX NEWS POWER RANKINGS: THE FRONTRUNNER AND CONTENDERS IN THE 2024 GOP PRIMARY FIELD
But Ramaswamy's growth has largely come from free media. Taking cues from "Mayor Pete" Buttigieg's strategy in the 2020 Democratic primary, Ramaswamy launched his campaign off the back of hundreds of appearances across TV and the internet with an "anti-woke" message. 
He is now one of the most polished interviewees in the field.
The entrepreneur is committed to the trail, racking up 35 campaign event days in Iowa, New Hampshire, and South Carolina since he joined the race.
He has also attached himself to Trump, following his populist and isolationist playbook. He shares the former president's worldview on Ukraine, often speaks about the "swamp" and the "deep state," and most recently, declined to say that he would have certified the election results on January 6, 2021 had he been the vice president.
Most importantly, he has offered a pardon to the former president.
Trump has been happy to receive the support, and may see anything from a future ally to a potential running mate in him.
RAMASWAMY GOES VIRAL FOLLOWING EXCHANGE WITH LGBTQ ACTIVIST: 'I RESPECT THAT YOU HAVE A DIFFERENT OPINION'
Nikki Haley
Haley is competitive in her own state, and has strong name awareness from her stint in Trump's cabinet, but isn't registering support elsewhere.
The former governor of South Carolina made a strong showing there in our Fox Business poll in July, picking up 14% from likely GOP voters. Nationally and in the other early states, Haley is stuck in the single digits. 
She had $7 million on hand at the end of June, putting her fifth in the field. 29% of the haul came from small-dollar donors.
Haley leads the pack on time spent in the early states, with 16 major campaign event days in Iowa, 18 days in New Hampshire, and 7 days in South Carolina. It's a tried-and-tested strategy to build a relationship with voters, but given her polling numbers, hasn't had the potency that she would like.
NIKKI HALEY SCORCHES BIDEN ON 2-YEAR ANNIVERSARY OF AFGHANISTAN WITHDRAWAL: 'WORLD IS LESS SAFE'
As the only woman running for the Republican nomination, Haley has spoken with greater clarity about the need for consensus on abortion and, separately, the importance of supporting young women than anyone else in the field.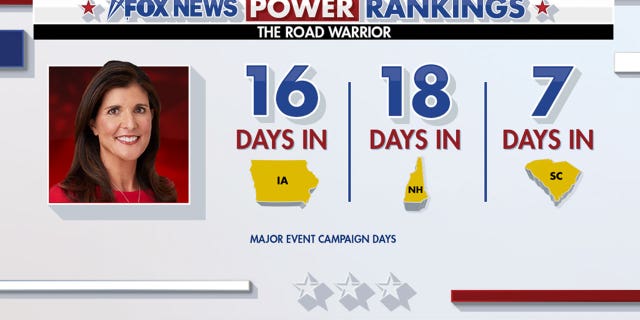 The only appointed Trump cabinet member in the race, Haley also brings significant foreign policy experience to the table. While serving as the U.S. Ambassador to the United Nations, she effectively threaded the needle between Trump's isolationist worldview, and her traditionalist background.
She has since spoken out forcefully about the need for the United States to support Ukraine, though GOP views on that topic are shifting. 
Her positions on abortion and foreign policy should make her popular with moderates, but she enjoys roughly the same favorability with that group as her fellow South Carolinian, Tim Scott, at 36%. Her favorability with very conservative voters is 11 points lower than his.
Mike Pence
Pence has closer ties to Trump than anyone on stage, but his stand against him and hardline conservative worldview put him in a difficult position.
In a primary where Trump's policies are very popular and widely adopted by the candidates, Pence has a strong message: he played a greater role in crafting and passing those policies than anyone other than the former president.
Yet, Pence has some of the lowest favorability ratings among the MAGA base in the field, with 22% saying they have a strongly favorable view of him, behind all but five unpopular candidates.
That's because Pence certified the 2020 election results on January 6, enraging Trump and his supporters.
PENCE VOWS TO 'CLEAN HOUSE ON THE WHOLE TOP FLOOR' OF DOJ
On other issues, Pence is returning to his traditional Christian and conservative worldview. He has staked out hardline positions on criminal justice and abortion, and wants the GOP to return to its free market, small government roots.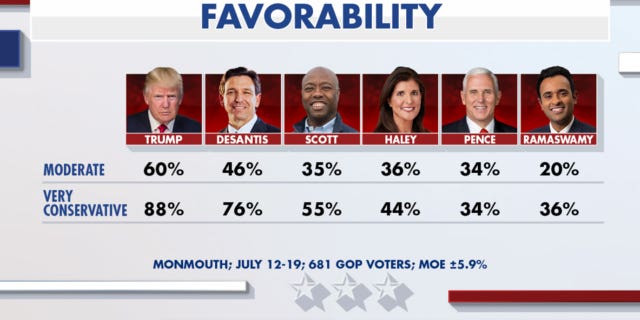 It adds up to single digit support nationally and in all three early states. He also has low favorability ratings in both the moderate and very conservative factions of the party. Pence has a 34% favorability rating with both groups.
The Iowa polling is Pence's biggest problem; he polled at 4% in our Fox Business poll in July. His campaign has invested significant time and effort in the state, which has an evangelical tilt. Like DeSantis, the former vice president plans to visit all 99 counties.
As one senior advisor acknowledged to Politico last month, "it will be over" if Pence doesn't over perform there.
There is, in theory, a constituency for Pence. Returning to the NYT/Siena poll, 37% of the party base is persuadable either in Trump or another candidate's direction. DeSantis carries some of them, but with his campaign in decline, a window is opening for Pence.
The 48th Vice President is running on his principles. Last week, he called out the former president's "gaggle of crackpot lawyers" and pressure to overturn the election.
Now, he's campaigning on it, turning Trump's criticism that Pence was "too honest" in the lead up to the January 6 riots into his new campaign slogan.
Chris Christie
Chris Christie owns a distinct lane and is one of the field's clearest communicators, but all his hopes rest on one early state, where he still has a long way to climb.
The former governor of New Jersey sits somewhere in the back half of the pack in most national and early state polling. The exception is New Hampshire, where Christie has made multiple trips since joining the race. There, Christie sits in third place, though that still often leaves him in the high single digits.
CHRIS CHRISTIE ARGUES TRUMP'S GEORGIA INDICTMENT IS 'UNNECESSARY'
Christie's strategy so far has been to "flood the zone" in liberal-friendly media circles while holding his own with moderate conservative audiences in town halls and forums. This strategy earned him a ticket to the first debate.
His greatest strength is his clear communication style. Where other candidates have hedged on Trump, Christie has leaned in, delivering assertive speeches on his post-election conduct and character.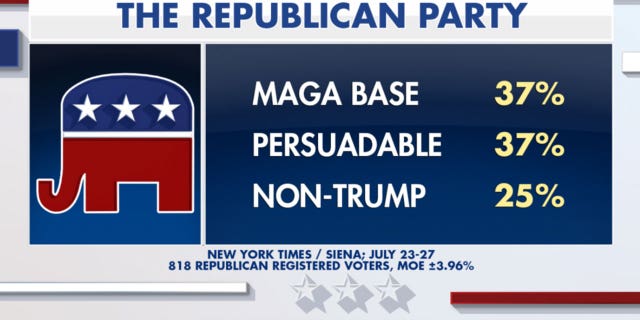 That has not only given him extensive free media, but also a clear point of differentiation from the rest of the field. In a primary where around 25% of voters are not open to the former president, it is a lane worth owning.
If he wants to stay viable through Super Tuesday, Christie must use the first debate to establish credibility with somewhat and very conservative voters, who have given him prohibitively high unfavorable ratings.
Doug Burgum
Burgum bought himself a ticket to the debate, and will need to make the most of his trip.
The governor of North Dakota has little to celebrate in his polling data; he notched 3% in the Fox Iowa poll, but otherwise appears to lack the name awareness to garner any notable level of support. 
For Burgum, getting more attention is an easy goal. The billionaire software entrepreneur has poured more than $10 million into the race from his own bank account, and spent $8 million in the last quarter alone.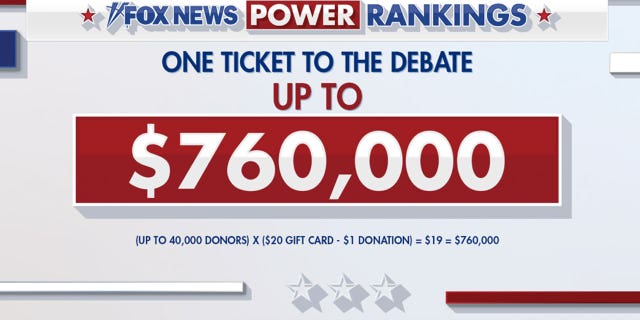 Up to $760,000 of that spend went to donors who accepted his offer to send a $20 gift card to any $1+ donor, a ploy that saw him reach the fundraising threshold for the first debate in record time this cycle.
CLICK HERE TO GET THE FOX NEWS APP
Burgum's next challenge will be to break through in the debates. His best chance lies in showing off his hard-right policy credentials. Burgum signed a 6 week abortion ban into law in April, with no exceptions for rape or incest after that threshold, and has also criminalized transgender surgeries for children.
Source link
(This article is generated through the syndicated feed sources, Financetin neither support nor own any part of this article)