Police made at least 700 arrests during a fifth night of rioting in France, but despite an attack on the home of a local mayor authorities said the scale and intensity of the violence sparked by the fatal police shooting of a teenager appeared to be waning.
As security reinforcements were deployed on Saturday to flashpoint cities around the country, including Lyon, Marseille and Grenoble, protesters – mostly minors – again torched cars, looted shops, damaged infrastructure and clashed with police.
President Macron will meet senior ministers on Sunday evening to discuss the situation, the Élysée Palace said, after the interior ministry announced 719 arrests overnight, compared with 1,300 on Friday night.
More than 40 officers were injured, 577 vehicles torched, 74 buildings set on fire and 871 fires lit in streets and other public spaces, the ministry said. "Forty-five thousand police officers and thousands of firefighters were mobilised to enforce order. Their actions … made for a quieter night," it added.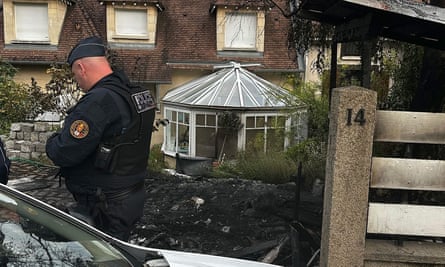 In the most serious incident, rioters rammed a burning car into the home of Vincent Jeanbrun, the mayor of L'Haÿ-les-Roses, nine miles (15km) south of Paris, at about 1.30am. Jeanbrun was working late at the town hall, but his wife and one of his two children were injured as they fled.
"Last night was a new milestone in horror and disgrace," the mayor, from the conservative Les Républicains party, tweeted, condemning "an act of unspeakable cowardice". The local prosecutor said on Sunday the attack was being investigated for attempted murder.
"First indications suggest the car was driven into the building in order to set fire to it," Stéphane Hardouin said, adding that a Coca-Cola bottle filled with flammable liquid had also been found at the scene. He confirmed the injuries to the mayor's family.
Visiting the town on Sunday with Gérald Darmanin, the interior minister, Elisabeth Borne, the prime minister, denounced "an intolerable attack" and pledged those responsible would "not get away with it".
Rioters also entered the garden of another mayor, in La Riche, outside the city of Tours, and tried to set light to his car, prosecutors said. Politicians of all parties expressed outrage at the attacks, with demonstrations of support planned outside town halls across France on Monday.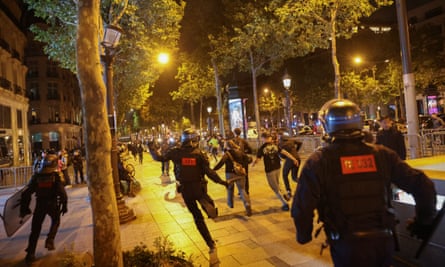 Elsewhere, a massive police presence seems to have kept the worst violence in check, with no other major clashes or incidents recorded. "This was a first night of relative calm after four of fever," said Le Monde, though it warned the lull could be temporary.
The Paris police chief said it was too early to say the unrest had been quashed. "There was evidently less damage, but we will remain mobilised in the coming days. We are very focused; nobody is claiming victory," Laurent Nunez said.
The biggest flashpoint was in Marseille, where police fired teargas and fought street battles with youths, many in their early teens, before finally dispersing them from around the city's central Canebière avenue late in the night.
There were also sporadic skirmishes and multiple arrests in Nice on the Riviera and Strasbourg in eastern France, but in most cities – including Lyon, where police deployed armoured personnel carriers and a helicopter – fewer incidents were reported and fewer arrests made than on Friday, authorities said.
More than 7,000 officers were deployed in the greater Paris region, including along the Champs Élysées in the centre of the capital, after calls on social media to gather there. The avenue, usually packed with tourists, was lined with security forces carrying out spot checks and shop facades were boarded up.
A number of towns have banned demonstrations and declared overnight curfews, with authorities also ordering bus and tram services nationwide to halt at 9pm at the latest and outlawing the sale of large fireworks and inflammable liquids.
President Macron has urged parents to take responsibility for their children. The justice ministry has said 30% of those arrested have been minors, while Darmanin said the average age of those arrested was 17.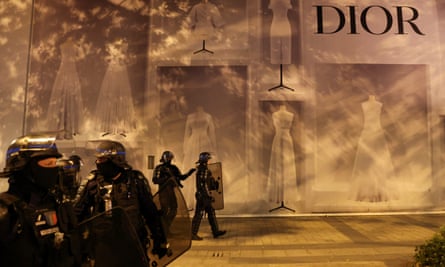 The funeral of 17-year-old Nahel M, who died on Tuesday after he was shot by a police officer during a traffic stop, was held peacefully on Saturday in the Paris suburb of Nanterre, where he lived.
Nahel, of Algerian and Moroccan parents, was known to police for previously failing to comply with traffic stop orders and was driving illegally, prosecutors have said. A 38-year-old police officer has been charged with voluntary homicide over the killing and is in custody.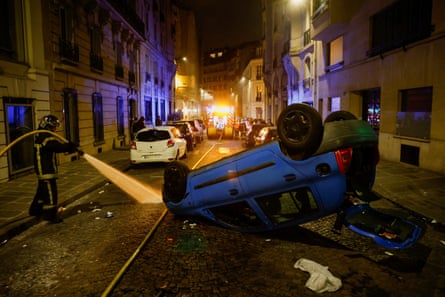 The protests mark a fresh crisis for Macron, who on Saturday was forced to postpone a state visit to Germany, following months of often violent protests that erupted in January over his decision to push through an unpopular pension reform.
The postponement marks the second time this year the embattled French president has had to cancel a high-level engagement because of domestic trouble. King Charles's planned state visit was cancelled in March.
The unrest has also raised concerns abroad, with France hosting the Rugby World Cup this autumn and the Paris Olympic Games next summer. The UK, China, the US and other countries have warned tourists to stay away from areas affected by rioting.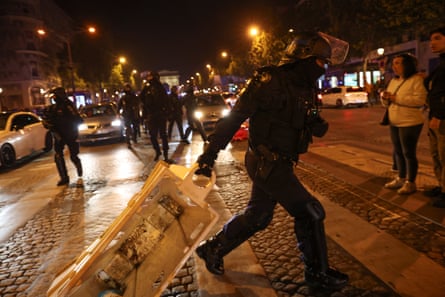 The shooting of the teenager, caught on video, has reignited longstanding complaints by poor and racially mixed urban communities of police violence and racism. Macron has denied there is systemic racism in French law enforcement agencies.
There is also a broader anger in the country's poorest suburbs, where inequalities and crime are rife and French leaders have failed for decades to tackle what some politicians have called a "geographical, social and ethnic apartheid".
With Agence France-Presse and Reuters