France's interior minister, Gérald Darmanin, has said the coming hours "will be decisive" as violence triggered by the fatal police shooting of a teenager during a traffic stop in a Paris suburb flared for a fourth consecutive night.
Darmanin said on TF1 television that 45,000 police officers, including special forces, would be deployed across France on Friday night, adding: "Entirely legitimate emotions can in no circumstances justify disorder and delinquency."
Shops in several malls in Paris suburbs, as well as an Apple store in the centre of Strasbourg, were looted on Friday afternoon amid continuing rioting sparked by the shooting of Nahel M, 17, who was of north African descent, in Nanterre on Tuesday.
Bus and tram traffic was halted from 9pm across France. Marseille, France's second-largest city, banned public demonstrations and said all public transport would stop at 7pm local time. Protests were also banned by authorities in Bordeaux, Lyon, Toulouse, Montpellier, Grenoble and Annecy.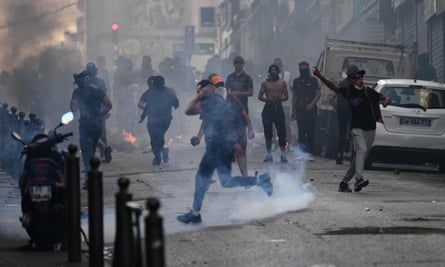 In a late night post on Twitter, Darmanin said that 270 people had been arrested. He added that "significant reinforcements" would arrive in Marseille where more than 80 people had been arrested. In Lyon and surrounding suburbs about 20 people were arrested as rioters set cars ablaze and aimed fireworks at police.
Police in Paris said they had evacuated the Place de la Concorde after demonstrators gathered despite an overnight police ban on unauthorised gatherings at key city-centre sites including the Champs-Élysées and the Tuileries gardens. In the Rouen suburb of Le Petit-Quevilly, a young man died after falling from the roof of a supermarket in a shopping centre that was being pillaged.
"The next hours will be decisive and I know I can count on your efforts," Darmanin told firefighters and police seeking to contain the unrest, adding: "The human and material reinforcements that we are currently sending will give you the means to defend the republic and its values." He said more than 900 people had been arrested on Thursday night, with an average age of 17.
President Emmanuel Macron earlier on Friday urged parents to keep teenagers at home as the government said it was reviewing "all options" to contain the escalating violence.
Promising additional security forces, Macron, who left an EU summit in Brussels early to attend a crisis cabinet meeting, appealed to "the responsibility of mothers and fathers" and said it was not the job of the French republic to take their place.
The president also said social media was playing a "considerable role", saying violence was being organised online and he wanted platforms such as Snapchat and TikTok to remove sensitive content.
He suggested some young people appeared to be copying violent video games. "We sometimes have the feeling that some of them are playing out the video games that have intoxicated them in the streets," Macron said.
A total of 492 buildings were damaged, 2,000 vehicles burned and 3,880 fires started nationwide on Thursday night as mainly teenage rioters again torched buildings, cars and buses and looted shops across France.
The death of Nahel M has fanned longstanding resentment among poor, racially mixed, urban communities in France over repeated incidents of police violence and allegations of systemic racism.
The prime minister, Élisabeth Borne, said the government was examining "all options", calling the violence "intolerable and inexcusable". Armoured gendarmerie vehicles would be deployed in some areas on Friday evening, Borne said, and several major public events were cancelled including a rock concert at the Stade de France.
Under mounting pressure from rightwing parties to declare a state of emergency, which would give authorities extra powers to ban demonstrations and limit free movement, the government is desperate to avoid a repeat of 2005, when the death of two boys of African origin in a police chase sparked three weeks of rioting.
The foreign ministry rejected as "totally unfounded" accusations by the United Nations of police racism, after a spokesperson for the UN human rights office said "this is a moment for the country to seriously address the deep issues of racism and racial discrimination in law enforcement".
In a widely criticised statement, unions representing half of French police said on Friday that they were fighting "vermin", adding that police officers were "at the frontline because we are at war". They added: "Faced with these savage hordes, it's no longer enough to call for calm, it must be imposed."
Laurent Escure, the head of the UNSA union federation, disavowed the statement by its police branch and called for calm and an end to the violence. The Greens' party leader, Marine Tondelier, described it as "an appeal for civil war", adding: "Can we finally say that we have a structural problem in the police?"
Despite the presence of 40,000 police officers around the country, the interior ministry said 79 police stations were attacked on Thursday night and 119 other public buildings, including 34 town halls and 28 schools.
Violence flared in Marseille, Lyon, Pau, Toulouse and Lille as well as in parts of Paris, and its suburbs, including the working-class suburb of Nanterre where Nahel was shot dead after failing to comply with a police order to stop.
In Paris, protesters burned bins and looted shops, with a Nike shoe store broken into in the Châtelet shopping centre and store windows smashed along the rue de Rivoli. A tram was set alight in the eastern city of Lyon and 12 buses gutted in Aubervilliers, northern Paris.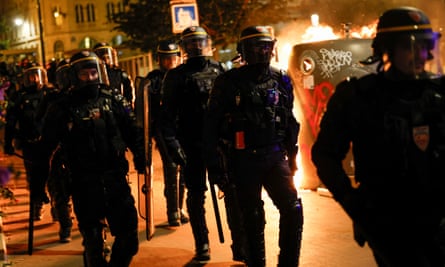 The 38-year-old officer involved in the shooting, who has said he fired the shot because he feared he and his colleague or someone else could be hit by the car, has been charged with voluntary homicide and placed in provisional detention.
His lawyer, Laurent-Franck Lienard, told BFMTV his client had aimed down towards the driver's leg but was bumped, causing him to shoot towards his chest. "Obviously [the officer] didn't want to kill the driver," Lienard said.
Prosecutors have said Nahel, who was not old enough to hold a full driving licence in France and was known to the police for previous refusals to obey stop orders, had been pulled over for speeding, jumping red lights and driving in a bus lane.
Several western governments including the US and UK warned their citizens in France to exercise caution. Americans "should avoid mass gatherings and areas of significant police activity," the US embassy said in a tweet, while British residents and visitors were told to monitor the media, avoid areas where riots are taking place and obey local authority advice.
Source link