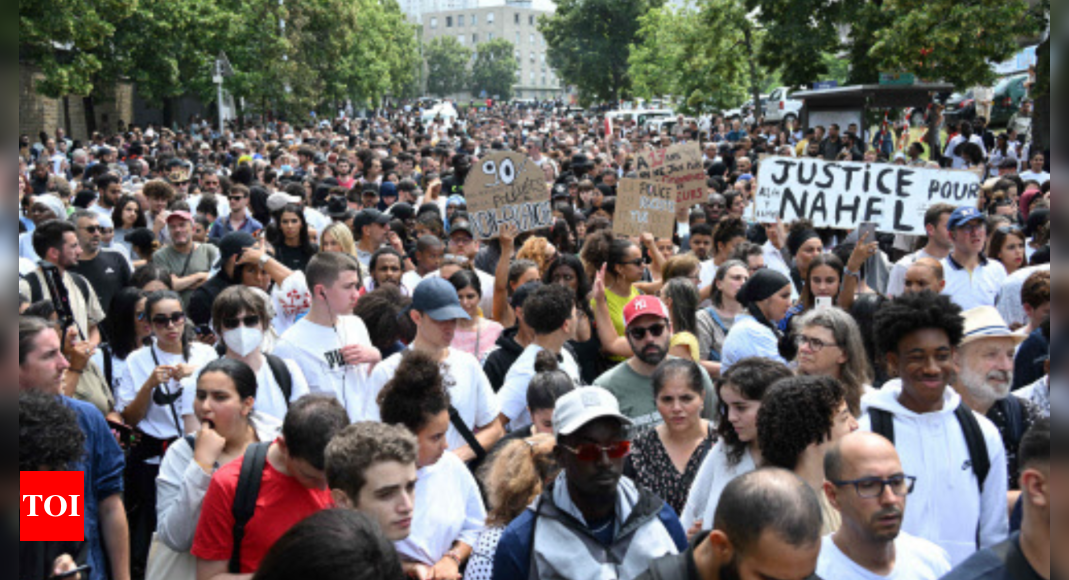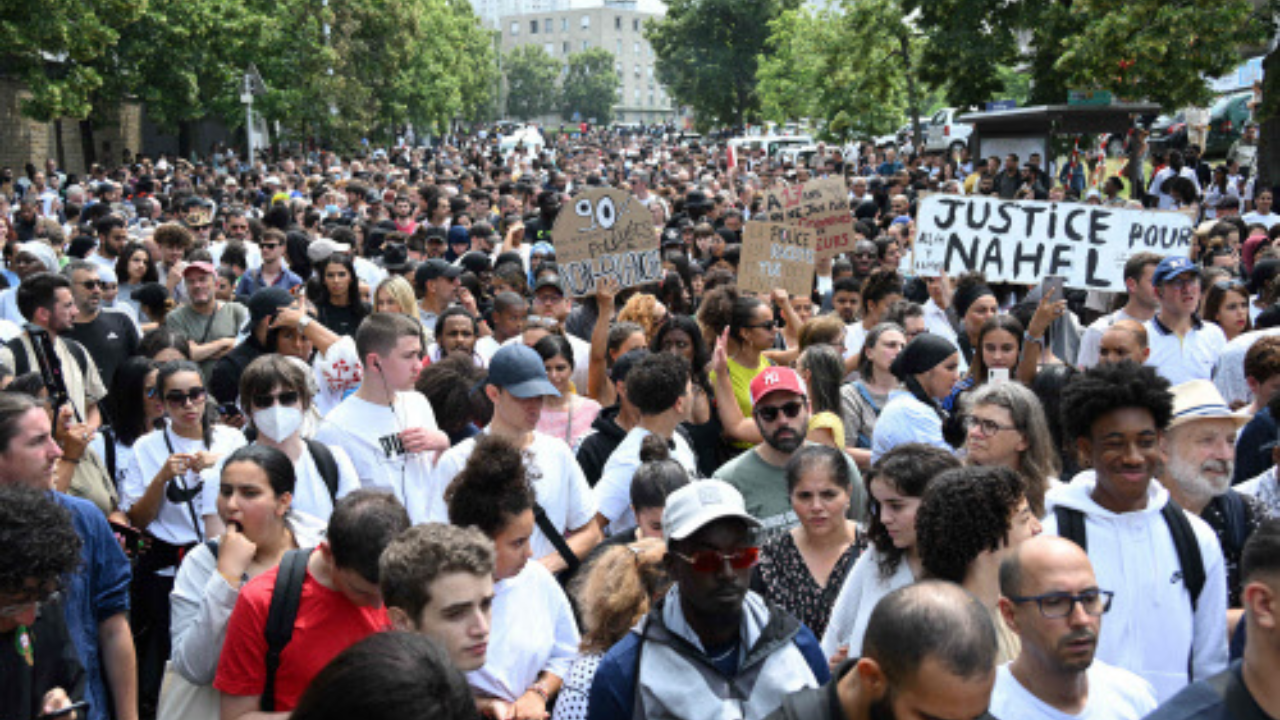 NANTERRE: A French police officer who shot and killed a 17-year-old driver will be investigated for voluntary homicide, following two days of fires and violent protests that injured scores of officers, officials said Thursday.
Some 40,000 police officers will be deployed overnight to quell violence that engulfed cities and towns in the wake of the shooting.
The killing of 17-year-old Nahel during a traffic check Tuesday, captured on video, shocked the country and stirred up long-simmering tensions between young people and police in housing projects and other disadvantaged neighborhoods around
France
.
Protesters set cars and public buildings ablaze in
Paris
suburbs and unrest spread to some other French cities and towns.
"The professionals of disorder must go home," Interior Minister Gerald Darmanin said. "There will be a lot more police and gendarmes present tonight."
Darmanin said 170 officers had been injured in the unrest but none of the injuries were life-threatening.
Nanterre prosecutor Pascal Prache said that he had requested that the officer be held in custody. That decision is to be made by another magistrate.
Based on an initial investigation, Prache said, he concluded that "the conditions for the legal use of the weapon were not met."
Three persons were in the car when police tried to stop it Tuesday, the prosecutor said. Nahel managed to avoid a traffic stop by running a red light. He was later got stuck in a traffic jam.
Both officers involved said they drew their guns to prevent him from starting the car again.
The officer who fired a single shot said he wanted to prevent the car from leaving and because he feared someone may be hit by the car, including himself or his colleague, according to Prache.
Both officers said they felt "threatened" by seeing the car drive off, he added.
Two magistrates have been named to lead the investigation, Prache said. Under the French legal system, which differs from the U.S. and British systems, magistrates are often assigned to lead investigations.
In a separate case, a police officer who fatally shot a 19-year-old Guinean man in western France earlier this month was handed preliminary charges of voluntary homicide, according to a statement by the local prosecutor on Wednesday. The man was fatally shot by an officer as he allegedly tried to escape a traffic stop. The investigation is still ongoing.
Clashes first erupted Tuesday night in and around the Paris suburb of Nanterre, where Nahel was killed, and the government deployed 2,000 police to maintain order Wednesday. But violence resumed after dusk.
Nahel's surname has not been released by authorities or by his family. In earlier statements, lawyers for the family spelled the name Nael.
Police and firefighters struggled to contain protesters and extinguish numerous blazes through the night that damaged schools, police stations and town halls or other public buildings, according to a spokesperson for the national police. The national police on Thursday reported fires or skirmishes in multiple cities overnight, from Toulouse in the south to Lille in the north, though the nexus of tensions was Nanterre and other Paris suburbs.
Police arrested 150 people around the country, more than half of them in the Paris region, the spokesperson said. She was not authorized to be publicly named according to police rules.
The number of injured was not immediately released.
Scenes of violence in France's suburban areas echo 2005, when the deaths of 15-year-old Bouna Traoré and 17-year-old Zyed Benna led to three weeks of nationwide riots, exposing anger and resentment in neglected, crime-ridden suburban housing projects.
The two boys entered a power substation to hide from police in the Paris suburb of Clichy-sous-Bois, and were electrocuted.
French President Emmanuel Macron held an emergency security meeting Thursday about the violence.
"These acts are totally unjustifiable," Macron said at the beginning of the meeting, which aimed at securing hot spots and planning for the coming days "so full peace can return."
Macron also said it was time for "remembrance and respect" as Nahel's mother called for a silent march Thursday in his honor on the square where he was killed.
Multiple vehicles were set ablaze in Nanterre and protesters shot fireworks and threw stones at police, who fired repeated volleys of tear gas. Flames shot out of three stories of a building, and a blaze was reported at an electrical plant. Fire damaged the town hall of the Paris suburb of L'Ile-Saint-Denis, not far from France's national stadium and the headquarters of the Paris 2024 Olympics.
The police officer accused of the killing is in custody on suspicion of manslaughter and could face preliminary charges as soon as Thursday, according to the Nanterre prosecutor's office.
French activists renewed calls to tackle what they see as systemic police abuse, particularly in neighborhoods like the one where Nahel lived, where many residents struggle with poverty and racial or class discrimination. Government officials condemned the killing and sought to distance themselves from the police officer's actions.
Macron called the killing "inexplicable and inexcusable" and called for calm. "Nothing justifies the death of a young person," he told reporters in Marseille on Wednesday.
Videos of the shooting shared online show two police officers leaning into the driver-side window of a yellow car before the vehicle pulls away as one officer fires into the window. The videos show the car later crashed into a post nearby.
The driver died at the scene, the prosecutor's office said.
Bouquets of orange and yellow roses now mark the site of the shooting, on Nanterre's Nelson Mandela Square.
Speaking to Parliament, Prime Minister Elisabeth Borne said, "the shocking images broadcast yesterday show an intervention that appears clearly not to comply with the rules of engagement of our police forces."
Deadly use of firearms is less common in France than in the United States, though several people have died or sustained injuries at the hands of French police in recent years, prompting demands for more accountability. France also saw protests against racial profiling and other injustice in the wake of George Floyd's killing by police in Minnesota.
The most recent government statistics available show that 17 people were killed after police and gendarmerie officers shot at them in 2021.
Asked about police abuses, Macron said justice should be allowed to run its course.
A lawyer for Nahel's family, Yassine Bouzrou, told The Associated Press they want the police officer prosecuted for murder instead of manslaughter.
French soccer star Kylian Mbappe, who grew up in the Paris suburb of Bondy, was among many shocked by what happened.
"I hurt for my France," he tweeted.