 Yields on the benchmark have seen significant swings over the past week as the fortunes of war do battle with inflation fears.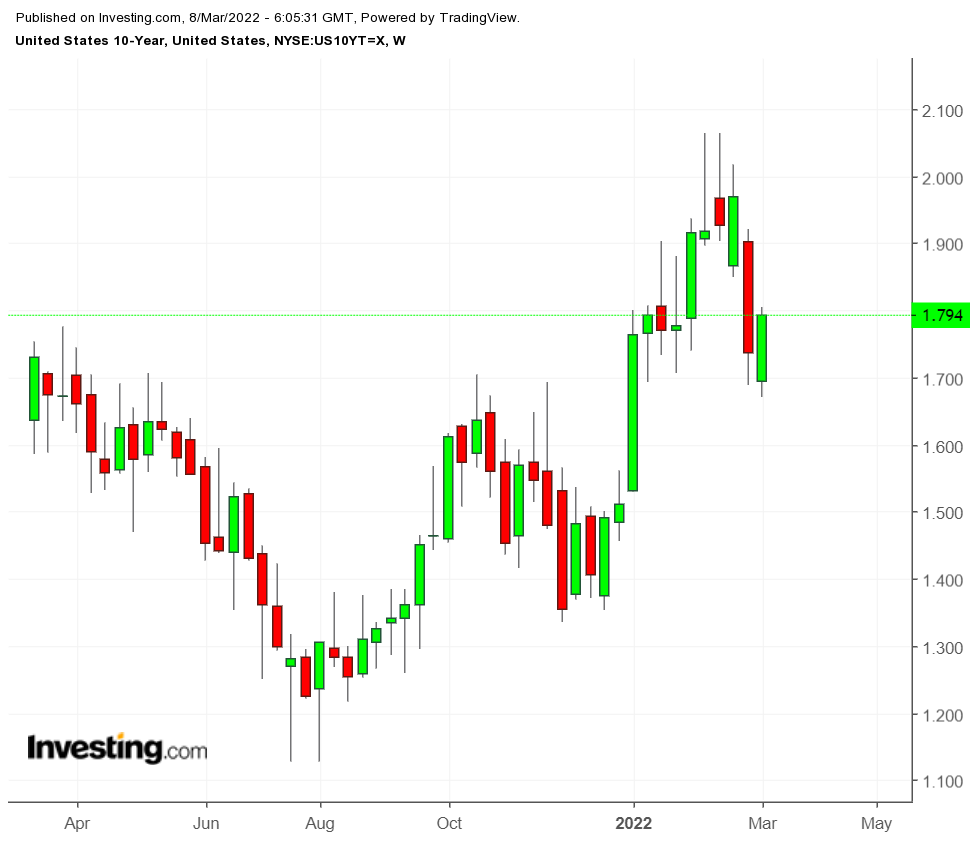 The Russian invasion of Ukraine, with the increased bombardment of cities resulting in refugees swelling above 1.5 million, has driven risk-off sentiment. The 10-year yield settled Monday at nearly 1.77%, up about 6 basis points from early trade after hitting almost 1.79% at one point.
This contrasts with spikes above 2% for the Treasury benchmark before the Feb. 24 invasion, and even with 1.99% in the early days when the outcome was far from clear. By now, however, it has become clear that there won't be a quick victory for Russia as that country's military risks becoming mired in a protracted conflict amid stiff Ukrainian resistance and Moscow's missteps.
In the meantime, inflationary pressures are rising. Federal Reserve Chairman Jerome Powell warned in congressional testimony last week that the Ukraine conflict is likely to increase inflation due to disruption in Russian oil and gas supplies.
, a global benchmark, spiked above $130 a barrel on Monday as the US-led discussions on banning oil and gas imports from Russia. German Chancellor Olaf Scholz pushed back on that notion, however, saying it is not sustainable because Germany and the rest of Europe are too dependent on those supplies to maintain their standard of living.
Powell also pledged to move ahead with a hike in interest rates at the Fed policy meeting next week but said it would be limited to the standard quarter-point increase rather than the more aggressive move some are calling for. Powell acknowledged the Fed had waited too long, but now it must walk a tightrope between keeping inflation expectations anchored and choking off economic growth.
Eurozone Rates Slump
In Europe, the yield on , which serves as a benchmark for the eurozone, slipped back into negative territory, after coming up for air in February before the invasion of Ukraine.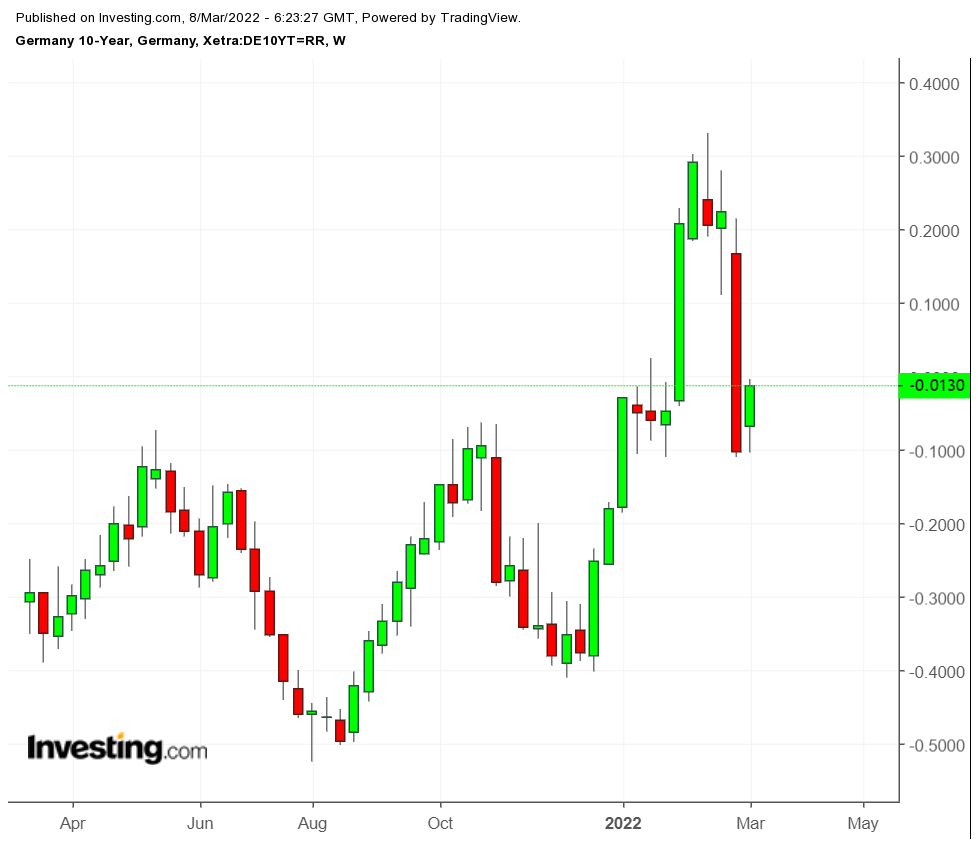 The 10-year yield settled at a notch below minus 0.03% late Monday after trading at minus 0.07% earlier in the day.
Yield on the paralleled that of Germany's, settling at nearly 0.46% Monday after cruising at about 0.7% before the invasion. France holds its two-round presidential election next month with incumbent Emmanuel Macron virtually assured of re-election to a second five-year term as the Ukraine conflict nullifies any effort by other candidates to attack him on domestic issues.
yield has also declined, settling at about 1.58% late Monday, compared to the 1.8-1.9% range in February when Europe's main concern was inflation.
Inflation fears will prevent the European Central Bank (ECB) from turning dovish at its Thursday, but Ukraine will also forestall hawkish moves, such as announcing a tapering to the ECB's regular asset purchase program, although the pandemic emergency purchase program is due to end this month.
Analysts say the ECB is not as behind in raising rates as the Fed because inflation is not as high and the labor market is not as tight. Besides, the Ukraine conflict is on Europe's doorstep and the impact on its energy supply can be much greater.