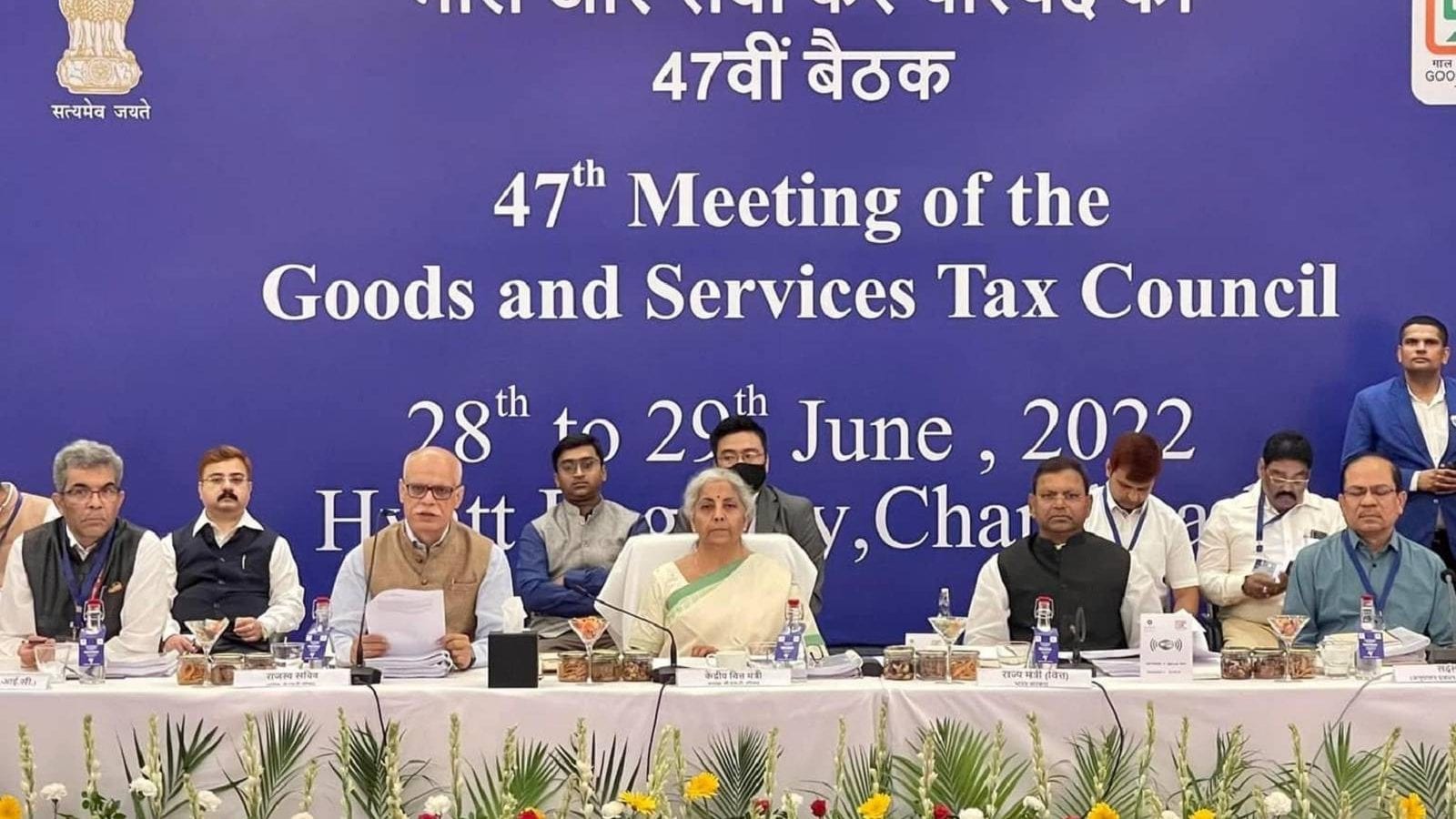 The GST Council on Wednesday decided to accept the group of ministers' (GoM) interim reports on the correction of duty inversion and exemption. Packed and labelled paneer, fish, meat (except frozen), curd and honey, among others, have been kept out of the exemption list.
However, the GoM on rate rationalisation has been given time for three months to submit its report. The GoM on casinos, online gaming and horse racing has also been given time for further study and to submit its fresh report till July 15, thus deferring the proposal to levy a 28 per cent tax on these activities.
Finance Minister Nirmala Sitharaman on Wednesday told reporters that the GST Council will again meet on August 1 or the first week of August, to discuss the fresh report of the GoM on casino, online gaming and horse racing.
On the GST compensation cess, Sitharaman said some states want this to continue for some time, if not five years but at least for some time. She added that some states said they should find ways to compensate their resources and not be dependent on central compensation.
She also said almost all recommendations of fitment committee have also been accepted.
Decisions on Duty Inversion Structure and Exemption List
Sitharaman on Wednesday said the GST Council has accepted the interim report of Karnataka Chief Minister Basavaraj Bommai on duty inversion structure and exempted items in toto and will be implemented.
The GoM has recommended that the refund of input tax credit (ITC) on account of inverted rates be disallowed for edible oils. It also suggested raising GST on printing and writing/ drawing ink from 12 per cent to 18 per cent. It also recommended for the correction of inverted duty structure on LED lights, fixtures and LED Lamps from 12 per cent to 18 per cent, thus raising their prices.
The rate correction will also take place on solar water heater and system, finished leather and composition leather, works contract supplied, and tailoring & other job works for textiles, from 5 per cent to 12 per cent.
The Council on Wednesday also decided to bring in several items under the GST regime and impose a 5 per cent tax, as part of the GoM report. These items include pre-packed and labelled paneer, dried leguminous vegetables, fish, meat (except frozen), curd, honey, dried makhana, wheat and other cereals, wheat or meslin flour, jaggery, puffed rice (muri), all goods and organic manure and coir pith compost will not be exempted from GST. However, goods that are unpacked, unlabelled and unbranded will continue to remain exempt from GST.
The GST Council has also decided to impose a GST of 18 per cent on the fees charged by banks for the issue of cheques (loose or in book form); bring hotel rooms under Rs 1,000 per day under the 12 per cent GST slab as opposed to tax exemption category currently.
Read all the Latest News , Breaking News , watch Top Videos and Live TV here.