One of the founders of Mexico's "self-defense" movement, the lime farmer turned vigilante crusader Hipólito Mora, has been murdered in an ambush – the latest macabre chapter in the country's unabating crime conflict.
Guillermo Valencia, a politician from the violence-stricken state of Michoacán, where Mora helped launch a rural revolt against narco-traffickers 10 years ago, announced the news on Twitter.
"It's just been confirmed to me that they have murdered my friend #HipolitoMora, they torched his bulletproof truck and killed all his bodyguards," Valencia tweeted.
Video footage posted on social media showed the burning wreckage of what was identified as Mora's vehicle in La Ruana, the rural community where he lived.
Mexico's self-defense movement was born in 2013 as charismatic leaders including Mora and the doctor turned paramilitary leader José Manuel Mireles Valverde urged civilians to take up arms against the brutal narco cartels seizing control of huge swaths of the country.
Initially many Mexicans hailed such groups as noble saviours, although over the following years some were accused of human rights abuses or were co-opted by the cartels and became involved in criminal activity themselves.
In February 2022, the Guardian sat down with Mora at a hotel in Michoacán's state capital, Morelia, as his rifle-toting guards loitered outside. The 66-year-old insisted he had stepped back from the vigilante movement but vowed never to abandon the farming community where he was born and raised. He said only two things could stop him speaking out about the organized crime groups which have plunged that region – and much of Mexico – into carnage.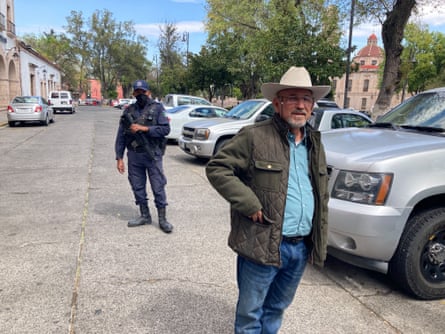 The first was for there to be a dramatic improvement in the security situation, "so we are able to come and go … as we please without running the risk of being grabbed by hitmen".
"The other, which I think is how they will try to silence me, is murdering me," Mora added.
Asked if he believed Mexico's president, Andrés Manuel López Obrador, had any hope of pacifying their country, which last year suffered more than 30,000 murders, Mora grinned.
"I hope so … but to be quite sincere, it's a really hard task. It's not something he'll be able to fix in the time he has left [in power]. I don't believe there is any way of putting an end to such violence in the short term … Not even the beach is safe these days."
Reports of Mora's murder prompted an outpouring of tributes to a drug war celebrity who had been one of the last surviving founders of the autodefensa movement.
Valencia described his late friend as "one of the most iconic figures of the self-defense movement, a man who deserved to be in the history books, not killed the way he was".
Former president Felipe Calderón, who launched Mexico's devastating "war on drugs" after taking power in 2006, condemned the "cowardly murder" and said Mora had "repeatedly risked his life to defend his community from organized crime".
Michoacán's former governor Silvano Aureoles denounced the "heinous murder". "Hipólito Mora was riddled with bullets and had his body burned," he tweeted describing the Tierra Caliente (Hot Land) region where the crime took place as "a war zone".
Óscar Balderas, an expert on organized crime and security, paid tribute to "an extraordinary man, a brave man who plotted a course for the self-defense movement and the armed civilian uprising against Mexico's cartels".
"He knew he wouldn't die of old age. He knew his enemies would kill him. He knew it and he lived with the knowledge that he would soon suffer a fatal attack and, regrettably, that came true," Balderas said. "He never got to see his dream of a pacified Michoacán and I believe that this, after the murder of his son, would be his greatest cause of grief."
Speaking last year, Mora broke down as he remembered how his son had been murdered in 2014 – a year after he helped launch a historic militia uprising against the Knights Templar drug cartel in Mexico's sun-scorched western badlands.
"He was a fantastic boy," Mora said, tears running down his cheeks.
Mora recognized the risk he was taking in continuing to denounce some of the world's most ruthless organized crime groups.
"But what I do want to make very clear is that the day they attack me, if they give me even the slightest opportunity, I will go down fighting," he said.
"I won't sit around with my arms crossed," Mora added. "I will die defending my rights and defending my life."