In late August 2017, a bolt of lightning struck Kenow Mountain in eastern British Columbia. In less than two weeks, the smouldering that ensued had transformed into a large forest fire, tearing through the rugged landscape and quickly spreading into Waterton Lakes national park.
The blaze consumed 19,303 hectares (48,000 acres) and while many of the park's animals fled the flames and smoke, the endangered half-moon hairstreak butterflies could not. A large portion of the diminutive grassland species was lost after nearly half its habitat was destroyed, putting immense pressure on an already threatened population.
Today, a record wildfire season has burned vast swathes of Canada and in the eastern regions of the country – and as far as New York – choked major cities with smoke. As the blazes press into the summer months, biologists are increasingly concerned that threatened and endangered species could be pushed further to the brink as hotter, faster fires reshape the landscape.
"We're most worried about those species in particular that have really restricted ranges or are living in a specialised habitat, like a small forest patch or a small grassland patch, like the half-moon hairstreak," says Gráinne McCabe, chief conservation officer of the Wilder Institute. "Those species are going to be most at risk. With a bad fire, we could lose an entire species if they're only found in one small area."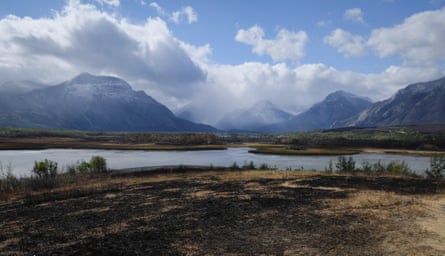 Wildfire has long functioned as a restorative mechanism in forest ecosystems. The immense heat of a blaze is often needed to burst open pine cones for seeds to spread. Unlike the half-moon hairstreak, the endangered mottled duskywing butterfly relies on fire to clear out plants that overwhelm its habitat.
But across Canada, nearly 700 species are considered at risk, largely the result of human actions on the landscape and within water systems. In recent years, widespread fires pushing into areas unaccustomed to searing blazes have only increased the threat.
As well as the half-moon hairstreak butterfly, found only in a small pocket of Alberta and a handful of other sites in neighbouring British Columbia, McCabe worries about the prospects of burrowing owls that nest in prairie grasslands. In both cases, conservation groups are weighing captive breeding programmes as a way of reducing the chance that an entire population is wiped out during a fire.
"Fires are a part of climate change and habitats like forests are not as resistant to fires as they once were," says Emily Giles of World Wildlife Fund Canada. "We're seeing altered rainfall cycles and warmer, drier conditions that are just leading to more intense and more frequent fires."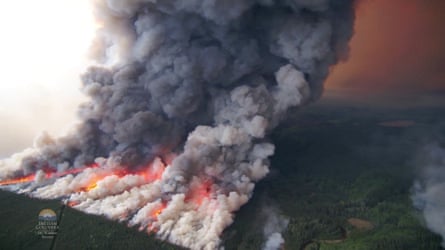 In Canada's boreal regions, fires are burning hotter and larger than previous years. In British Columbia, the Donnie Creek fire is now the largest in the province's history: 6m hectares (15m acres) have burned so far this year.
"When I see these types of fires, I automatically look to threatened species that live in the boreal forest. Wolverines depend on these ecosystems. They're very elusive animals. They require huge habitats, they've got a large range," says Giles. "If they're displaced by fire, they will have a hard time competing for a new habitat." As an apex predator in the forests, the wolverine is a critical – but slowly vanishing – component of a balanced ecosystem.
Giles says that much of the spring fire season has overlapped with the breeding season for many species, presenting a clear danger to newborns. "Adults and healthy individuals can get away. All too often, the babies can't."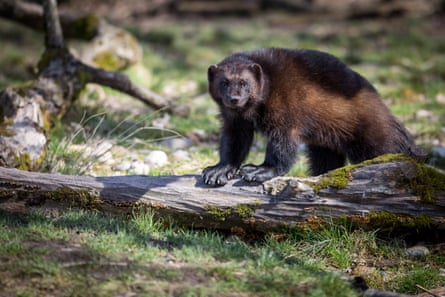 Experts also worry about the effects of the smoke on vulnerable species.
"We're seeing intense fires with smoke travelling much further from the fire site. We're very concerned about the impact on the longterm health of some of these species, not just in the fire zone itself, but also those affected by smoke," says McCabe.
In northern Alberta, whooping cranes have been pulled back from extinction, but migrating birds are particularly vulnerable to the harmful effects of wildfire smoke.
"It has taken so much time and resources to get the whooping crane population to where it is now and a wildfire would be absolutely devastating for that population," says McCabe.
Fire crews prioritise protecting human lives and communities when blazes pose a threat – leaving fires to burn naturally on the landscape where possible. But this strategy means conservation groups need to strengthen the populations of at-risk species, says McCabe.
"Increasingly, our focus is on making sure that we can bolster these populations to a healthy level so that should a fire come through, maybe it's less impactful for the species as a whole."
Find more age of extinction coverage here, and follow biodiversity reporters Phoebe Weston and Patrick Greenfield on Twitter for all the latest news and features