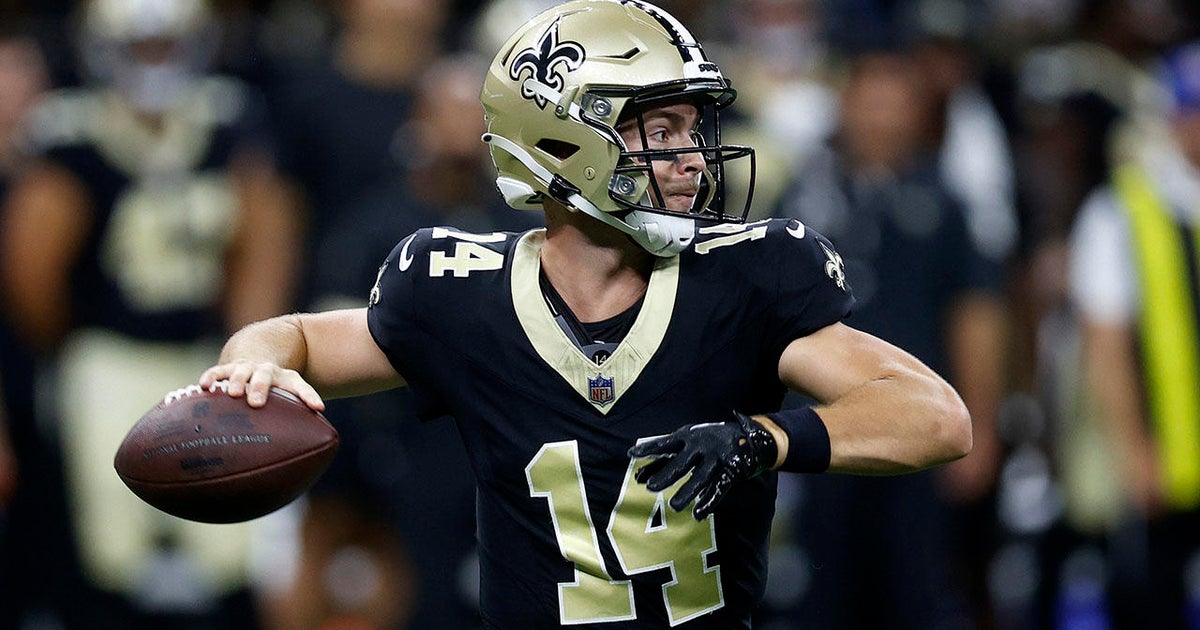 You've been waiting for the 2023 NFL regular season start for six (long) months, since Super Bowl LVII on February 12, to be exact. The wait is over. Football is back.
Week 2 of the 2023 NFL preseason wraps up tonight, with a game between the New Orleans Saints and Los Angeles Chargers. If you're looking to watch this Week 2 preseason matchup — and the Week 3 games to follow next weekend — we've got a few options and recommendations for you to consider below.
How to watch the New Orleans Saints vs. Los Angeles Chargers game
The preseason game between the New Orleans Saints and Los Angeles Chargers is scheduled for Sunday, Aug. 20 at 7:00 p.m. EDT (4:00 p.m. PDT). The game will be airing on the NFL Network.
NFL Network is included in many cable TV packages. Don't have a cable TV package that includes the NFL Network? One of the most cost-effective ways to get it is through a subscription to Sling TV. The streamer offers access to the NFL Network, local NBC, Fox and ABC affiliates (where available) and ESPN with its Orange + Blue Tier plan. Also worth noting: Sling TV comes with 50 hours of cloud-based DVR recording space included, perfect for recording all the season's top NFL matchups and FIFA Women's World Cup games.
That plan normally costs $60 per month, but the streamer is currently offering a 50% off promotion for your first month, so you'll pay just $30. You can learn more by tapping the button below.
Top features of Sling TV Orange + Blue tier:
There are 46 channels to watch in total, including local NBC, FOX and ABC affiliates (where available).
You get access to most local NFL games and nationally broadcast games at the lowest price.
All subscription tiers include 50 hours of cloud-based DVR storage.
---
Watch the Saints vs. Chargers game with NFL+
If you want to catch all the preseason games, even those that are out-of-market, check out NFL+. The premium streaming service, starting at $40 per year (or $7 per month), offers access to NFL Network, plus all the preseason games. And yes, that includes those being broadcast out-of-market. To boost your NFL experience even further, you can upgrade to NFL+ Premium with NFL RedZone and watch up to eight NFL games simultaneously. A seven-day free trial is available.
Top features of NFL+:
You get access to all NFL preseason games, including those that are out of market.
NFL+ lets you watch stream local and primetime regular season games on your phone or tablet.
Includes the NFL Network (and NFL RedZone with NFL+ Premium), so it's a good option for those who are only looking to stream football.
---
More ways to watch the Saints vs. Chargers game: FuboTV
You can also catch the New Orleans Saints play against the Los Angeles Chargers on FuboTV. FuboTV is a sports-centric streaming service that offers access to almost every NFL game of the season. Packages include CBS, Fox, NBC, ESPN, NFL Network, NFL RedZone and more, so you'll be able to watch more than just today's games.
To watch the NFL without cable, start a seven-day free trial of Fubo. You can begin watching immediately on your TV, phone, tablet or computer. Fox, so you know, offers Sunday NFC games via "NFL on Fox"; while ESPN is the home of "Monday Night Football." ABC airs some "MNF" games, too. 
In addition to NFL football, FuboTV offers MLB, NBA, NHL, MLS and international soccer games. FuboTV starts at $75 per month for the Pro tier (includes NFL Network); the $100 per month Ultimate tier includes NFL RedZone.
Top features of FuboTV:
The Pro tier includes 169 channels, including NFL Network; the Ultimate tier includes 289 channels, including NFL RedZone.
FuboTV includes all the channels you'll need to watch live sports, including CBS (not available through Sling TV).
All tiers come with 1,000 hours of DVR recording.
---
Stream the Saints vs. Chargers game on Hulu + Live TV
You can watch the NFL, including the NFL Network, with Hulu + Live TV. The bundle features access to 90 channels, including both Fox and FS1. Unlimited DVR storage is also included. Watch every game on every network with Hulu + Live TV, plus catch live NFL preseason games, exclusive live regular season games, popular studio shows (including NFL Total Access and the Emmy-nominated show Good Morning Football) and lots more.
Hulu + Live TV comes bundled with ESPN+ and Disney+ for $70 per month.
---
2023 NFL preseason schedule: Week 2

The Week 2 NFL preseason schedule is below.
Saturday, August 19
Jacksonville Jaguars at Detroit Lions, 1 p.m.
Miami Dolphins at Houston Texans, 4 p.m.
Buffalo Bills at Pittsburgh Steelers, 6:30 p.m.
Chicago Bears at Indianapolis Colts, 7 p.m.
Tampa Bay Buccaneers at New York Jets, 7:30 p.m.
Tennessee Titans at Minnesota Vikings, 8 p.m.
Kansas City Chiefs at Arizona Cardinals, 8 p.m.
New England Patriots at Green Bay Packers, 8 p.m.
Denver Broncos at San Francisco 49ers, 8:30 p.m.
Las Vegas Raiders at Los Angeles Rams, 9 p.m.
Dallas Cowboys at Seattle Seahawks, 10 p.m.
Sunday, August 20
New Orleans Saints at Los Angeles Chargers, 7:05 p.m.
Monday, August 21
Baltimore Ravens at Washington Commanders, 8 p.m. 
---
What to expect during the 2023-4 NFL season
The NFL Preseason runs through Aug. 27. Here are some of the key storylines to follow for the 2023-4 NFL season.
Aaron Rodgers in a new shade of green: Four-time NFL MVP Aaron Rodgers takes over from former Tampa Bay Buccaneers QB Tom Brady as the oldest active player in the league. All eyes will be on the 39-year-old Hard Knocks star, who traded in his Green Bay Packers uniform for a Jets green uniform after 18 seasons in Green Bay.
A-Rod is already making his mark in New York mentoring younger players like Jets CB Sauce Gardner, whom Rodgers calls a "future Hall of Famer". The Jets haven't won the Super Bowl since 1969 and haven't made the playoffs since 2010. Rodgers made the playoffs a total of nine times. The Jets have $112 million invested in Rodgers adding an tenth trip to the post season to his resume.
Geno Smith silences critics: The NFC West has always been a highly contested battleground and this season is no different. Ever since Seahawks quarterback Geno Smith was given the starting quarterback in the post-Russell Wilson era, we've enjoyed seeing Smith silence naysayers. Smith led Seattle to nine wins, threw for a career-high 30 touchdowns and made the Pro Bowl last season. He's promised fans he'll improve on last season's progress with hopes of dominating the NFC West. 
Brock Purdy is irrelevant no more: After going from Mr. Irrelevant in the 2022 NFL Draft to the first last overall NFL Draft pick to play (and win) a playoff game, San Francisco 49ers quarterback Brock Purdy is primed to solidify himself as the Niners starter, even if that means sidelining Trey Lance. Purdy's rise, from third string QB to playoff starter, dazzled fans (the NFL does love a good storyline) and we'll look forward to Purdy proving last season's postseason success was no fluke. We love a good storyline, too.
Other storylines to follow this NFL season: After sidelining for a season to recover from a torn ACL suffered during Super Bowl LVI, superstar wide receiver Odell Beckham Jr. ditched his LA Rams uniform and joined Lamar Jackson in Baltimore. This duo has potential to be as prolific as Aaron Rodgers and Devante Adams or even (throwback alert), Peyton Manning and Marvin Harrison.
---
Related content on CBS Essentials
Source link
(This article is generated through the syndicated feed sources, Financetin neither support nor own any part of this article)