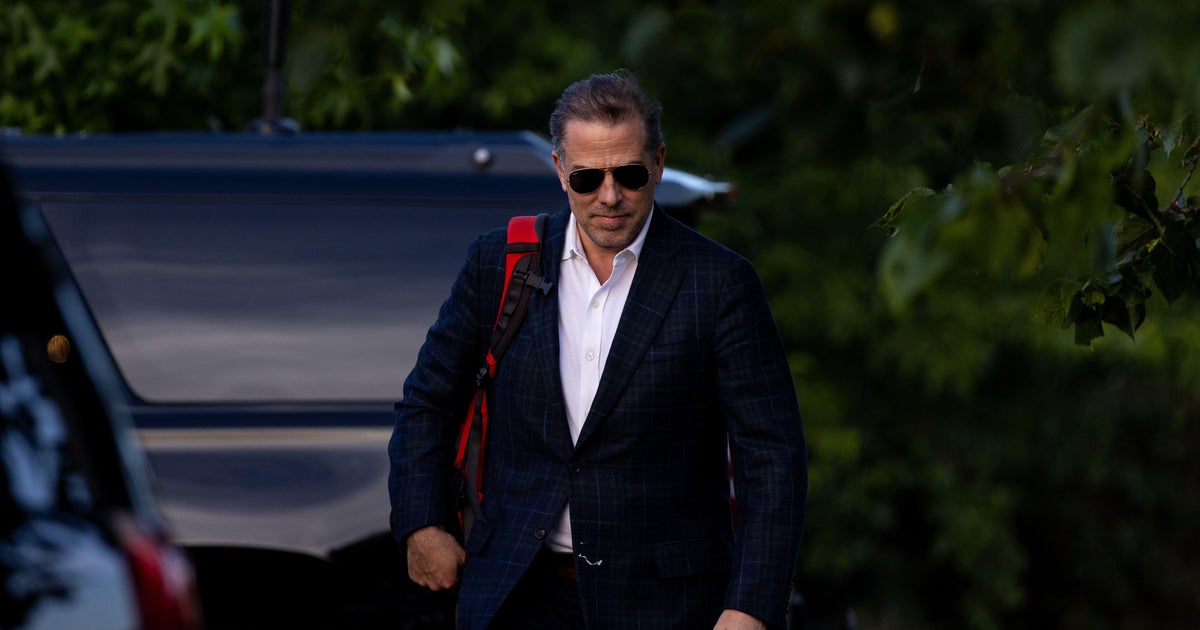 An attorney for Hunter Biden has accused congressional Republicans of trying to derail the plea agreement reached last week between President Biden's son and prosecutors by pushing forward what he characterized as "false allegations" from IRS whistleblowers.
"The timing of the agents' leaks and your subsequent decision to release their statements do not seem innocent—they came shortly after there was a public filing indicating the disposition of the five-year investigation of Mr. Biden," Hunter Biden attorney Abbe Lowell said of the disclosures made by IRS supervisor Gary Shapley in a six-hour closed-door appearance before the House Ways and Means Committee last month.
Shapley, who examined Hunter Biden's tax records and worked with the federal government on the case, told House Republicans that U.S. Attorney David Weiss, the Trump appointee who was tasked with the Hunter Biden tax probe, was hampered in conducting the investigation. 
Shapely testified that Weiss had said he was denied special counsel status, a position that could have offered him broader prosecutorial power. 
But Weiss has refuted that statement, telling a GOP House panel that he was granted "ultimate authority over this matter, including responsibility for deciding where, when, and whether to file charges."
Attorney General Merrick Garland told reporters last week that Weiss had "complete authority to make all decisions on his own" and required no permission from Justice Department headquarters to bring charges.
Shapley says he provided lawmakers with contemporaneous e-mail correspondence he wrote after an Oct. 7, 2022 meeting, when he says the U.S. attorney contradicted the assertion that he had complete authority over the probe. "Weiss stated that he is not the deciding person on whether charges are filed," Shapley wrote to his supervisor.
"To any objective eye your actions were intended to improperly undermine the judicial proceedings that have been scheduled in the case," Lowell wrote to House Ways and Means Chairman Jason Smith. "Your release of this selective set of false allegations was an attempt to score a headline in a news cycle—full facts be damned. We all know the adage: an allegation gets page one attention, while the explanation or exoneration never gets coverage at all or is buried on page 10. This letter is an attempt to make sure the response is found."
The letter also questions the motives and veracity of testimony from Shapley and another IRS agent who worked on the case.
Shapley's lawyers responded in a statement Friday that said, "All the innuendo and bluster that Biden family lawyers can summon will not change the facts."
"Lawful whistleblowing is the opposite of illegal leaking, and these bogus accusations against SSA Shapley by lawyers for the Biden family echo threatening emails sent by IRS leadership after the case agent also blew the whistle to the IRS Commissioner about favoritism in this case—as well as the chilling report that Biden attorneys have also lobbied the Biden Justice Department directly to target our client with criminal inquiry in further retaliation for blowing the whistle," the statement continued. 
Shapley's attorneys went on to say that Hunter Biden's lawyers' "threats and intimidation have already been referred earlier this week to the inspectors general for DOJ and the IRS, and to Congress for further investigation as potential obstruction." 
Source link
(This article is generated through the syndicated feed sources, Financetin doesn't own any part of this article)