98% of meetings today have at least one remote participant, yet only 6.4% of the meeting rooms in the world are prepared for this situation. This is perhaps the most interesting data communicated by Cisco during WebexOne 2022the (virtual and remote) conference of the US producer on its videoconferencing service Webex. The spotlight is therefore on products and services that allow workers and companies to work better in this new hybrid context.
What's new in Cisco Webex: integration with Teams Rooms, new services and features
According to Jeetu PatelEVP and GM of Cisco's Security and Collaboration division, hybrid work must be re-imagined starting with the workspaces, the methods, the experience for customers and the security and manageability of company collaboration services and platforms. This is why Cisco has presented reference projects for different spaces such as conference rooms, shared desks, offices, home offices and so on: in this way the company draws on its experience and that of its partners to provide indications on how to better address each. situation.
Given the amount of services it offers, Cisco now speaks of "Webex Suite". A new service to simplify remote collaboration that Webex is now making available is the application Whiteboard ("whiteboard"), which allows you to collaborate on a shared digital space. IPhone and iPad users can then share their camera via Webex Meetings and insert notes on images, so as to show more clearly what they see. Interestingly, the screenshots shared during the presentation showed Android, which suggests that the company may be working on the functionality for Google's operating system as well.
In the case of events held through the Webex Events application, subtitles and the real-time translation in 34 languages.
It is not an absolute novelty, because it had already been anticipated during Ignite 2022, but integration between Cisco-branded devices and Microsoft Teams Rooms remains relevant because it now allows users to manage meetings via Webex, Google Meet, Microsoft Teams, and Zoom. Patel made it clear during the conference: the future is multi-platform.
One of the additional advantages of using Teams Rooms on Cisco devices is that the advanced features of the latter are maintained even using Microsoft's service: noise cancellation and "smart" framing, for example, remain active because they are implemented in firmware or hardware.
Then there is direct integration between Teams and Webex Calling, which allows you to make calls, including group calls, using the Cisco service directly from the Teams application. In this way it is possible to activate call center services more easily.
Here is Cisco Room Kit EQ. And audio watermarks also arrive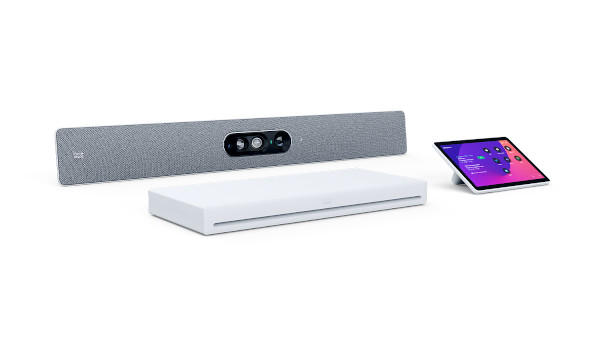 It also comes Room Kit EQa kit consisting of videobar, tablet for control and hub for connection to the network and screens. The videobar uses four Ultra HD cameras with automatic framing of the speaker and image resizing to better capture the situation (for example, choosing between a shot of the entire group or of the presenter). The hub supports connection via a USB-C cable, so it's easy to connect your device to share your content.
Another particularly interesting novelty is that of audio watermark. Webex automatically inserts a watermark, which is a sort of sound "signature" that is inaudible and that serves to identify who was listening. This makes it much easier to identify who has registered. This feature is particularly useful for tracking down unauthorized recordings of confidential conversations.