Just occasionally a documentary series makes you stop and rethink what you know of the world. Evacuation, three unforgettable films about the chaotic airlift of British citizens and troops from Afghanistan as the Taliban re-entered Kabul in August 2021, is one such series.
The films, which will be shown on consecutive nights on Channel 4 starting on Sunday evening, do not tell the story we think we know – the fatal strategic miscalculations of government ministers asleep at the wheel. They instead present an eyewitness account of that horrific fortnight at Kabul airport.
The eyewitnesses are serving British soldiers, airmen and women, and a handful of the 15,722 people eventually airlifted out. Those left behind have a silent presence in the films. The paratroopers and pilots and squaddies speak with unprecedented frankness about being asked to perform an impossible role in profoundly hostile circumstances.
There are veterans of several tours of duty, and those on their first posting. Diana Bird, a squadron leader in the RAF police, was charged with leading part of the main logistics operation on the ground. She originally believed it would involve evacuating 3,000 people. Her team, many of whom were teenagers, was horribly inexperienced. It felt, she says, recalling the scrambled arrival in Afghanistan, without a defined headquarters or plan, and with the Taliban advancing, like "basically taking a sixth-form field trip to Kabul".
The films have been directed by James W Newton, who has a history of making powerfully emotional television, particularly real-life medical drama. I spoke to him last week about the story behind the making of his series, which feels immediately like a definitive historical document. It began for him, like it did for most of us, watching events unfold on TV: the spectacle of families stampeding the airport, of people clinging on and falling from the undercarriage of planes. "I think when I was watching it play out on the news, like everyone else, I was just gobsmacked," Newton says. "A tragedy that comes with a deadline, a countdown, has a way of grabbing you. We all have this instinct to want to know the outcome, particularly where there's life and death involved."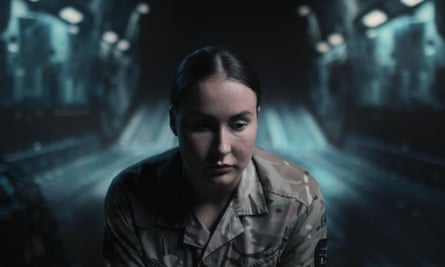 When he approached the MoD about the series, he pitched the idea as a human rather than a political story. He envisaged, he says, "essentially a military thriller but one that was very real". Something that would allow people at home to talk about what it means to do those frontline jobs, what it means to go to war.
Part of you, watching the films, is astonished that serving soldiers have been allowed to speak so candidly about such a recent and controversial operation. Part of you is grateful to the decision of the MoD to allow this level of transparency. Newton was unsure to begin with whether he would be able to get the individuals, some struggling with PTSD, all trained in self-containment, to open up.
"Essentially I went speed dating," he says, "to different barracks and to different squadrons at Brize Norton. I remember, early on, walking into the barracks in Colchester and there were maybe 450 paratroopers all sat with their arms folded. They don't engage with media. To function, they have to move on in their minds, and everything in the past is sealed in a box. And here was this documentary film-maker talking softly about intention and emotion."
Eventually he won the trust of people who had not only been nearly undone by that fortnight – everyone had been traumatised – but who could also express that transformation. They talk of seeing children crushed to death in the crowds, of people stealing babies from others to get to the front of the queue: anything to escape the Taliban, who were already present, armed with AK-47s and whips. "I have served the last two decades of my life in that country," one paratrooper told Newton, "but I've never seen desperation like that."
The director interviewed his military witnesses over many days and weeks in the reconstructed hold of the type of C-17 troop plane that had been crucial to the operation (the film crew had tried to use a real plane at Brize Norton, but the airfield noise made it unworkable). To begin with there were four comms people from the MoD sitting in, and every time an interviewee wanted to say something, he or she looked for approval: "can I say this?" Eventually, Newton managed to argue the ministry down to one person in the room, which meant that interviewees started to be themselves.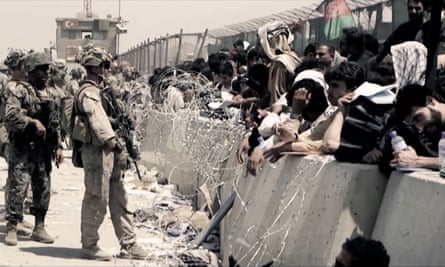 All of them, in the film, are adamant they are not going to be the one who breaks down and cries about what they did, and what they didn't do. Several fail. "They definitely don't access those emotions on a day-to-day basis," Newton says. "And so trying to create the space for them to work out how they actually felt became really important."
Watching these young men and women re-examine the reality of having to make thousands of life-or-death decisions is sobering and harrowing. The rules of eligibility for a space on a plane kept shifting. They were utterly overwhelmed by numbers. They knew that they were turning away some families to probable torture or death. And they started far too late.
In this respect there is an unspoken contrast in the films. An implicit contradiction between these young people now forced to live with intense anxiety and guilt, and the politicians and civil servants at home who accepted so little responsibility (neither the then foreign secretary, Dominic Raab, nor his permanent secretary, Sir Philip Barton, cut short their summer holidays to deal with the crisis, even when they knew Kabul was about to fall on 13 August 2021). It is hard to avoid the phrase "lions led by donkeys".
"I think we know that story," Newton says, of the abject political context (and, say, the cynical distraction of Pen Farthing and his dogs). "We've heard those [ministers] say what they want to say. If I'd sat them down, there might be a few cracks there. But most politicians are going to give you what they want to give you. I felt it would be much more compelling for people who aren't used to going in front of cameras to talk."
Two events – the mass invasion of the airport, and the suicide bomb near the Baron Hotel where the British were processing evacuees (killing at least 100 civilians and 13 US Marines) – take on tangible reality in the series. The testimony and footage bring home exactly how it might feel to try to organise an international airlift of tens of thousands of people – in the absence of air traffic control, at an airport surrounded by 15,000 ft mountains – while tens of thousands of other desperate people are on the runway. Or to be given intelligence that there is a suicide bomber among the packed crowd that has spent days trying to storm your base across an open sewer. We might have begun to forget these events in the overall confusion; the films give them the historic scale they deserve.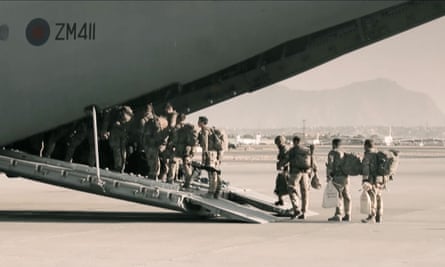 In contrast to those horrors, another theme that runs through the series is the voices of those who somehow made it through the crowds, clutching their British passports, or their union jack flags or the email printouts that showed they had worked alongside the UK military over the 20 years of operations. The most memorable of these voices is that of an Afghan army translator's son, eight years old and now at school in the UK, who becomes a mesmerising and articulate presence in the series.
"I really wanted children to be involved, because they were so much a part of the evacuation," Newton says. "And he was a particularly sparky, brilliant kid. We had crayons and colouring books around, and he would come and go to his parents, to fill in little bits of their story. Kids just have this extraordinary ability to see things as they are."
Newton resists the temptation to editorialise much in the film. He believes that the interviews tell their own story. "These were all people who above all had to draw on the strengths of their own character," he says, referencing the fact, for example, that the decision to start evacuating did not come as an order from above, but from Bird on the ground faced with thousands women and children in front of her and a plane on the tarmac. As a sergeant major in the paratroop regiment, identified only as Gaz, observes in the film: "You're under quite vague terms. You have British foreign policy being dictated by a 19-year-old lance corporal at the front gate of the Baron Hotel".
The outcome of all of that, as presented in the films, is heroic and shameful. It seems a miracle by the end that so many people were evacuated, but then as one soldier says, of those left behind, "some had British passports, and next to them were Taliban, and we just left them in their hands." Where did the film-maker stand by the end?
"The people on the ground did all they could," he says. But that could never be enough. In terms of telling his story "that means you take the audience on a complicated emotional journey."
In recent weeks Newton has sat down with all the main protagonists in his series, and watched the films with them individually. "Some of them just went very quiet," he says. "Others started to cry."
There was also a screening for a large group at Brize Norton, a new experience for many of them. "When people come back from an operation like this, there might be debriefs," Newton says. "But then they have to move on. I was in Brize Norton with 200-odd aviators watching this. Several of them were in tears, others had to leave the room."
Often, he says, the people most affected by the final scenes of the last aircraft leaving Kabul are those who had spent nearly all their military career in Afghanistan – men and women who had lost friends and colleagues, only to see the Taliban they had fought and defeated 20 years before, now returning to power.
As one RAF wing commander, identified as Calvin in the series, puts it: "Hadn't we done a good job undoing 20 years' worth of effort and activity in 14 days? You do what the democracy asks you to do … but it just raises the question: why?"
Source link