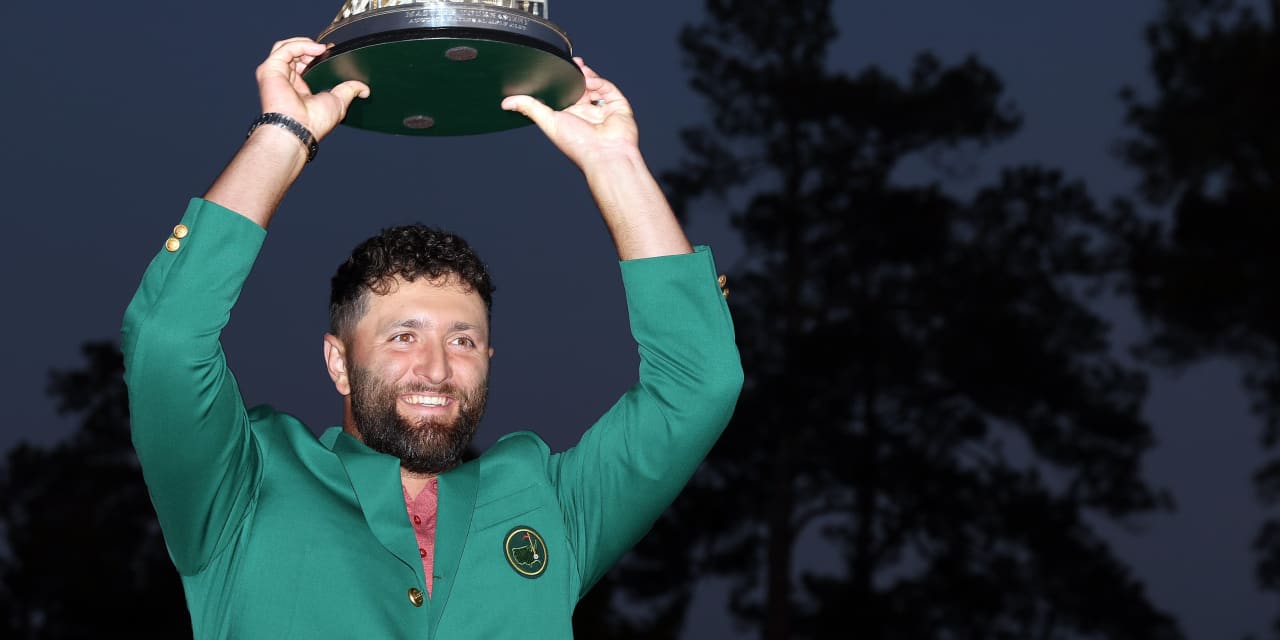 The 2023 Masters Tournament set a new prize record as the total money at stake for golfers jumped to $18 million in total, up from last year's $15 million.
Jon Rahm won the 2023 Masters and will take home $3.24 million, higher than the $2.7 million grand prize that Scottie Scheffler got in 2022.
According to an Augusta National representative, here are the total prize money allocations for Rahm and top 50 players at the Masters:
Total purse: $18 million
1st: $3,240,000
2nd: $1,944,00
3rd: $1,224,000
4th: $864,000
5th: $720,000
6th: $648,000
7th: $603.000
8th: $558,000
9th: $522,000
10th: $486,000
11th: $450,000
12th: $414,000
13th: $378,000
14th: $342,000
15th: $324,000
16th: $306,000
17th: $288,000
18th: $270,000
19th: $252,000
20th: $234,000
21st: $216,000
22nd: $201,600
23rd: $187,200
24th: $172,800
25th: $158,400
26th: $144,000
27th: $138,600
28th: $133,200
29th: $127,800
30th: $122,400
31st: $117,000
32nd: $111,600
33rd: $106,200
34th: $101,700
35th: $97,200
36th: $92,700
37th: $88,200
38th: $84,600
39th: $81,000
40th: $77,400
41st: $73,800
42nd: $70,200
43rd: $66,600
44th: $63,000
45th: $59,400
46th: $55,800
47th: $52,200
48th: $49,320
49th: $46,800
50th: $45,360
In 2020 and 2021, the total Masters payout was $11.5 million, and the winners got $2.07 million. Overall the tournament has continued to increase its total prize payout for players as the threat of LIV Golf is looming over the sport.
From the archives: Trump tells golfers to 'take the money' from LIV Golf or 'pay a big price'
LIV Golf is a golf circuit founded by former pro golfer Greg Norman in an attempt to challenge the PGA Tour. It is funded by Saudi Arabia's sovereign-wealth fund and has successfully lured players away from the PGA Tour including Phil Mickelson, Dustin Johnson, Bubba Watson, Patrick Reed, Sergio Garcia, Bryson DeChambeau and Charl Schwartzel.
In June, the PGA Tour suspended golfers who joined the LIV Golf series, but they are allowed to play in the three U.S. majors outside of the PGA Championship — the U.S. Open, the Open Championship and the Masters — because those tournaments are not governed by the PGA Tour and have their own organizational and operating bodies.
Many of these high-profile golfers have been criticized for joining LIV Golf because of its close relationship with Saudi Arabia.
According to the U.S. Department of State, Saudi Arabia has been accused in recent years of multiple human rights violations, including: unlawful killings; executions for nonviolent offenses; forced disappearances; torture and cases of cruel, inhuman or degrading treatment of prisoners and detainees by government agents; harsh and life-threatening prison conditions; arbitrary arrest and detention; and taking political prisoners or detainees, among other offenses.
See also: Tiger Woods isn't the most wagered-on golfer at the Masters, unlike last year. See who is.
Scottie Scheffler, Rory McIlroy and Jon Rahm were the top three betting favorites prior to the start of the Masters, and entered the tournament as the top three ranked golfers in the world, in that order.
For a second consecutive year, the Masters welcomed back its biggest star, Tiger Woods, who was in a major car accident in February 2021 that threatened his athletic career — Woods said the crash almost led to an amputation.
"I don't know how many more I have in me," Woods said this week about his future competing at The Masters. Woods withdrew from the Masters before the resumption of the third round because of an injury Sunday.
Read on: LSU's Angel Reese has more NIL sponsors than any other college basketball player, male or female
(This article is generated through the syndicated feed sources, Financetin doesn't own any part of this article)