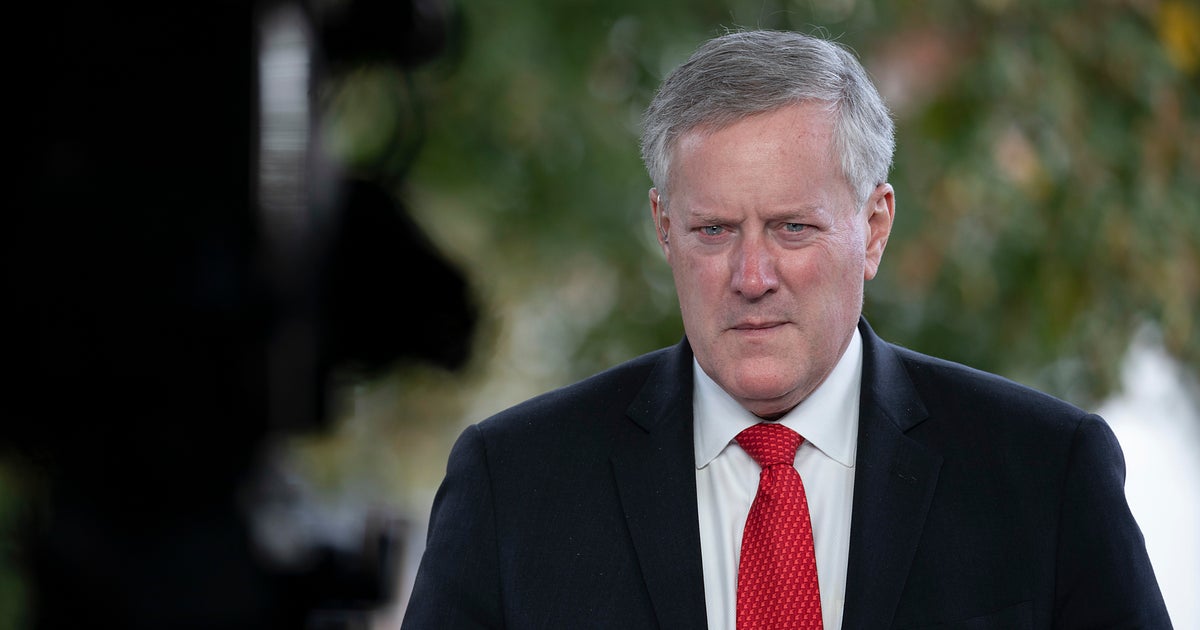 A judge on Friday denied Mark Meadows' request to move his Georgia election subversion case to federal court, ruling that the Trump White House chief of staff must fight the charges in state court instead.
U.S. District Judge Steve Jones in Atlanta wrote in a 49-page ruling that Meadows "has not met even the 'quite low' threshold" to move his case to federal court, noting that the question was whether the actions at issue were related to his role as a federal official.
"The evidence adduced at the hearing establishes that the actions at the heart of the State's charges against Meadows were taken on behalf of the Trump campaign with an ultimate goal of affecting state election activities and procedures," Jones wrote. "Meadows himself testified that working for the Trump campaign would be outside the scope of a White House Chief of Staff."
The ruling is a big early win for Fulton County District Attorney Fani Willis, who spent 2 1/2 years investigating and building the case against former President Donald Trump, Meadows and 17 others before obtaining the sweeping indictment under Georgia's anti-racketeering law. She has said she wants to try all the defendants together.
Trump has indicated that he is considering asking for his trial to be moved to federal court, and several other defendants have already made the request. The ruling by Jones against Meadows could signal that the others may struggle to meet the burden required to win removal when their lawyers make their arguments before the judge later this month, though Jones made clear that he will assess each of those cases individually.
The practical effects of moving to federal court would be a jury pool that includes a broader area than just overwhelmingly Democratic Fulton County and a trial that would not be photographed or televised, as cameras are not allowed inside federal courtrooms. But it would not open the door for Trump, if he's reelected in 2024, or another president to issue pardons because any conviction would still happen under state law.
A lawyer for Meadows did not immediately respond to requests for comment Friday evening. But Meadows is expected to appeal the ruling. In a court filing earlier this week, he asked to separate his case from the other defendants in the case and to halt his proceedings in the state court until a final determination is reached on his attempt to move to federal court, "including through appeal, if an appeal is taken."
A spokesperson for Willis declined to comment.
Meadows and the others were indicted last month by a Fulton County grand jury on charges they participated in a sprawling scheme to illegally try to overturn Trump's 2020 presidential election loss in Georgia even though the state's voters had selected Joe Biden.
All have pleaded not guilty.
Meadows said his actions were taken as part of his role as chief of staff to the Republican president. He and his lawyers also argued that, since he was a federal official at the time, the charges against him should be heard in federal court and, ultimately, dismissed for lack of merit.
Prosecutors said the actions laid out in the indictment were meant to keep Trump in office after he lost to Biden, a Democrat. They said the acts were explicitly political in nature and are illegal under the Hatch Act, which restricts partisan political activity by federal employees. As such, they said, the case should stay in Fulton County Superior Court.
Jones wrote that the evidence "overwhelmingly suggests" that most of the actions attributed to Meadows in the indictment did not fall within "his scope of executive branch duties."
"Even if Meadows took on tasks that mirror the duties that he carried out when acting in his official role as White House Chief of Staff (such as attending meetings, scheduling phone calls, and managing the President's time) he has failed to demonstrate how the election-related activities that serve as the basis for the charges in the Indictment are related to any of his official acts," the judge wrote.
Jones also made clear that he was making no judgment on the merits of the case against Meadows or any defense he might offer.
Earlier Friday, another Georgia judge released the full report prepared by a special purpose grand jury in the investigation that led up to the indictments.The 23 special grand jurors had the ability to subpoena witnesses and recommend charges in the report, which they completed in January but which was largely kept under seal until now. 
The report reveals that a majority of the members recommended charges against 27 people "with respect to the national effort to overturn the 2020 presidential election" — including Senator Lindsey Graham of South Carolina; former Senators Kelly Loeffler and David Perdue of Georgia; and former Trump national security adviser Michael Flynn, who were not ultimately among those charged in the case.
In a statement Friday, Trump spokesman Steven Cheung blasted Willis and the special grand jury process as "politically motivated" and "clearly biased," saying that they "voted to indict dozens of innocent individuals, including former and sitting United States Senators, simply for raising concerns about election integrity and exercising their First Amendment Rights under the Constitution."
Source link
(This article is generated through the syndicated feed sources, Financetin neither support nor own any part of this article)