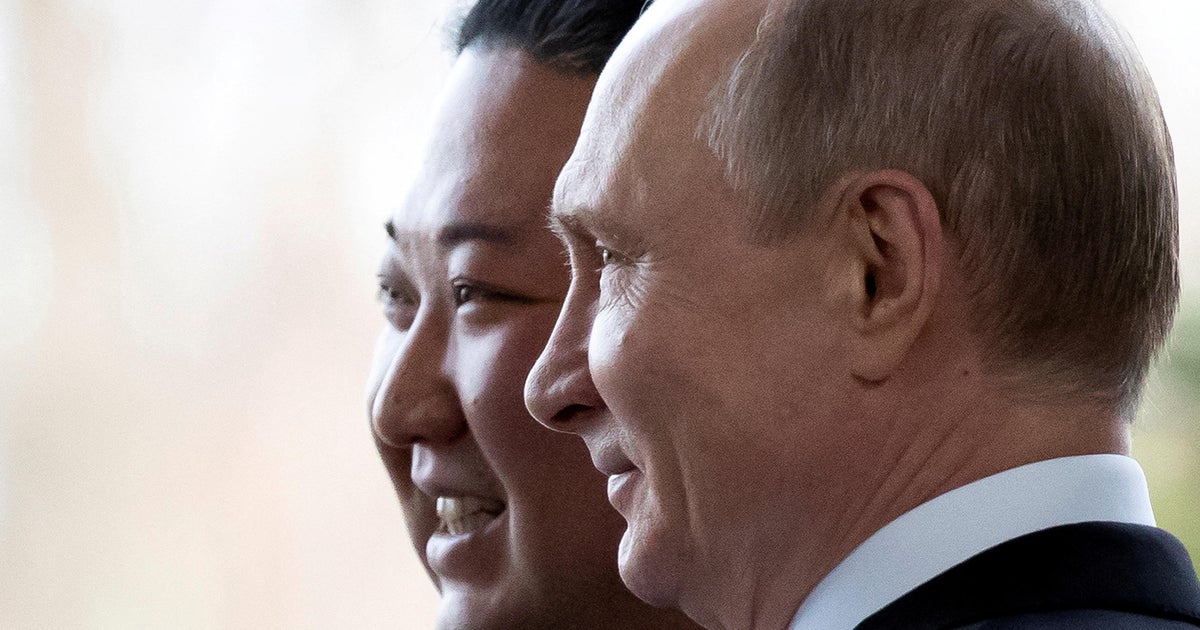 Washington — North Korean leader Kim Jong Un plans to meet with Russian President Vladimir Putin this month to discuss potentially providing Moscow with weapons to support its ongoing war in Ukraine, a U.S. official told CBS News. Kim would meet Putin in Russia, though the exact location is not clear. The New York Times first reported the North Korean leader's expected travel plans.
The possible meeting between the Russian and North Korean leaders comes after the White House said it had new information that arms negotiations between the two countries were "actively advancing." National Security Council spokesman John Kirby told reporters Wednesday that Russia's defense minister recently traveled to North Korea to "try to convince Pyongyang to send artillery ammunition" to Russia, and after the visit, Putin and Kim exchanged letters "pledging to increase their bilateral cooperation."
Russia's government declined Tuesday to confirm that any meeting was planned, with Kremlin spokesman Dmitry Peskov, responding to questions about the claims by U.S. officials, telling reporters in Moscow: "We have nothing to say on this."
Kirby said intelligence obtained by the U.S. indicates that after the visit to North Korea by Russian Defense Minister Sergei Shoigu, another group of Russian officials traveled to Pyongyang for further discussions about a possible arms deal between the two countries.
"We urge the DPRK to cease its arms negotiations with Russia and abide by the public commitments that Pyongyang has made to not provide or sell arms to Russia," Kirby said. He warned that the U.S. will take direct action, including by imposing sanctions, against individuals and entities that work to facilitate the supply of weapons between Russia and North Korea.
Potential deals could include "significant quantities and multiple types" of munitions from North Korea, which Russia would use for its ongoing war against Ukraine, Kirby said. He warned any weapons agreement between Moscow and Pyongyang would violate numerous United Nations Security Council resolutions.
"We will continue to identify, expose and counter Russian attempts to acquire military equipment from DPRK or frankly any other state that is prepared to support its war in Ukraine," Kirby said.
Citing Shoigu's recent trip to North Korea that involved talks over Pyongyang selling artillery ammunition to Russia,
Adrienne Watson, National Security Council spokesperson, said Monday that the U.S. has "information that Kim Jong Un expects these discussions to continue, to include leader-level diplomatic engagement in Russia."
Both Russia and China sent high-level delegations to North Korea in July, which marked the first visits by top foreign officials since the start of the COVID-19 pandemic in 2020. During the trip, Kim gave Shoigu, Russia's defense minister, a guided tour of North Korea's weapons and missiles at an arms exhibition, according to photos shared by North Korean media.
The latest warning about Pyongyang possibly providing weapons to Russia comes nearly a year after U.S. officials warned the Russian Ministry of Defense was in the process of buying rockets and artillery shells from North Korea for the war in Ukraine, citing a newly downgraded U.S. intelligence finding. Russia has also used Iranian-made drones to target Ukrainian towns.
Source link
(This article is generated through the syndicated feed sources, Financetin neither support nor own any part of this article)