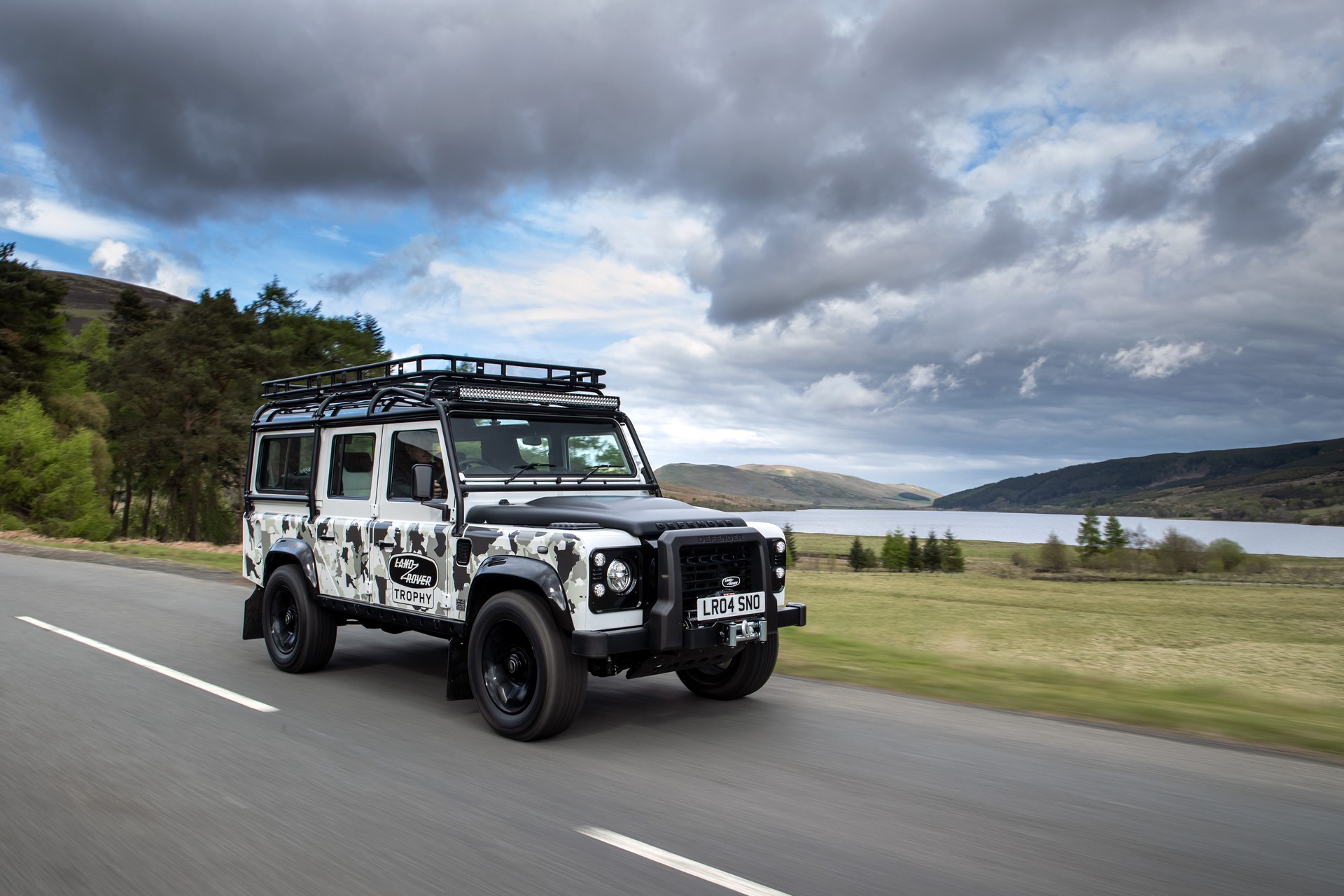 Land Rover Classic launched 25 exclusive Defender Works V8 Trophy II inspired by the world of excursions to honor the 70 years in which Land Rovers have explored routes deemed inaccessible. Each vehicle features a unique camouflage that represents 23 locations touched by legendary raids such as the Camel Trophy, First Overland and G4 Challenge.
The limited edition is powered by Land Rover's 5.0-liter V8 petrol engine, which delivers 405PS and 515Nm of torque, and is equipped with an eight-speed ZF automatic transmission. Each model undergoes a complete rebuild with upgraded suspension, steering improvements and upgraded brakes. It will be offered with the 90 and 110 Station Wagon and 110 Double Cab Pick-Up bodies, for the first time on a Trophy model. Of the 25 units, only 5 will be double-cab Pick-ups, while the remaining 20 vehicles will be split equally between 90 and 110 Station Wagons.
The exterior features a distinctive black and white theme, with a unique camouflage developed with the design team of Land Rover Special Vehicles. The main body is finished in Fuji White with a contrasting Narvik Black roof and Gloss Black exterior elements, down to the smallest details such as rivets, screws and air vents. Gloss Black 18-inch Sawtooth alloy wheels complete the whole
In addition to the opportunity to purchase a unique collector's vehicle, customers are invited to participate in the second exclusive contest Land Rover Trophy. Accompanied by experts, they will be able to compete in 3 days of off-road points challenges, inspired by the famous global adventures of the Brand. The exclusive camouflaged Defender Works V8 Trophy, honoring Land Rover's off-road heritage, will be created using the 2012-2016 Defenders as a model, disassembled and hand-rebuilt to rigorous standards and to high and improved specifications, developed exclusively by the team Land Rover Classic.
Source link