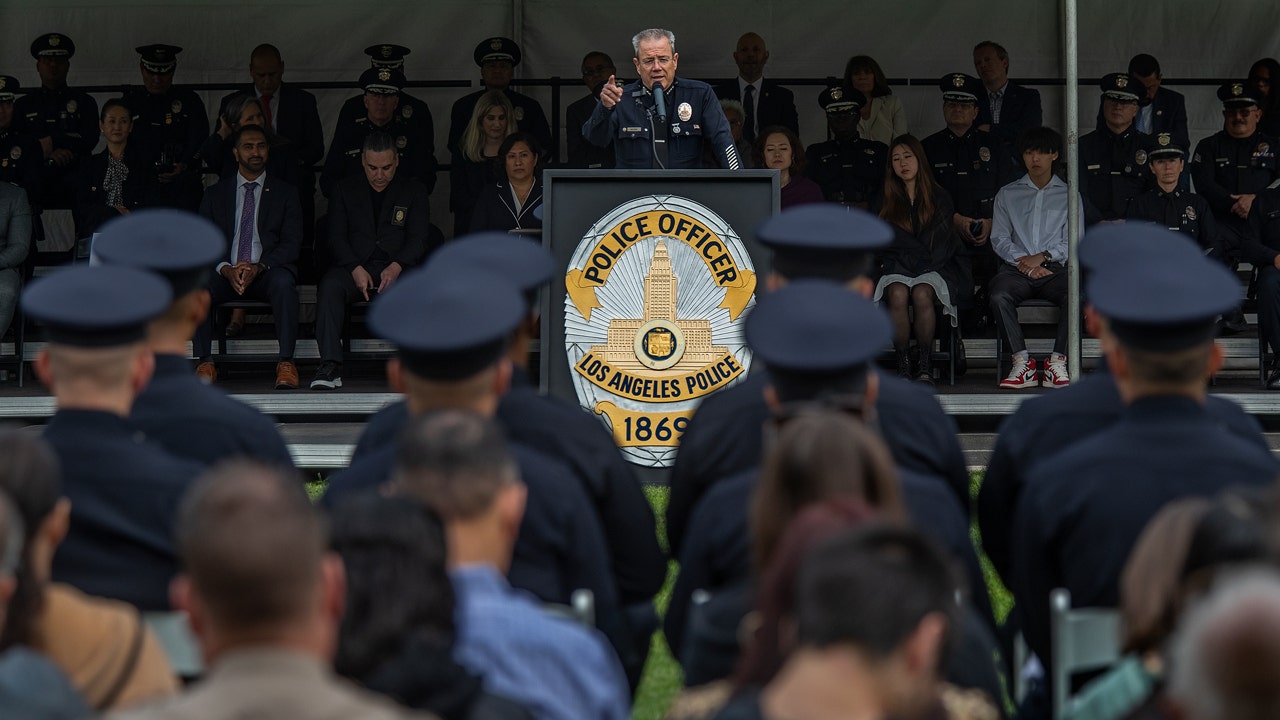 The Los Angeles Police Department has shrunk to its smallest size since the 1990s as officers resign in droves and officer morale sinks to an all-time low.
The number of officers employed fell below 9,000 at the end of July, a figure estimated by the city's largest police union, the Los Angeles Police Protective League (LAPPL). They say the high cost of living and morale issues are making it impossible for the city to maintain its goal of maintaining 9,500 officers.
"They're leaving to either go work in a different agency or just to leave the profession completely," Tom Saggau, spokesperson for the LAPPL, told Fox News Digital. "Los Angeles costs a lot to afford a home, pay rent, commute times; but also, some of the anti-police rhetoric wears on you."
Additionally, the incoming academy class has only 29 recruits, LAPD Chief Michel Moore told the Board of Police Commissioners during its July 25 meeting, while crime is on the rise in the city.
LAPD IN 'WORST PLACE POSSIBLE' AHEAD OF WORLD CUP, OLYMPICS, FORMER SHERIFF WARNS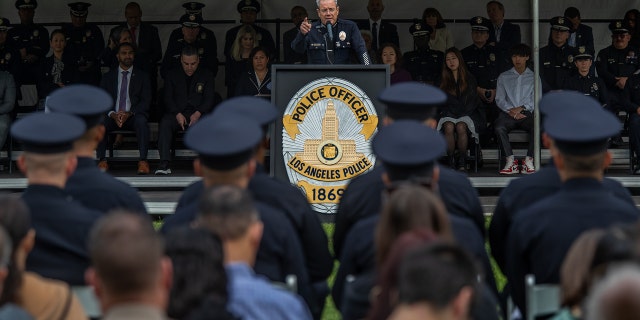 "Our effort is to hire 60 every four weeks," he said.
Even as certain categories of violent crime rises in LA – homicides and robberies, according to the latest departmental statistics – the shrinking police force is requiring officers to be reassigned from other divisions to address 911 calls and run patrols.
"We have a difficulty because we're pulling officers from specialized gang assignments and high-crime areas and drug operations because you've got to fill patrol to be able to respond to those 911 calls, so this lack of officers has a trickle-down effect, and it's a city-wide impact," Saggau said. "So, what happens is, victims of crime and businesses that maybe have been broken into and things of that nature, it just takes much, much longer for them to seek justice."
LAPD CHIEF ACCUSED OF FEEDING PERSONAL DATA TO ANTI-POLICE ACTIVISTS: 'BOUNTY ON OUR OFFICERS'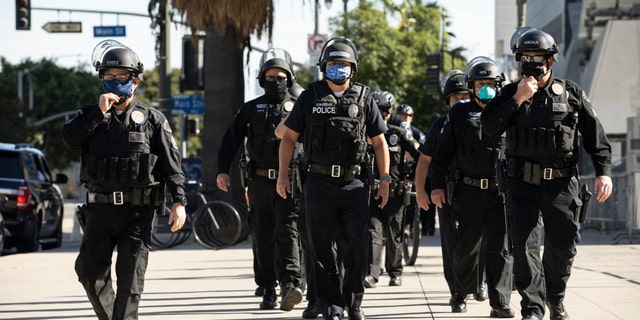 L.A. Mayor Karen Bass has been negotiating higher pay and hiring bonuses with the union to incentivize new recruits since April. Bass and the LAPPL reached a tentative agreement last week for officers to receive an 11% salary raise and a 3% increase in base salary annually.
"My No. 1 job is to keep Angelenos safe," Bass said in an announcement last week. "Like many major cities across America, our police department is enduring a hiring and retention crisis, so we are taking critical action. In April, I proposed a budget to address concerns within the Los Angeles Police Department and to provide investments to hire more police officers, expedite the hiring process and improve retention."
CALIFORNIA POLICE OFFICERS' SECURITY AT RISK AS LAPD, DA FAIL TO PROTECT IDENTITIES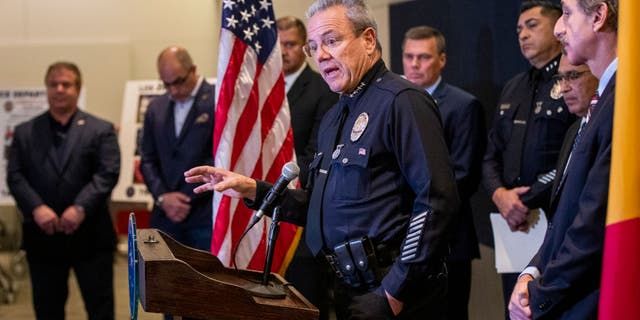 Thursday is the last day for officers to vote to ratify the agreement. The final decision is to be finalized by Friday, Saggau said.
CLICK HERE TO GET THE FOX NEWS APP
Since 2020, the LAPD has lost more than 1,000 officers. It's a trend seen nationwide as big cities struggle to retain officers. On Tuesday, the Minneapolis police chief said the situation is "unsustainable" as the department is losing officers faster than it can hire them.
New York City, Chicago, Philadelphia and Seattle are also experiencing severe staffing issues in the wake of the 2020 riots – which sparked from the death of George Floyd at the hands Minneapolis police officers – citing low morale among officers.
Source link
(This article is generated through the syndicated feed sources, Financetin neither support nor own any part of this article)