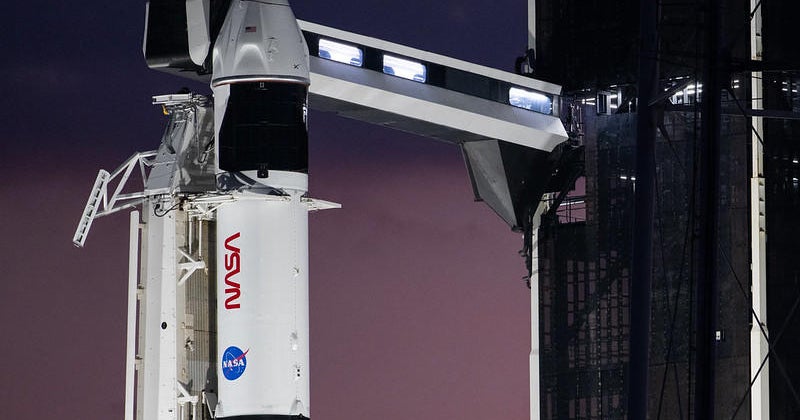 In a frustrating disappointment, the launch of a SpaceX Crew Dragon capsule carrying a four-man crew bound for the International Space Station was called off with just two minutes to go because of trouble with a system used to ignite the Falcon 9's first stage engines.
Crew-6 commander Stephen Bowen, Warren "Woody" Hoburg, cosmonaut Andrey Fedyaev and Emerati astronaut Sultan Alneyadi, the first Arab assigned to a long-duration station flight, took the scrub in stride and patiently waited inside the spacecraft while the rocket's propellants were drained away.
The next launch opportunity comes at 1:22 a.m. EST Tuesday, but it wasn't immediately known what caused a problem with the engine igniter fluid or how long it might take to resolve the issue. The fluid is a chemical known as triethylaluminum triethylboron, or "TEA TEB." 
If the crew fails to get off the ground Tuesday, the next opportunity will come on March 2.
It was the first last-minute launch scrub of a Crew Dragon due to a technical problem since the ferry ships started carrying astronauts to the space station in 2020, ending NASA's sole reliance on Russian Soyuz spacecraft to take astronauts to and from the lab complex.
Along with disappointing the crew, the last-minute scrub also ended a chance for SpaceX to launch three Falcon 9s in just 13 hours, with afternoon launches planned in Florida and California to put two batches of Starlink internet satellites into orbit. It wasn't immediately known if those flights would remain on schedule.
But flight safety is the top priority, and SpaceX will no doubt fix the ignitor issue after engineers have a chance to track down what went wrong. The only question is how long it might take.
Whenever they take off, Bowen and company will be welcomed aboard the station by Crew-5 commander Nicole Mann, Josh Cassada, Japanese astronaut Koichi Wakata and cosmonaut Anna Kikina, the first Russian to launch aboard a Crew Dragon. They arrived at the station last October and plan to return to Earth around March 6 to close out a 151-day mission.
Also welcoming the Crew-6 fliers will be Sergey Prokopyev, Dmitri Petelin and NASA astronaut Frank Rubio. They launched to the lab last September and originally planned to fly home in March.
But their Soyuz MS-22 ferry ship was crippled December 14 when a presumed micrometeoroid ruptured a coolant line. After an analysis, Russian engineers concluded the spacecraft could not safely be used again because of the possibility sensitive systems could overheat.
Instead, a replacement Soyuz — MS-23 — was launched last Thursday, carrying equipment and supplies instead of a crew. The spacecraft docked with the station Saturday night, providing Prokopyev and his crewmates with a safe ride home.
But to get the crew rotation schedule back on track, the trio will have to spend an additional six months in space, coming home this fall after a full year in orbit. They'll share the station with Crew 6 for most of that time.
Alneyadi, a father of six, is the second Emerati to fly in space but the first named to a full-duration six-month stay aboard the station. During his expedition, two Saudi fliers will visit the lab complex for about a week as part of a commercial mission managed by Houston-based Axiom Space.
"I think it's going to be really interesting," Alneyadi said after arriving at the Kennedy Space Center last week. "It's for the sake of science, for the sake of spreading the knowledge about how important it is to fly (in space) and to push the boundaries of exploration, not only in the leading countries.
"Our region is also thirsty to learn more. And I think we will be ambassadors in these missions. Hopefully, we can come back with knowledge and share whatever we learn with everybody."
Source link
(This article is generated through the syndicated feed sources, Financetin neither support nor own any part of this article)