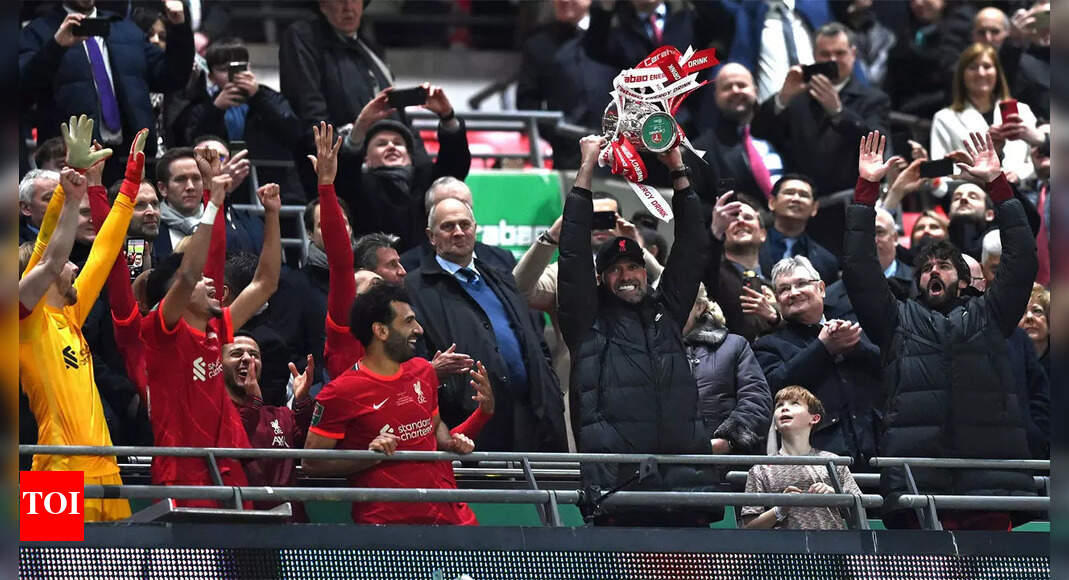 After a hugely successful League Cup campaign, which ended with them winning their first domestic knockout tournament since the 2012 edition of the League Cup, Jurgen Klopp and his Liverpool side are getting ready for a very big game as they chase the holy grail of European football – the UEFA Champions League crown and a repeat of their 2019 season triumph.
The Reds will be up against Inter Milan in the second leg (home) of their UEFA Champions League Round of 16 clash next. Liverpool won the away leg in Italy 2-0, thanks to goals by Roberto Firmino and Mohamed Salah. Needless to say, Liverpool are firm favourites to march into the quarter-finals.
The match kicks off at 1:30 am IST Wednesday morning.
Liverpool in fact are aiming to do the unthinkable – win the quadruple of League Cup, EPL, FA Cup and the Champions League. If they manage to pull that off they will become the first English men's team to win all three major domestic trophies and the major European title.
Manchester City registered a quadruple in 2018-19, when they won the EPL, FA Cup, League Cup and the Community Shield, but the Champions League crown eluded them.
Manchester United won the Champions League in 1998-99 and also had the FA Cup and Premier League titles under their belt. But they couldn't go all the way in the League Cup.
Ahead of the crucial second leg match at home vs Inter Milan in the Champions League, Terry Phelan, who played over a 100 matches for Manchester City and also turned up for other English clubs like Chelsea, Everton and Fulham was a guest on Times of India's sports podcast – Sportscast. Terry, a well known football expert on TV, spoke about how Liverpool can become a rampaging, all conquering machine and the impact Jurgen Klopp, who has already taken the Reds to the Premier League title in 2019-20, ending a 30 year wait for the English league title and the UEFA Champions League title in 2019 (their first since 2005) has had on the club.
Excerpts from the chat with Terry on TOI Sportscast:
Liverpool have the League Cup title in the bag and they are in with a shot for an unprecedented quadruple. How far do you see the Reds going in the Champions League, FA Cup and the EPL?
I am going to be very honest with you. I think Liverpool have a chance of winning everything. I really do and I am a Manchester City fan. For Manchester City they have got the EPL monkey off their back. For the real Man City fans they would love to have that Champions League trophy, like Liverpool, like Manchester United, like Chelsea to be honest- because then they are up there with the elite teams. Man City at this present time – you go and win the EPL great, you don't win the Champions League – away we go again. Liverpool at this present time – the ball is in their court. They can do anything they want with a strong side. A great win in Italy against Inter Milan (Round of 16 first leg). 2-0 they beat them. If there's any team I would be scared of in the Manchester City camp, it would be Liverpool in the Champions League. In the EPL, the pressure is on Manchester City not Liverpool. The pressure is on City to keep winning. FA Cup – anybody can win the FA Cup -its about enjoyment. They have just got the League Cup in the bag and I am sure the Liverpool supporters will be happy with that. They (Liverpool) could go on and on and on can't they. Liverpool would want to win everything to put one over on Manchester United's treble. That's what Liverpool want to do. (AP photo)
What has Jurgen Kopp done to revolutionise Liverpool football? Would you say he has come in with a clear cut game plan and used the players at his disposal to fit them into that system or has he tried to go back somewhat to the style of football that Liverpool fans want to see?
As a manager you have to set your own philosophy. I think he has got little traits there of what he has got from the olden days. The number one for me is the community, is the crowd. The Liverpool fans can be very fickle, because they are passionate, they have had success. Liverpool have always won domestic trophies, they have won the Champions League – that just shows the level of expectations at the club. Now Klopps has gone in there and he's had a good look at it. And the first thing you have to do is – set your philosophy – how am I going to play – and he's played that high pressing, high tempo game. He plays the 4-3-3. He needs three players up front who can create plenty of problems. He goes out and gets (Sadio) Mane, he goes out and gets (Mohammed) Salah. He gets Salah who had a fantastic time at Roma. And then he has to get his medical staff around him, because you know if you are playing a high pressing, counter-pressing system, you have to get the players super fit. So he has to get his doctors in, he has to get his analysts in, he has to get his sports scientists in. I remember in his first year, all his (players) injuries were muscle injuries. So he sat down again in the first year and said — Listen, how do we sort this out – Strength and conditions, sports scientists have got to be added. I need more of it because this is the type of football I am going to be playing. Plus, I need these players to play into a certain philosophy and style of play. You need that particular player and then you need the buy-in from that player. I think Klopp really galvanised Liverpool with his transfers. He has been absolutely brilliant in the transfer market. I think he has recouped the most money from players who have gone out. You know when you go and get Van Dyke and Allison for Coutinho's money, two world class players – you think to yourself – wow. And that's what he has done – strength at the back, strength at goal and strength up top. He can get away with the midfield a little bit. I think Liverpool are a wonderful side. The thing that gives me goosebumps is that he never changes his style of play. He has a group of players who believe in him. It's all about winning trophies. For Klopp – won the EPL, two Champions League finals, one lost, one won, a Europa League final, now he has won the League Cup – it just tells you that Liverpool are growing, this machine is growing and growing and growing and I think it's the transfer market where he really gets it right.
How highly would you rate Jurgen Klopp as a man manager and tactician vis a vis other successful current football managers?
I think Klopp is at the top of the tree. When you are talking about world class managers he is up there. Now let's be honest – he's gone into Liverpool and turned it around. He hasn't spent a lot of money, he has spent wisely. His transfers-out have been wise. I am a Man City fan, I love Manchester City, but I have got a real soft spot for Liverpool. I think the difference between the two managers (Klopp and Pep Guardiola) is that Mr Klopp has won something at his club that Pep has not and that's the Champions League. I think the best chance that Man City had was vs Chelsea in last season's final….Klopp has got to be the best manager in the world. (AFP photo)
You can listen to the full episode of TOI Sportscast with Terry Phelan here