Good morning. Madelyn Train – whose parents killed two Queensland police officers and a neighbour at a remote property last month – has spoken to Guardian Australia about her mother, father and uncle's spiral into conspiracy theories before they committed their "evil" crime. Nathaniel, Stacey and Gareth Train were killed by police in the incident that left six people dead at Wieambilla – but before that, their daughter says, she had to mute notifications from them and grew concerned for their mental health.
Elsewhere, 10 people are dead after a mass shooting at a dance studio in California, and Queensland will join NSW in banning a controversial AI chat website in schools.
Australia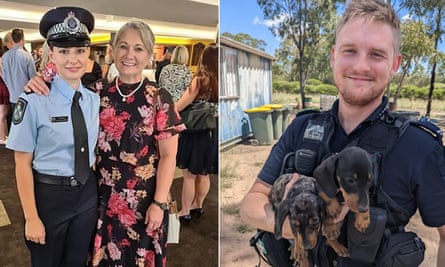 Wieambilla shooting | A woman whose parents killed two Queensland police officers and a neighbour before dying at a remote property has spoken for the first time in a Guardian Australian interview about their descent into conspiracy theories and ultimately, violence.

Exclusive | Queensland will join NSW in banning access to the ChatGPT AI tool in state schools, though artificial intelligence experts have questioned how effective such a strategy is.

Stranded at sea | Guardian Australia has spoken with more than a dozen women sailors who say they have had negative – sometimes terrifying – experiences, including being sexually harassed and assaulted, after meeting skippers through popular sailing websites.

Guest workers | Guest workers from Pacific Island countries will soon be able to relocate their families to Australia, but there are already concerns over "red flags" in the current design of the scheme that may make it unviable.

Camper killings | A man accused of murdering two campers in a remote part of alpine Victoria returns to court today, with a decision due on the release of "explosive" material and evidence likely from the detective in charge of the investigation.
World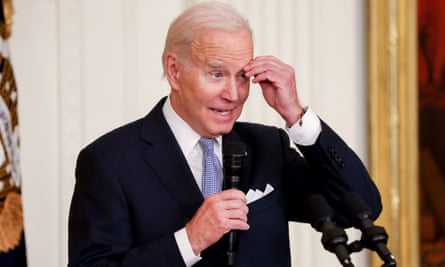 California shooting | Five women and five men are dead, with a gunman still at large, after a mass shooting at a ballroom dance studio in Monterey Park, near Los Angeles. The horror unfolded close to a lunar new year festival.

Joe Biden | A new search of President Joe Biden's home in Wilmington, Delaware by the US justice department found six more items, including documents with classification markings, a lawyer for the president said. Meanwhile, there are women's marches happening across the US on the 50th anniversary of Roe v Wade.

Israel protests| An estimated 100,000 people took to the streets of Tel Aviv in what protesters described as a "fight for Israel's destiny" over sweeping judicial changes proposed by the new far-right government.

George Santos | The debate over the embattled US congressman's real name is just one strand in a web of deceit that critics say shows the party of Abraham Lincoln and Dwight Eisenhower has lost its moral compass.

Super-rich | Joseph Stiglitz, the Nobel prize-winning Keynesian economist, has called for the super-rich to be subjected to taxes as high as 70% to help tackle widening inequality.
Full Story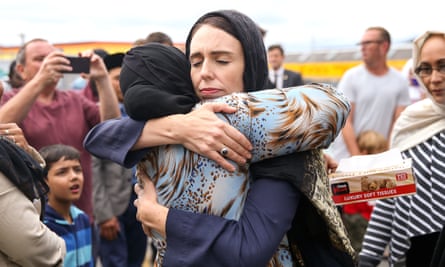 Her own kind of leader – the legacy of Jacinda Ardern
The outgoing New Zealand prime minister Jacinda Ardern drew admiration around the world with her signature mixture of empathy and strength – but to her critics, Ardern's soaring rhetoric was not always backed by desired legislative reforms. The Guardian's Aotearoa correspondent Tess McClure explores Ardern's shock resignation and the legacy she leaves behind.
In-depth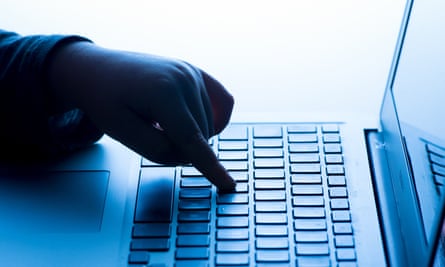 A Guardian Australian exclusive reveals that online bullying among children is reaching "concerning levels", according to Australia's eSafety commissioner. The agency is investigating nearly 1,700 cyberbullying complaints and has asked social media companies to remove offensive content more than 500 times in a year.
Not the news
Australia is now competitive with the United States when it comes to a per capita comparison of how much cosmetic "work" we're getting done, Van Badham writes. But, she says, rational appraisal suggests the motivation for surgical de-ageing is "based in an increasingly outdated understanding of what youth represents." In short: when has getting older ever looked this fun?
The world of sport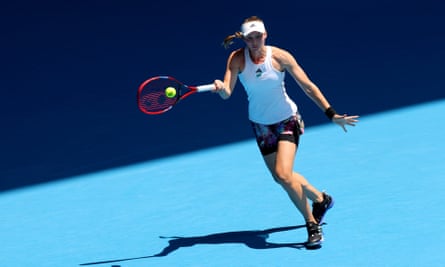 Some First Nations groups decried Hollywood action hero Chris Hemsworth participating in a ceremony at a sacred site for a documentary series, while others welcomed it, the Sydney Morning Herald reports. The Australian goes out on the streets of Alice Springs, where more than 200 children – some as young as five – roam the town at night, the paper says. And the Daily Telegraph reports on a NSW trial of a "right to ask" scheme – in which people will be able to find out whether their partner has been convicted of any domestic violence offence
What's happening today
Australian Open | Australian Alex de Minaur plays nine-time champion Novak Djokovic for a place in the quarter-finals. Also watch out for Andrey Rublev against Holger Rune and Aryna Sabalenka vs Belinda Bencic.

Chris Hipkins | New Zealand's incoming prime minister, Chris Hipkins – endorsed by his caucus to take over from Jacinda Ardern yesterday – undertakes his first morning of TV and radio interviews.
Sign up
If you would like to receive this Morning Mail update to your email inbox every weekday, sign up here. And finish your day with a three-minute snapshot of the day's main news. Sign up for our Afternoon Update newsletter here.
Prefer notifications? If you're reading this in our app, just click here and tap "Get notifications" on the next screen for an instant alert when we publish every morning.
Brain teaser
And finally, here are the Guardian's crosswords and free Wordiply game to keep you entertained throughout the day – with plenty more on the Guardian's Puzzles app for iOS and Android. Until tomorrow.
If you have a story tip or technical issue viewing this newsletter, please reply to this email.
If you are a Guardian supporter and need assistance with regards to contributions and/or digital subscriptions, please email customer.help@guardian.co.uk
Source link