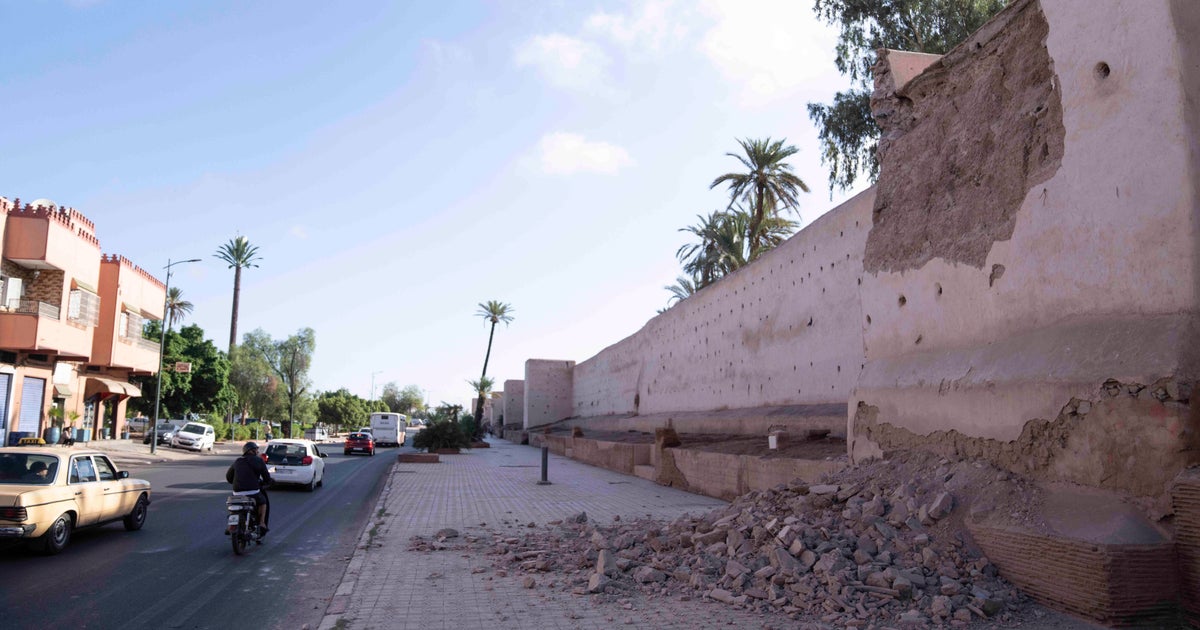 A powerful earthquake struck Morocco late Friday night, killing at least 1,037 people, injuring more than 1,204 others and damaging buildings and historic landmarks in major cities, according to Morocco's interior ministry.
The quake was the biggest to hit Morocco in 120 years, and it toppled buildings and walls in ancient cities made from stone and masonry not designed to withstand quakes. The ministry wrote that most damage occurred outside of cities and towns.
The full toll was not known as rescuers struggled to get through boulder-strewn roads to the remote mountain villages hit hardest.
Moroccans posted videos showing buildings reduced to rubble and dust, and parts of the famous red walls that surround the old city in Marrakech, a UNESCO World Heritage site, damaged. Tourists and others posted videos of people screaming and evacuating restaurants in the city as throbbing club music played.  
In Marrakech, the famous 12th century Koutoubia Mosque suffered damage, but the extent was not immediately clear. CBS News medical contributor Dr. Celine Gounder was in the city and shared photos from the city's medina, or ancient center, showing damaged buildings and streets. Gounder said that some areas of the city were less impacted, but that older areas were impossible to access. 
Reports on damage and any casualties can often take time to filter in after many earthquakes, particularly those that hit in the middle of the night.
"We felt a very violent tremor, and I realised it was an earthquake," Abdelhak El Amrani, a 33-year-old in Marrakesh, told the Agence France-Presse by telephone.
"I could see buildings moving," El Amrani said. "We don't necessarily have the reflexes for this type of situation. Then I went outside and there were a lot of people there. People were all in shock and panic. The children were crying and the parents were distraught." 
Rather than return to the buildings, men, women and children stayed out in the streets worried about aftershocks and other reverberations that could cause their homes to sway.
"The problem is that where destructive earthquakes are rare, buildings are simply not constructed robustly enough to cope with strong ground shaking, so many collapse resulting in high casualties," said Bill McGuire, professor emeritus of geophysical and climate hazards at University College London. "I would expect the final death toll to climb into the thousands once more is known. As with any big quake, aftershocks are likely, which will lead to further casualties and hinder search and rescue."
The U.S. Geological Survey said the quake had a preliminary magnitude of 6.8 when it hit at 11:11 p.m. local time, with shaking that lasted several seconds. Morocco's National Seismic Monitoring and Alert Network measured it at 7 on the Richter scale. The U.S. agency reported a magnitudue-4.9 aftershock hit 19 minutes later.
The epicenter of Friday's tremor was high in the Atlas Mountains roughly 43.5 miles southwest of Marrakech. It was also near Toubkal, the highest peak in North Africa and Oukaimeden, a popular Moroccan ski resort.
The USGS said the epicenter was 11 miles below the Earth's surface, while Morocco's seismic agency put it at 5 miles down. The quake was felt as far away as Portugal and Algeria, according to the Portuguese Institute for Sea and Atmosphere and Algeria's Civil Defense agency, which oversees emergency response.
Variations in early measurements are common, although either reading would be Morocco's strongest in years.   
In 2004, at least 628 people were killed and 926 injured when a quake hit Al Hoceima in northeastern Morocco, according to the AFP. 
In 1980, the 7.3-magnitude El Asnam earthquake in neighboring Algeria was one of the largest and most destructive earthquakes in recent history, AFP reported. It killed 2,500 people and left at least 300,000 homeless.  
Source link
(This article is generated through the syndicated feed sources, Financetin neither support nor own any part of this article)