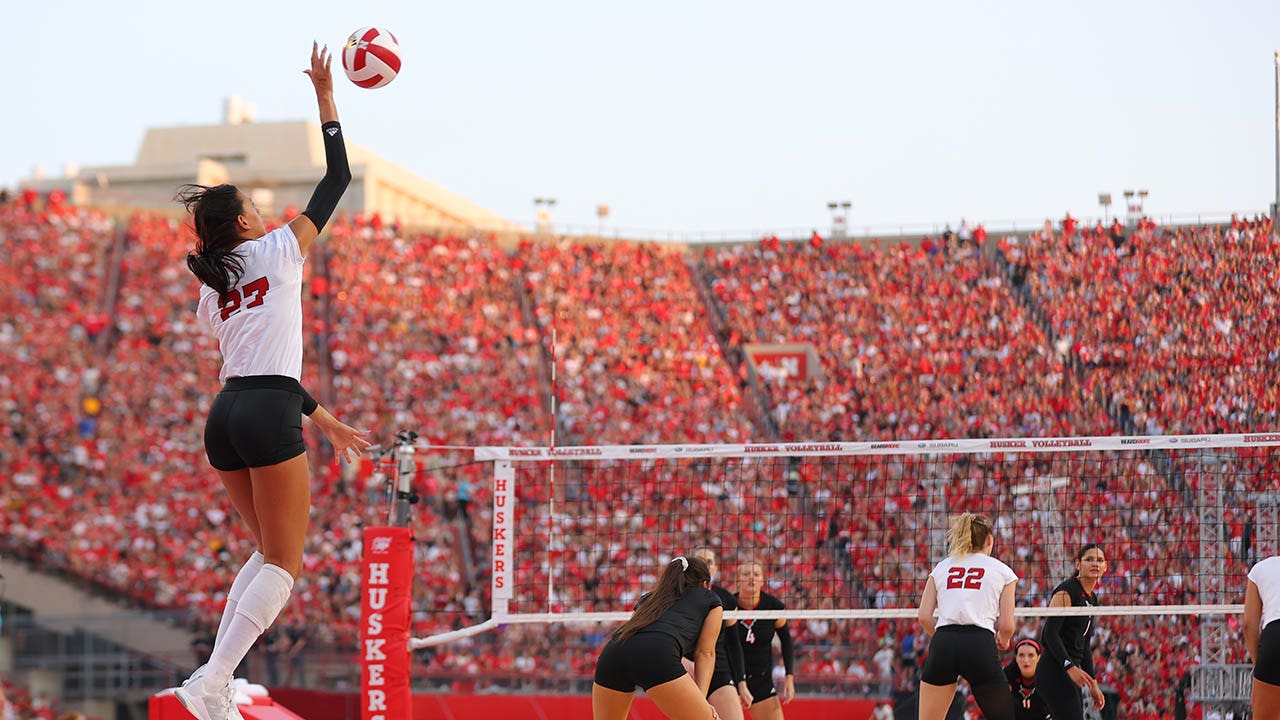 Nebraska's women's volleyball team set a new world record on Wednesday night, as more than 92,000 fans packed in Memorial Stadium to watch the Cornhuskers defeat Omaha in a three-set sweep. 
Playing a regular season match in Nebraska's football stadium, the Huskers achieved their goal of breaking the record for the largest attendance at a women's sporting event ever with 92,003 fans packing into the stadium which officially seats just over 85,000.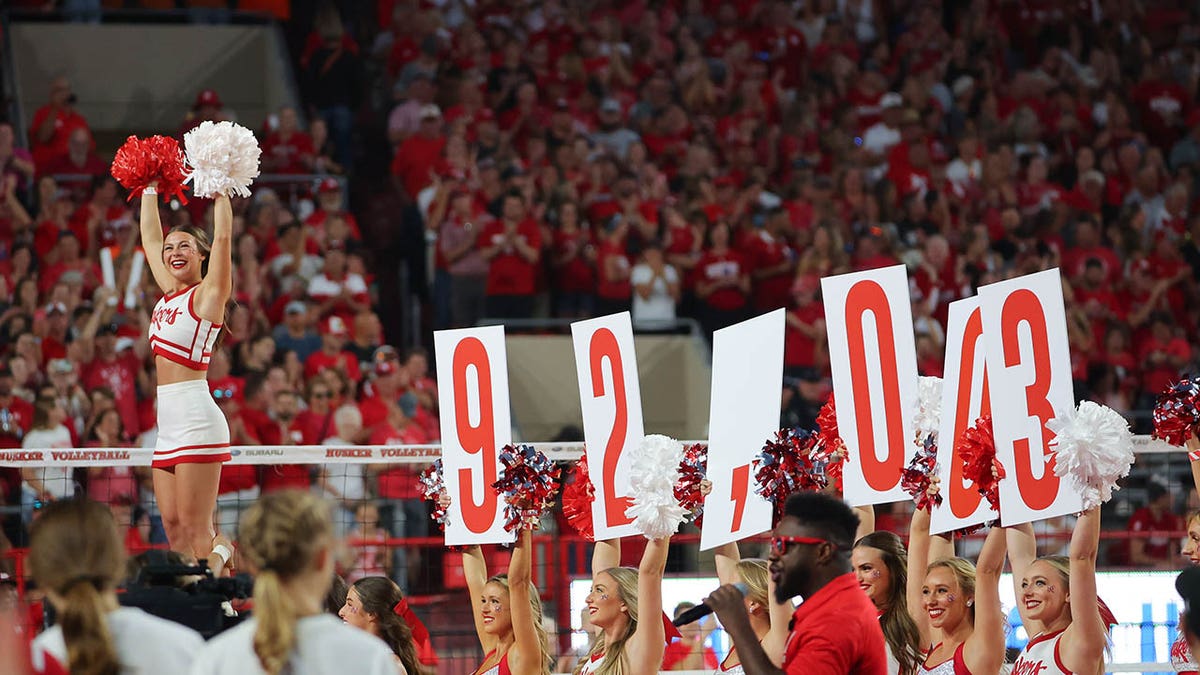 "I've probably cried five times today, I'm not kidding," head coach John Cook said in a press conference after the match. "Several times I've had to bite my lip to hold it together. It's been a very emotional day." 
NEBRASKA FOOTBALL PLAYER ARRESTED AFTER ALLEGEDLY BURGLARIZING VAPE SHOP, STEALING $1,600 IN ITEMS: REPORTS
"There is a lot of satisfaction in that," Cook said of the record. "It's a celebration of Nebraska volleyball at all levels in the state, and we took a chance by playing in Memorial Stadium and to go for the record and break it. So not only do we make a statement to everybody else about how important volleyball is here and [that] we want the record, we [showed] it to the world."
"I don't think anybody could have envisioned that when this whole thing started."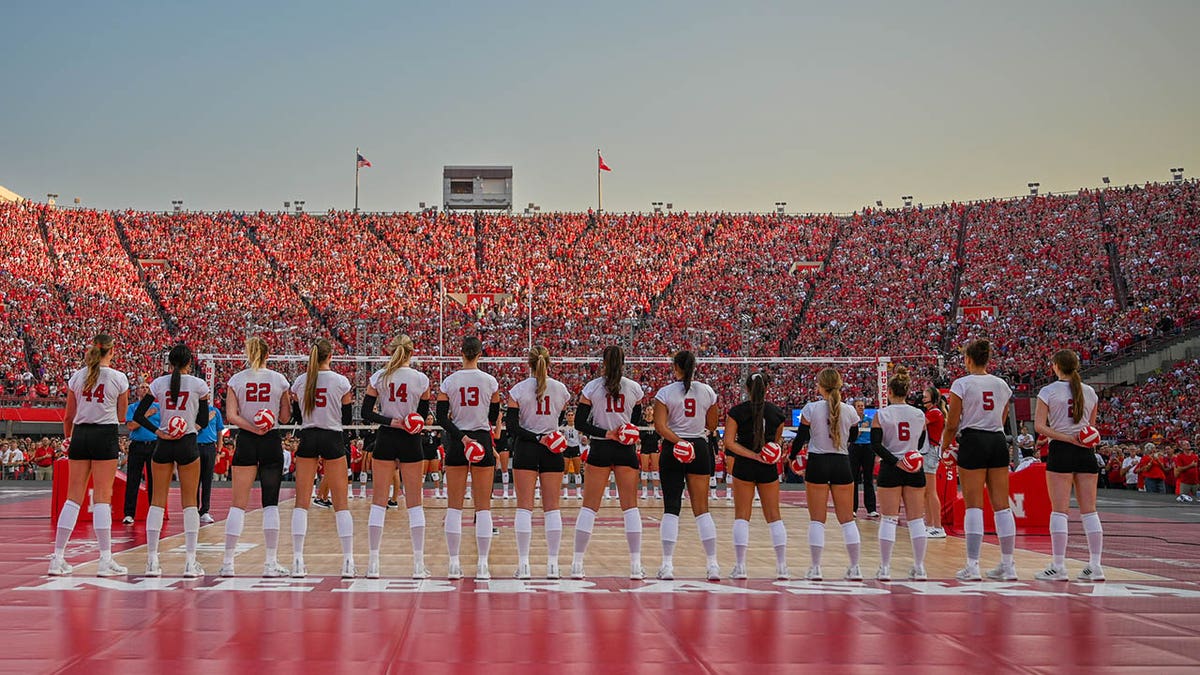 The previous record of 91,648 was set just last year when Barcelona defeated Real Madrid during a Champions League soccer match at Camp Nou Stadium in Spain. 
CLICK HERE FOR MORE SPORTS COVERAGE ON FOXNEWS.COM
"You don't think you're going to be part of a world record event, and seeing how much everyone supports volleyball and wanted to be part of that record is awesome to see," Omaha outside hitter Shayla McCormick said.
The record-breaking night is just another Nebraska's women's volleyball team can add to their list. 
According to the team website, the attendance on Wednesday also surpassed the previous record for an American women's sporting event set in 1999 in the United States' FIFA World Cup Final against China. 
CLICK HERE TO GET THE FOX NEWS APP
It also topped the previous records for any NCAA volleyball match and an NCAA volleyball regular-season match. Nebraska also holds an NCAA women's record having sold out 306 consecutive regular-season matches. 
"Women's sports are a big deal here. And they got to experience what the men get to experience on the same level as all the greatest football teams that have played here. We just got to experience it," Cook said. 
The Associated Press contributed to this report.
Source link
(This article is generated through the syndicated feed sources, Financetin neither support nor own any part of this article)