Nikon announced in recent days the arrival of version 1.1.0 of the mobile application NX MobileAir. This app is useful for those who are away from their computer but still want to upload the images taken (perhaps during an outdoor shoot) to an FTP server. As you can imagine, this is a useful feature for professional users or advanced amateurs.
The professional Nikon Z 9 mirrorless camera, for example, fully supports this transfer mode. However, the list was expanded in December 2022 to include both the most recently launched cameras but also not necessarily high-end solutions such as the Z fc, Z 50 and Z 30 (all three are mid-range APS-C models). Here's what you need to know.
Nikon NX MobileAir arrives at version 1.1.0
According to official reports, the version 1.1.0 of the application of Nikon will also exploit a algorithm of learning deep learning for image analysis. What is the point of integrating this into such an app? Photographers will be able to apply a filter to images based on specific criteria. Different subjects or different conditions lead to different results, all without having to use manual settings.
Nikon NX MobileAir Also new is the ability to adjust the ratio JPEG compression and the size of the image. This optimization allows on the one hand to reduce the size of the files by increasing the loading speed, on the other to consume less data if you are using a mobile connection.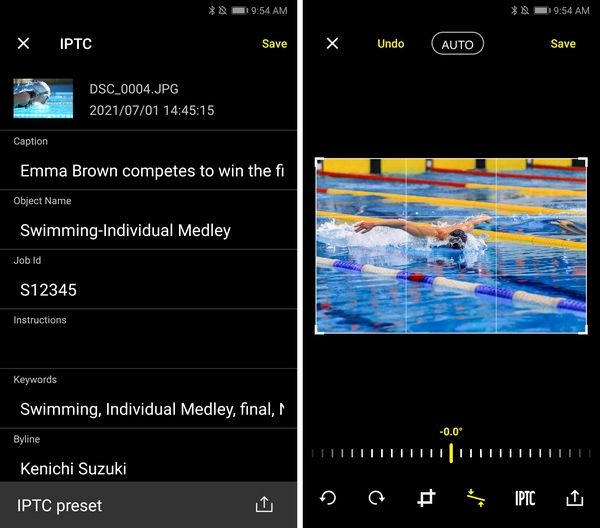 There is also support for exporting images in NEF (RAW) format. Photographs taken with the camera or other compatible devices can then be imported into albums NX MobileAir. Then there are the IPTC presets which have been added to the general settings.
In addition, to optimize the work, it can be avoided that images imported previously and then deleted (because they are not useful/failed) are imported again. This saves time, storage space and speeds up operations.
The application NX MobileAir it has also become more intuitive in different sections such as importing images and synchronizing clocks between various devices (and cameras). Nikon has made the update available on both Google Play Store for devices android be on App Store of Apple for iOS.