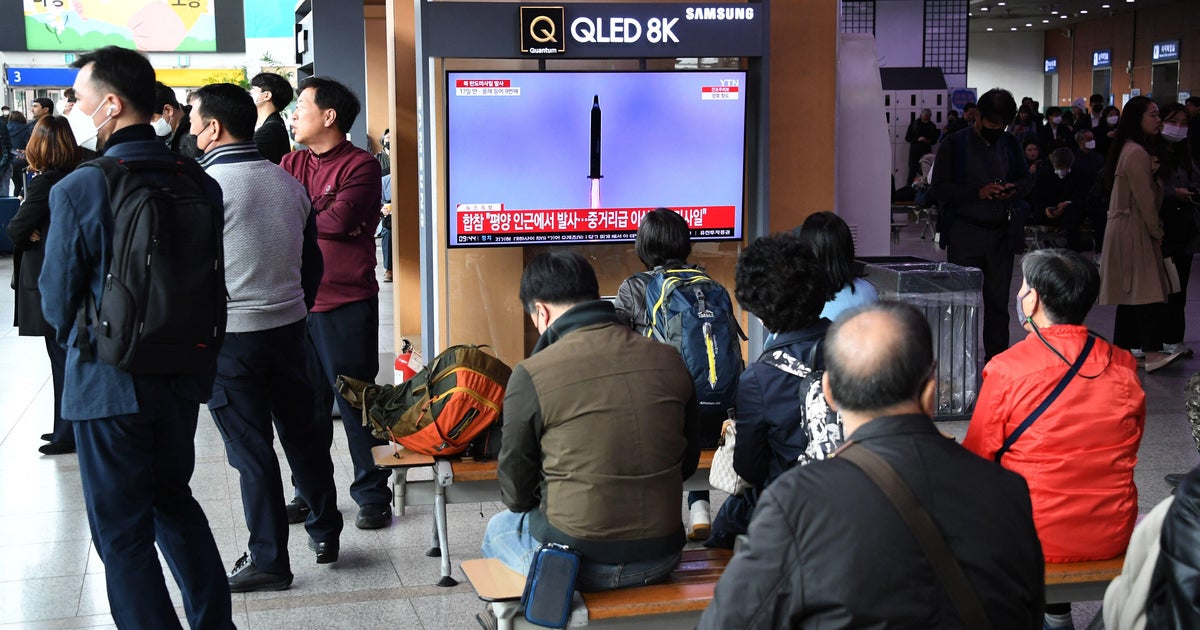 North Korea launched a ballistic missile on a high angle that landed between the Korean Peninsula and Japan early Thursday, continuing its provocative run of weapons tests. The launch prompted Japan to issue an evacuation order that was later retracted for a northern island, showing the vigilance of North Korea's neighbors over its evolving missile threats.
South Korea's Joint Chiefs of Staffs said the missile launched from near the North Korean capital Pyongyang flew toward the waters off the North's east coast. The statement described the missile as having a medium or longer range but didn't say how far it flew.
Japanese Defense Minister Yasukazu Hamada told reporters that North Korea launched a possible intercontinental ballistic missile on a high angle. Hamada said the missile did not reach Japan's exclusive economic zone.
North Korea commonly test-launches missiles toward the waters between the Korean Peninsula and Japan. All its past ICBM launches were made in the area, but on elevated trajectories to avoid neighboring countries.
South Korea and Japan typically don't issue evacuation orders for North Korean launches unless they determine weapons flew in the direction of their territories.
But after Thursday's launch, the Japanese government urged people on the northernmost island of Hokkaido to seek shelter. The government then corrected and retracted its missile alert, saying its analysis showed there was no possibility of a missile landing near Hokkaido.
It was unclear why Japan issued the order for a missile that didn't fall near the island, but the incident suggested it was being cautious about North Korea's evolving missile threats.
Adrienne Watson, a spokesperson for the U.S. National Security Council, said in a statement that the U.S. "strongly condemns DPRK for its test of a long-range ballistic missile," calling it a "brazen violation" of United Nations Security Council resolutions.  
Watson also called on North Korea "to come to the table for serious negotiations. The door has not closed on diplomacy." 
It's the latest in a barrage of missile launches that North Korea has performed this year to protest South Korean-U.S. military drills that it views as a rehearsal for an invasion.
Last month, North Korea also claimed to have tested an underwater attack drone that, if armed with a nuclear warhead, would be capable of causing a "super-scale radioactive tsunami." 
During a military meeting Monday, Kim reviewed the country's frontline attack plans and various combat documents and stressed the need to bolster his nuclear deterrent with "increasing speed on a more practical and offensive" manner, according to North Korea's official Korean Central News Agency.
KCNA said that the meeting discussed unspecified issues related to strengthening defense capacities and perfecting war preparations to counter the threat posed by its rivals' military drills.
North Korea has long argued that U.S.-led military exercises in the region are proof of Washington's hostility against Pyongyang. The North has said it was compelled to develop nuclear weapons to deal with U.S. military threats, though U.S. and South Korean officials have steadfastly said they have no intention of invading the North.
There are concerns that North Korea could conduct its first nuclear test in more than five years since it unveiled a new type of nuclear warhead earlier this month. Foreign experts debate whether North Korea has developed warheads small and light enough to fit on missiles.
Thursday's launch also came as South Korea accused North Korea of not responding to South Korean calls on a set of cross-border inter-Korean hotlines for about a week. The North's alleged suspension of the exchange of messages on the communication channels could be worrisome because one of the hotlines' roles is to prevent accidental clashes along the rivals' sea borders.
Earlier this week, South Korean Unification Minister Kwon Youngse, Seoul's point man on the North, expressed "strong regret" over North Korea's "unilateral and irresponsible attitude "over the hotlines. Kwon also warned of unspecified legal action over the North's use of South Korean assets at a now-stalled inter-Korean factory park in North Korea.
South Korea pulled its companies out of Kaesong in North Korea in 2016 following a North Korean nuclear test, removing the last remaining major symbol of cooperation between the rivals. North Korean state media recently showed what appeared to be South Korean commuter buses running in the streets of Kaesong and Pyongyang.
Source link