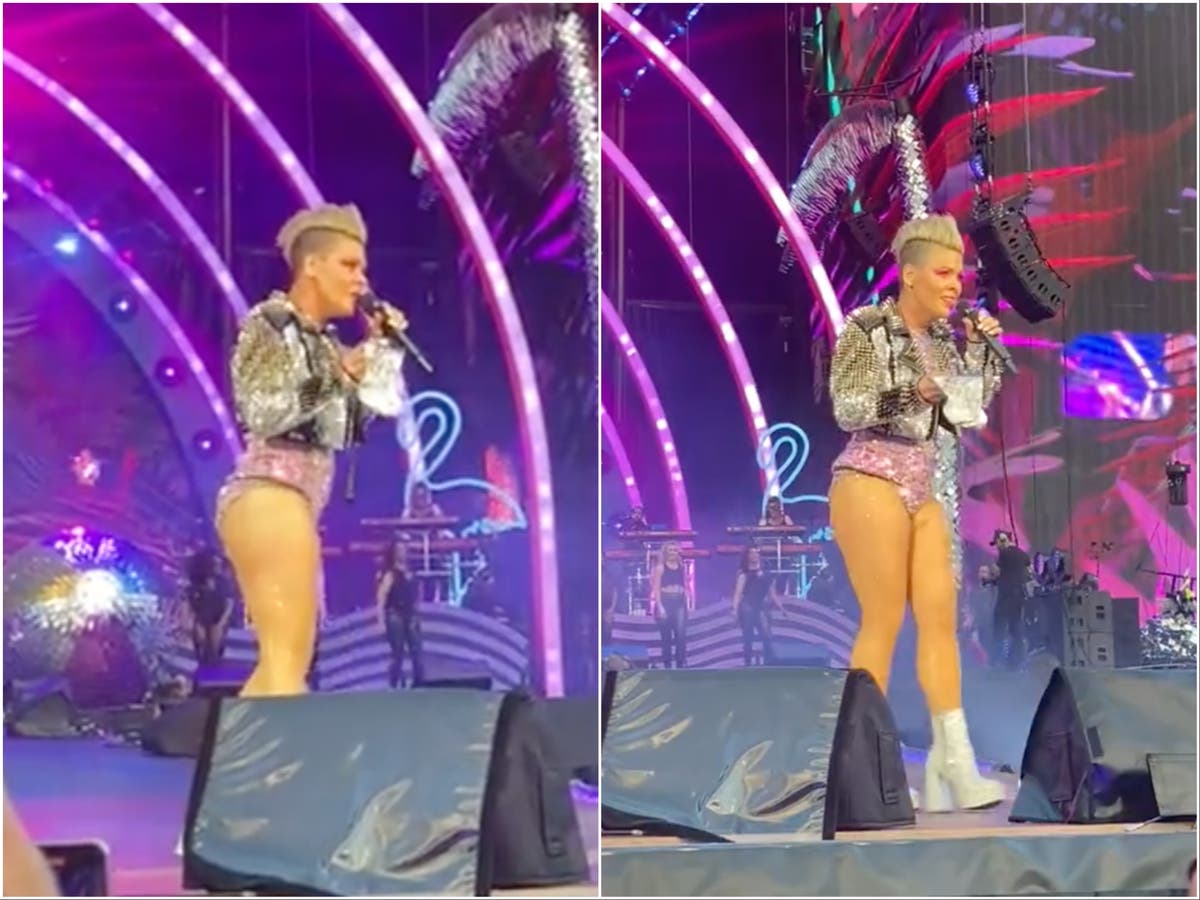 Pink wasn't entirely sure how to react after a fan threw their mother's ashes onto the stage at a recent London show.
The "So What" singer was performing in the city as part of two BST Hyde Park concerts alongside Gwen Stefani.
During the gig, Pink – whose real name is Alecia Moore – was showered with gifts including flowers, cuddly toys and fan art.
However, on Sunday (25 June), one rather unexpected item also landed at the singer's feet, while she sang her hit "Just Like a Pill" on the walkway at the front of the stage.
In a clip circulating on social media, Pink, 43, can be seen picking up a plastic bag containing the powdery grey ashes of a fan's cremated mother.
"Is this your mom?" Pink asked the person in the audience. When they seemingly confirmed this, the singer said: "I don't know how I feel about this."
The singer then returned to the main stage, adding: "I have to say, that was a first."
The shows at Hyde Park this weekend came as part of Pink's Summer Carnival tour, and saw the singer close out the show by somersaulting through the air, suspended above the crowd as she sang her 2008 smash "So What".
Pink, who released her first solo album in 2000, also performed live on stage with her 12-year-old daughter Willow. The pair duetted on the song "Cover Me in Sunshine", which Pink released in 2021.
Willow, whom Pink shares with husband Carey Hart, has been performing with her mother throughout this tour. Pink and Hart also share another child, Jameson, six.

Enjoy unlimited access to 70 million ad-free songs and podcasts with Amazon Music
Sign up now for a 30-day free trial

Enjoy unlimited access to 70 million ad-free songs and podcasts with Amazon Music
Sign up now for a 30-day free trial
Before the tour began, Pink explained that Willow would be working for minimum wage on the tour in order to teach her child about the world of work.
"Willow has a job on tour," she said. "We just had to go over minimum wage and it's different state to state."
However, the singer added that her daughter hadn't grasped the concept of negotiating salaries, recalling: "I said it's about $22.50 a show depending how long I go, if I run over. She goes, 'I'll take $20. It's easier to do the math.' I'm like, 'That's not how you negotiate for yourself.' I'm like, 'You'll take $25 so it's easier math.'"
In a recent interview, Pink said she was told her career would be over if she had children.
"Everyone told me, 'If you have children right now, your career's over,'" she said.
Before she had children, Pink said, people viewed her as "a snarly, man eating, angry, she-man".
However, that perception changed after she had kids, she theorised. "When I had a child, I think it softened me to the world, the part that didn't understand me, and I think that's when my career began, really," the artist explained.
"I mean, I did a lot of stuff before that, but really, truly, I think it's when I started to really understand myself and understand the world and my place in it."
Stefani opened for Pink at the BST Hyde Park shows this weekend, marking the "What You Waiting For" singer's first shows in the UK in 16 years.
Stefani, 53, also delightedcrowds as she brought rapper Eve on stage with her during her song "Rich Girl". They then performed their track "Let Me Blow Your Mind" together.
Source link