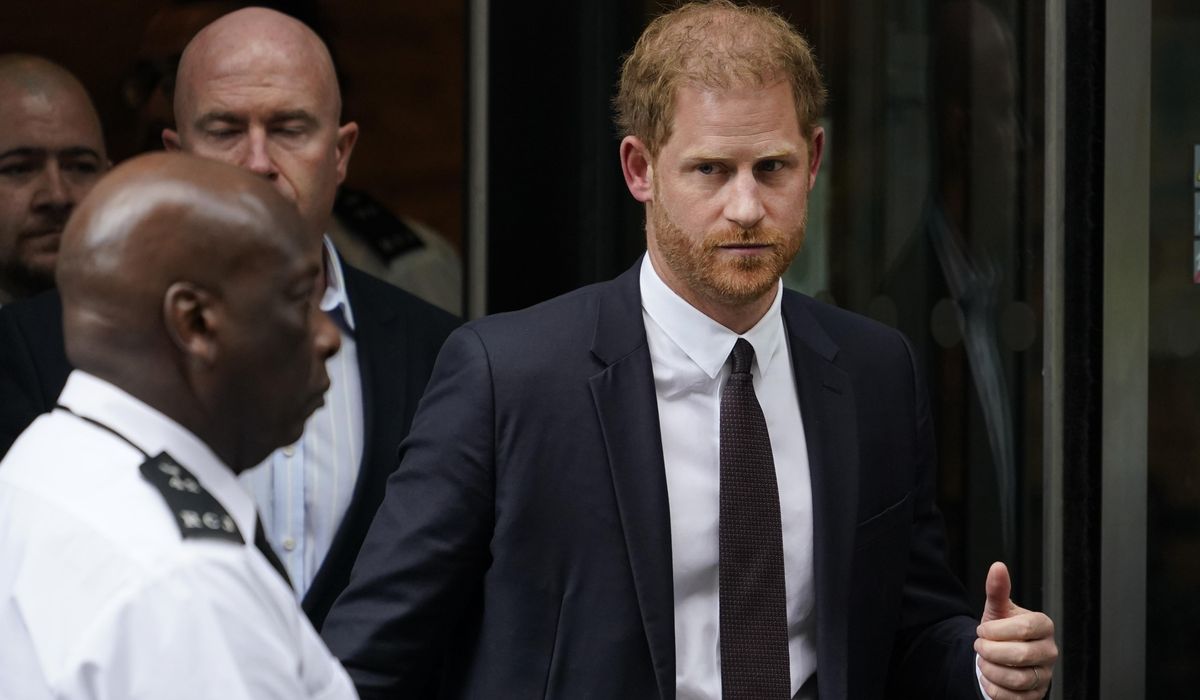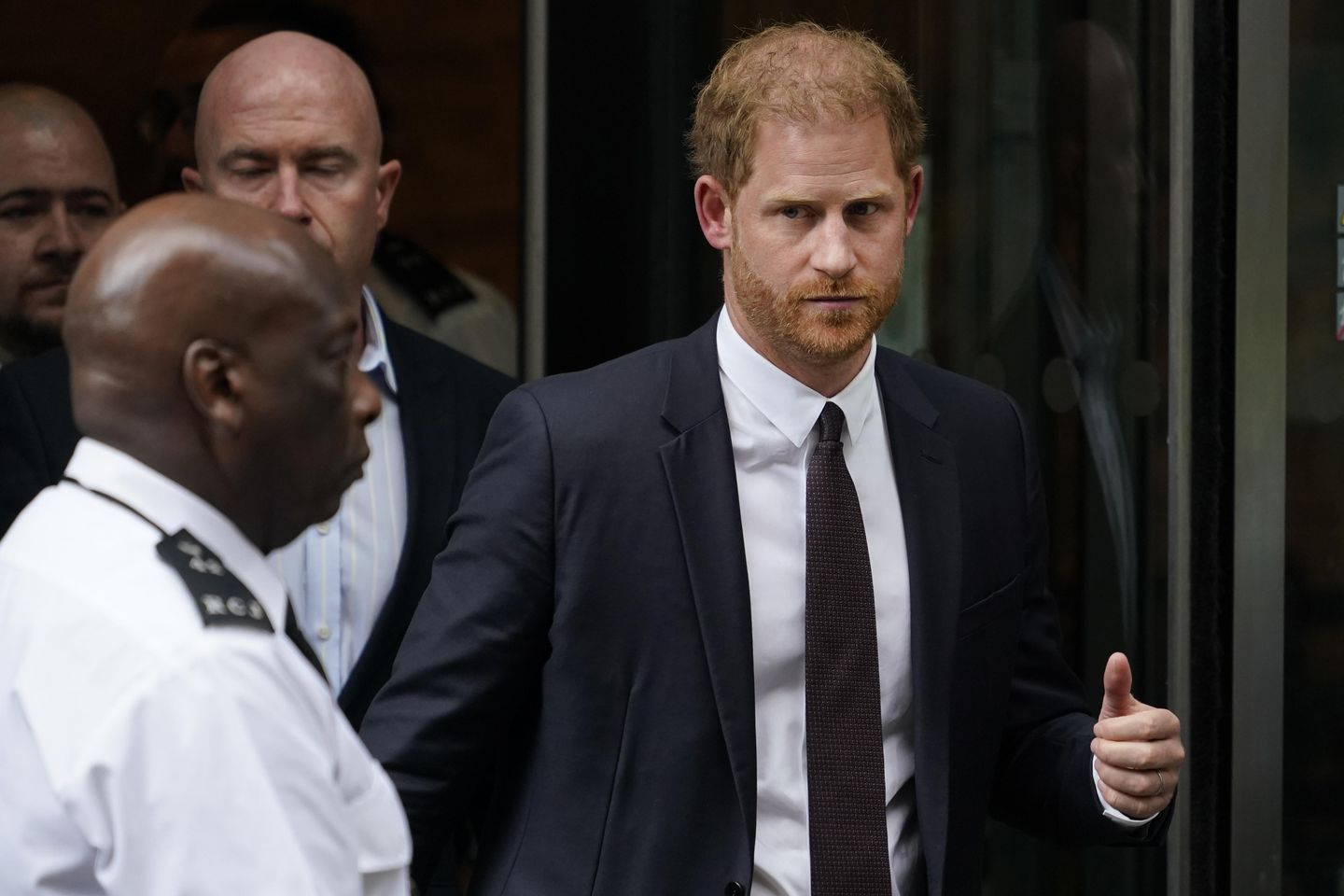 LONDON — Prince Harry's lawyer put a price tag Friday on the prince's lawsuit accusing the publisher of the Daily Mirror of hacking his phone and using other unlawful means to dig up dirt on the early years of his royal life: 440,000 pounds ($558,000).
The Duke of Sussex's lawyer submitted the proposed legal award at the conclusion of courtroom proceedings in the first of Harry's cases against the British tabloid press to go to trial.
If he managed to win the entire sum, it would be a massive award in the broader phone hacking scandal that has plagued several tabloid publishers.
---
---
Attorney David Sherborne said in closing arguments this week that there was "hard evidence" Mirror Group Newspapers employed journalists who eavesdropped on voicemails and hired private investigators to use deception and unlawful means to learn about Harry and other celebrities.
"These methods were the tried and tested tools of the tabloid trade," Sherborne said.
Mirror Group Newspapers, which has paid more than 100 million pounds ($127 million) in other phone hacking lawsuits over the years, denies any wrongdoing in Harry's case. It says it used legitimate reporting methods to get information on the prince.
Andrew Green, a lawyer for the publishing company, said the evidence at trial didn't support the prince's claims and that the allegations unfairly tarnished the reputation of Mirror journalists.
Justice Timothy Fancourt plans to issue a verdict later in the year.
The trial against the publisher of the Daily Mirror, Sunday Mirror and Sunday People is one of three hacking lawsuits Harry brought. The publishers of the Daily Mail and The Sun have sought to get the cases against them tossed out, arguing they were submitted after a time limit to file suit expired.
Harry's grudge with the news media is personal and runs through his memoir, "Spare." He blames paparazzi for causing the car crash that killed his mother, Princess Diana, and he said intrusions by journalists led him and his wife, Meghan, to leave royal life for the U.S. in 2020.
Reforming the British media is one of his stated missions in life.
In taking the newspapers to court, Harry broke with a royal family tradition of "never complain, never explain," and he said his legal actions went against the wishes of his father, King Charles III. He was the first senior member of the royal family to testify in court in more than 130 years.
"I believe that phone hacking was at an industrial scale across at least three of the papers at the time," he asserted in the final of his two days testifying in the High Court. "That is beyond any doubt."
Green, however, punched holes in Harry's testimony, pointing out multiple examples of when information reported by the Mirror had previously appeared elsewhere or come from official sources — including an interview with the prince himself.
Harry alleged that Mirror used unlawful means to produce nearly 150 stories on his life between 1996 and 2010, including about his romances, injuries and alleged drug use. He said the reporting had caused him great emotional distress. He accused the newspapers of destroying records that would provide conclusive evidence.
The trial focused on 33 articles. Mirror denied using unlawful reporting methods for 28 and made no admission in the remaining five.
Harry's lawyer said he should win 320,000 pounds ($406,000) if his case is successful in relation to all of these 33 stories. In a separate document filed late Friday, he sought an additional 120,000 pounds ($152,000) for unlawful snooping connected to other payments made by Mirror Group — including efforts to target his mother and other family members for information about Harry.
During a previous trial against Mirror Group, actor Sadie Frost was awarded 260,250 pounds ($330,500) in 2015, which was considered a record sum since the phone-hacking scandal exploded in 2011.
Harry is seeking the largest damages — 25,000 pounds ($31,750) — for a December 2003 story in Sunday People that detailed a disagreement with his older brother, Prince William, about whether to confront their mother's former butler for penning a tell-all book about her.
Mirror Group said it relied on a confidential source for the article and there was no phone hacking evidence.
If the judge finds some or all of the articles resulted from unlawful acts, Mirror suggested a potential award of 37,000 pounds ($46,990), Sherborne said.
Mirror Group apologized "unreservedly" for one instance where it hired a private investigator for a story about Harry partying at a nightclub in February 2004.
Although the article, headlined "Sex on the beach with Harry," wasn't among those examined at trial, Mirror Group said he should be compensated 500 pounds ($635).
Copyright © 2023 The Washington Times, LLC.