 Qualcomm shares are under pressure after it gave a far weaker forecast than expected for the current quarter

Since settling a lawsuit with Qualcomm in 2019, Apple has been working to build its own cellular modem

However, QCOM is fast diversifying its revenue base and becoming a major chip supplier for cars and internet-connected devices
Qualcomm (NASDAQ:) has been going through a challenging phase this year. As the biggest maker of smartphone processors struggles to deal with the slowing demand in an economy hurt by , some investors are questioning its long-term value amid uncertainty about its smartphone business.
That means investors have had little incentive to own QCOM stock in 2022, which led to a 42% drop in price.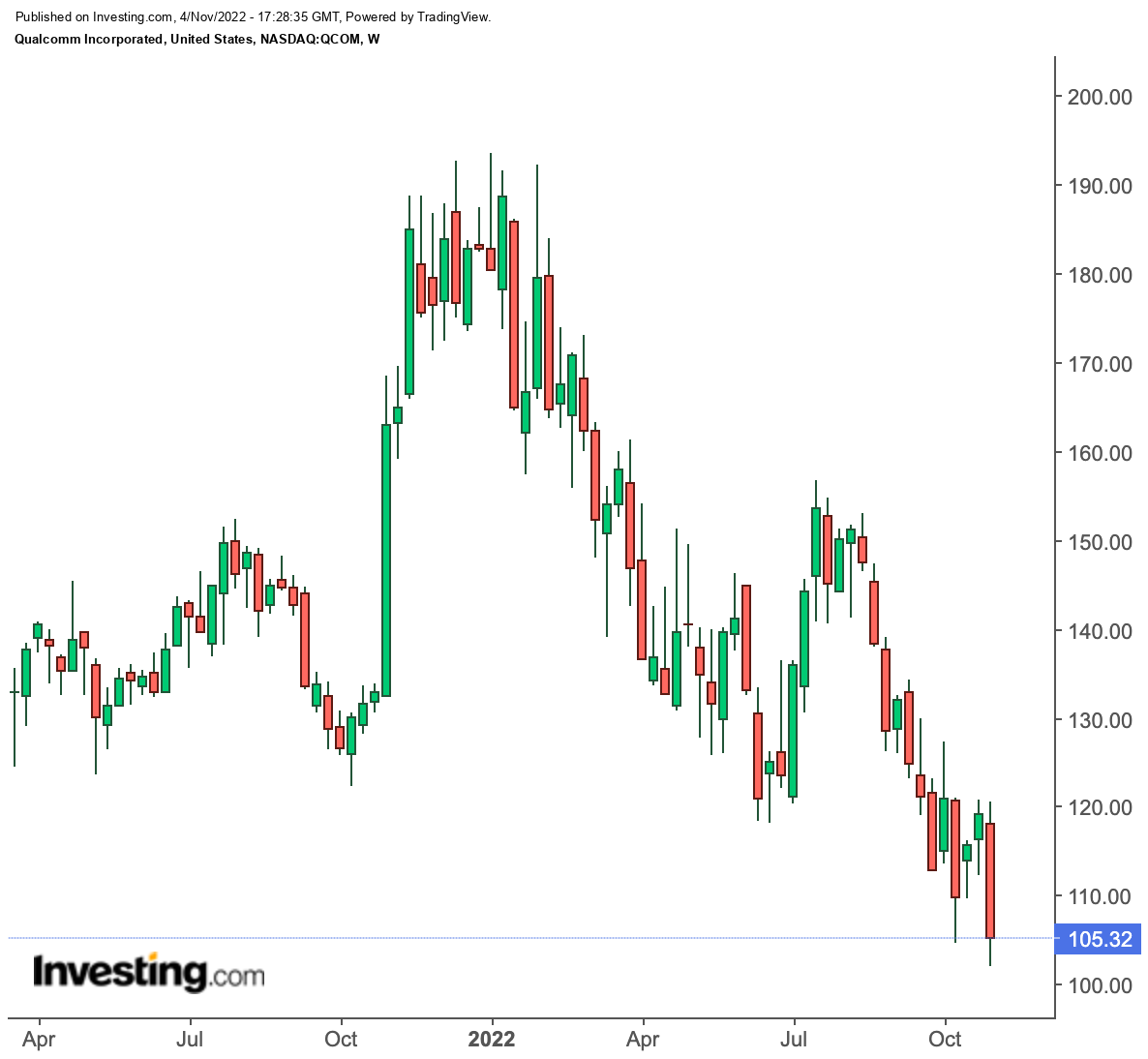 On top of that, the San Diego-based company gave a far weaker forecast than expected for its current quarter earlier this week, blaming the economic slowdown, rapidly weakening smartphone market, and COVID-19 lockdowns in China.
Revenue will be $9.2 billion to $10 billion in the fiscal first quarter, which ends on December 30, compared with an average analyst estimate of $12 billion. Excluding certain items, earnings will be $2.45 a share at best. The average projection was $3.40.
The outlook showed that the market for consumer devices is eroding faster than feared and could saddle the chipmaker with excess inventories, which could take months to clear.
With these short-term challenges, Qualcomm is also facing the threat of losing a major chunk of its revenue coming from the iPhone maker Apple (NASDAQ:). Since settling a lawsuit with Qualcomm in 2019, Apple has been working to build its own cellular modem.
Qualcomm had planned to only provide about 20% of the 5G modem parts for the new iPhones in 2023, according to comments that accompanied its Wednesday. Qualcomm continues to assume it will only receive minimal revenue contributions from Apple in fiscal 2025.
Between macroeconomic concerns and the threat that Apple might drop it as a supplier, Qualcomm's stock doesn't look an attractive bet to many investors despite its P/E multiple hitting a multiyear low. QCOM currently trades at a 2023 estimated PE multiple of 9, its historical trough, and below most integrated device manufacturers.
Diversification Push
This bearish sentiment, however, is missing some crucial points.
The company is fast diversifying its revenue away from smartphones and becoming a major chip supplier for cars and internet-connected devices. The company, during the past year, has made valuable acquisitions to accelerate this shift.
Qualcomm acquired Nuvia last year to decrease reliance on the smartphone industry and grab a share of the laptop-chip market and the lucrative server-processor business. Qualcomm doubled down on its automotive chip effort in April by acquiring Swedish auto-technology company Veoneer for $4.5 billion, including its autonomous driving software business Arriver.
Qualcomm expects its automotive revenue to exceed $4 billion in 2026 and $9 billion in 2031, up from its projections last November of $3.5 billion and $8 billion, respectively.
The company told analysts in September that its pipeline of existing commitments from auto companies represents an estimated $30 billion. 90% of Qualcomm's auto-related revenue forecast through 2026 is based on existing design wins across the business line, according to the company's CFO Akash Palkhiwala.
According to InvestingPro's models, which value companies based on P/E or P/S multiples or terminal values, the average fair value for QCOM stock stands at $161.96, implying more than 50% upside potential.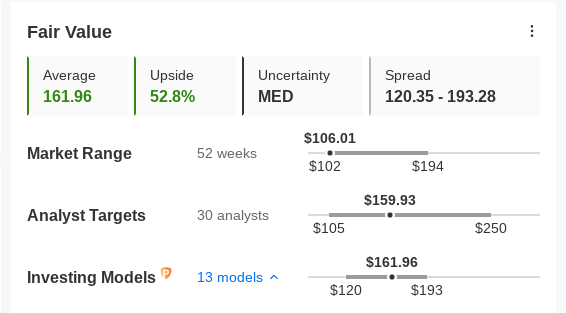 Source: InvestingPro
In a recent note, HSBC highlighted this strength by saying that the time to buy QCOM stock is now. Its note says:
"The company is well positioned for growth in a post smartphone world thanks to its dominant position in supplying chips to autos, its technology strength in radio frequency front end chips, and its penetration of Internet of Things devices."
On a similarly positive note, Trivariate Research finds QCOM among those stocks which are excessively cheap after this year's market rout and poised for growth next year.
Bottom Line
QCOM stock may not look attractive at first glance due to its various challenges, especially the risk of losing its market share in the lucrative smartphone market. But there are strong indications that QCOM's diversification efforts are working, and its stock's current valuation justifies a bull case.
Disclosure: At the time of writing, the author doesn't have a position in stocks mentioned in this article. The views expressed in this article are solely the author's opinion and should not be taken as investment advice.
(This article is generated through the syndicated feed sources, Financetin doesn't own any part of this article)