 Range breakouts are one of the best setups to catch explosive moves. Whenever a stock consolidates in a range due to equal pressure from the bulls and the bears, its volatility contracts. As long as the tug-of-war keeps going on between both parties, the volatility keeps on contracting and makes the stock go nowhere.
When one of the sides eventually wins the battle, the stock breaks out in that direction and is expected to deliver a one-sided move. The longer the range, the more explosive the move could be expected. Thinks of it as a spring, the more you press it, the more forcefully it reverts back.
Now coming to the stock, the share price of Indian Energy Exchange (NS:) (IEX) came out of its trading range which was going on since the last week of September 2022. The stock faced selling pressure from the upper resistance of INR 147 and the demand kept on supporting the stock from the level of INR 134. For almost 2 months, the stock traded sideways and remained inside this range, waiting for one side to win.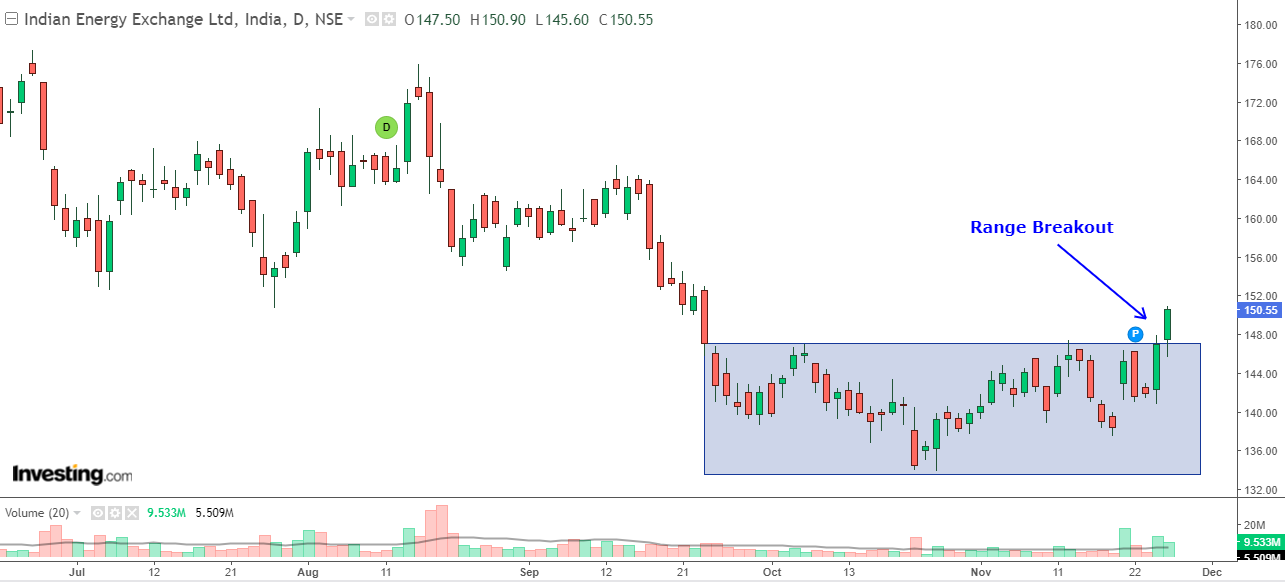 Image Description: Daily chart of IEX with volume bars at the bottom
Image Source: Investing.com
As the bulls have finally won the battle, the stock crossed above the resistance and now trading 2.1% up at INR 150.15, by 12:40 PM IST, the highest level since the last week of September 2022. The volume on today's breakout is around 8.67 million shares so far, which is slightly above the 10-day average volume of 6.6 million shares. If the stock closes above INR 147 in today's session, the breakout would also be confirmed on the weekly chart. 
On the upside, the is a very large potential for the stock to deliver a massive rally as the counter is down almost 43% down from the 52-week high of INR 303.8. Also, this consolidation phase at the bottom can also be termed a base formation in the larger timeframe, taking the prior downtrend into consideration. So, it won't be surprising that the current range breakout might also be sufficient to curb the downtrend.   
From a short-term perspective, the rally to INR 163 – INR 165 is quite achievable in the next few days. Although, I am not expecting much downside from here, in case that happens then the support at around INR 137 should be looked at.
(This article is generated through the syndicated feed sources, Financetin doesn't own any part of this article)