There is nowhere in the UK like Cardiff on a match day, and nothing in the UK quite like the atmosphere at the Principality Stadium when Wales are playing well. On Friday they were laying out the railings outside Cardiff Central station, ready for the rush, and rolling the last kegs off the lorries into the pub cellars along Westgate and St Mary's. "If I'm honest, I never really believed the strike was going to go ahead," says Gary Corp, the landlord at the City Arms, just over the road from the stadium. "It's money that makes the world go around, isn't it?" he shouts as he pops back to the cellar, "And there's too much at stake."
They say the game's worth around £10m to the Welsh Rugby Union, and more than double that to the local economy. Back in 2017, it was estimated that a Wales home games generate £26m. It is one of the biggest days of the year here.
"Mind you, it would have been catastrophic for us if they had gone on strike," Corp says. The City Arms does triple business when Wales are playing, "more if they win, because everyone slopes off to their local if they lose". Despite that, like almost everyone else you talk to around the city, Corp was right behind the players. "You can't not be, when you hear about all those lads who were out of contract, with kids at home, and they couldn't even get a mortgage," he says. "It's all the WRU's doing, they've been a mess for years."
The players were closer to going on strike than Corp imagines. You can see it in the concessions made by the Union, who came most of the way to meeting all three of the demands for representation on board, the readjustment of a 60-cap rule that limited their ability to play overseas, and renegotiation of the deal that meant 20% of their pay was performance-related. Although, as Warren Gatland said, some of the players still wanted more. "There are still players who would have wanted the 60-cap rule scrapped completely, but it's like anything with any negotiation, there is always some compromise."
It's come at a cost. "I'd be lying if I said I'd ever had a week like it," says the Wales captain, Ken Owens, who is 36, and has lived through a few. "If I'm going to be completely honest, I never want to experience anything like it again." Owens says he's left with a feeling of "disappointment that it got to the stage it did". But then, he explains, they didn't have any choice. "We needed to do it, because there's so much uncertainty in the game, and it is affecting players and staff." Owens says it was vital that the players made a stand. "It was a last resort, after the frustrations that have built up not just over the last six weeks but over a year now."
"We've made people sit up, and we've shown the strength we have as a playing group, so hopefully we can move on and concentrate on rugby, and the powers that be will get things done, and we will never end up in this situation again." Hopefully. Even after this week's negotiations, there's still an enormous amount to sort out. There are drastic budget cuts coming for the four regional teams, unanswered questions about who is going to shoulder all the loan debts left after the pandemic, a taskforce investigating the toxic culture at the WRU, an ongoing debate about whether and how to modernise the board, who have an EGM coming at the end of the championship.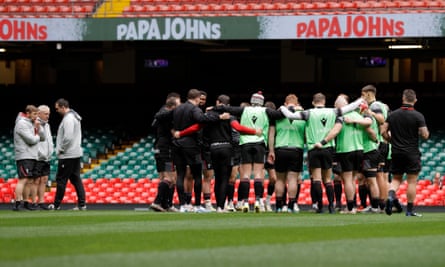 Owens is painfully aware that having asked for the support of the Welsh public, he and his team now need to pay them back. "We owe them a performance that Wales can be proud of," he says, "We need a win, to get pride back in the shirt." They are relying, like always, on the players' ability to deliver despite the disruptions, and distractions, and all the dysfunction.
It's been that way for over a decade now. "We've had a lot of crises in Welsh rugby over the last 12 years, and it's always been that the national squad has delivered and that's covered them up," Owens says. "If the national squad weren't winning, this probably would have come to a head five or six years ago." As soon as they started to lose, the cracks started to show through. "The difficulties we've had at national level over the last three or four years, for various reasons, Covid, injuries, a change of coaching staff, have highlighted a lot of the issues that Welsh rugby has had over the last 10 to 15 years."
The wells are deep in Welsh rugby but these players have drawn a lot from them and it feels like they're running low. Emotion only takes you so far, especially when you're skipping training sessions and rest days to negotiate with your union. Gatland was left talking about having his "fingers crossed" that his players will be "up for it on Saturday".
Owens, for one, is clearly exhausted, but says not to worry, that events have "galvanised" the squad. "It's brought us together and I think we'll see that on Saturday." Maybe it has, and maybe we will, this team, his ageing generation of players, have done it often enough before.
But the truth is that whatever happens in the match, this is no way to play Test rugby. Wales can't keep relying on these 23 men to find whatever it is deep within themselves that makes the national team perform so much better than they ought to given the state of the professional game here. Owens knows it. "We need a sustainable future for the game in Wales. All the stakeholders in the game here have a responsibility, from the supporters to the players to the administrators to the sponsors, I think if we can all work collaboratively, if we all respect each other's opinions, and if we're all involved in the discussions we'll get there a lot sooner."
Source link
(This article is generated through the syndicated feed sources, Financetin doesn't own any part of this article)